In China's Internet discourse on Southern Weekend, less is more: The SinoFile
Weibo users find another clever way to continue the discussion on Chinese press freedoms.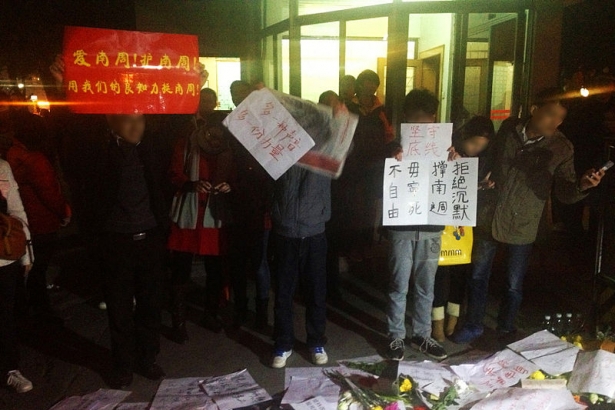 Witty puns aren't the only way Chinese dissidents are circumventing censors on the Internet.
While keywords referring -- both directly and
cryptically
-- to
Southern Weekend
and an ongoing debate around Chinese press freedom remain restricted on the Chinese social media site
Sina
Weibo
, it seems it's what
netizens
aren't
saying that's subversive.
Over 511,000
Weibo
users have used the term 东西北 (
Dong Xi

Bei

--
East, West, North) over the past few days. The term is often coupled with mention of five-day weeks.
Note that the omitted direction is South. Note that five day weeks might omit a weekend. Yes, they are talking about Southern Weekend through the holes in their discourse.
This latest clever Chinese Internet meme started when former president of Google China,
Kaifu
Lee, was
reprimanded by authorities
for commenting the
Southern Weekend
incident.
"From now on, I will only discuss East, West and North (...) Monday through Friday," Lee wrote to his 25.5 million followers
on

Weibo
after reportedly being "asked to tea," a euphemism for a much less friendly run-in with authorities.
One
Weibo
user employing Lee's meme commented on a friend's message, apparently deleted by censors.
"You've become the next East, West, North, Monday through Friday. God, this is like
deja
vu
. It's like we're going back in time 46 years," wrote user
Jr_Achilles
, his very specific number of years referring to when the seldom-discussed Cultural Revolution started.
Weibo
user
Solo994
, whose avatar is a picture of
Southern Weekend
's signature chop logo, offers a link to the
Wikipedia
page on the
Southern Weekend
incident, writing, "
Wikipedia's
entry on East West North [Link], keep it as a souvenir."
Solo994's
Weibo
tagline
is: "Satan, your kingdom must come down."
Lee's meme illustrates how dynamic the Chinese
netizen's
game of words can be, and is perhaps a triumph and tribute to the cunning of Chinese and international dissidents, artfully skirting the rules. But
Beijing's
recent crack down on
Southern porridge, another meme
used to continue the debate on Chinese press freedom, shows it's not easy to pull a sly one past Chinese censors.
If
I
know that 511,000
Weibo
users are writing about every direction but the South and only weekdays, Chinese authorities are likely well aware of what's going on themselves.
Why is Beijing OK with this and not other memes?
Firstly, 511,000
Weibo
messages pales in comparison to nationalistic messages on the ongoing
Diaoyu

-

Senakaku

Island
disputes with Japan, which are fast approaching 62 million. Dissent in small volume doesn't upset Chinese censors. According to Chinese law, small music production companies producing a few thousand CDs don't need to pass their product onto censorship authorities for review. That law represents a relitively untapped potential for aspiring
Chinese dissident artists
. That's likely the principle behind the survival of
East, West, North
.
As Chinese friends often observe, Beijing perennially needs to let off steam from its societal pressure cooker to prevent everything from boiling over.

Perhaps East, West, North, Monday through Friday is China's way of poking a small hole in its pot -- rather ironically letting dissidence exist only where it does not exist at all.
MH
---
SinoFile is The Vancouver Observer's daily series on Chinese affairs, including analysis of the nation's business, politics and society, with a focus on international media coverage, Chinese and foreign social media and original interviews with China's movers and shakers.