Robert Pattinson, Taylor Lautner and Kristen Stewart gossip and news from Squamish, B.C.
Locals unanimously report that cast and crew are staying at the Executive Suites (pictured below). The unglamorous Executive Suites stand across from the highway, surrounded by mountains, forest, marshes and electrical wires.
"No cameras are allowed because of certain guests who are staying here," said a security guard, who emerged from the front entrance to confront two reporters, quickly removing any doubt on the accuracy behind the rumours.



Before dusk, the fanpires emerged
Mallory Proverbs, creator of the Twilight fan page MontrealTwilightGirl.net, is a 25-year-Twilight fanatic who travelled all the way from Montreal in hopes of meeting her favourite film stars. So far, she's spent a month and two days tracking down the cast of Twilight: Breaking Dawn.
She spotted Pattinson and Stewart earlier at the Sheridan hotel in Vancouver but missed out on a photo opportunity. "We did see them but we were too in shock to take the picture," Mallory said. "They're so cute together."
She's "Team Edward," she said, by the way.
"Is that Kristen Stewart?" Mallory speculated, watching a brunette drink coffee inside The Cup cafe. The woman was not her, despite sharing Stewart's same stilted body movements and awkward mannerisms.
Kristen Stewart
"Three weeks ago at Executive Suites there was a loose security guard, and he kind of let anyone go up to the hotel as long as you asked the actor whether you could take a picture. So we were able to go up to the steps and take a picture of Peter Facinelli with the producer Wyck Godfrey, and Ashley Greene who plays Alice. Now it's more closed off," she said.
"Wednesday last week we could go in to eat, but we could not use our phones, even to text, because they believed you were recording what was going on. You couldn't take pictures in the hotel either. You could see them, you could say hi, but you couldn't take pictures," she added. "One by one, by five by ten, everyone came in, the new vampires, everyone."
Mallory pointed out actor Boo Boo Stewart in the passenger seat of a passing red car. Stewart noticed her eyeing him, and quickly smiled and waved.
"We spotted Sarah Clarke, aka Bella's mom, by the plaza on Tantalus Way. She was at the spa, so we waited for her to finish.
Sarah Clarke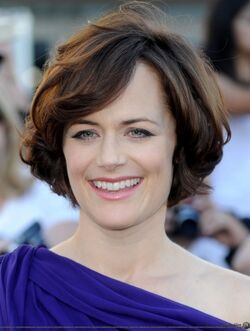 Two hours later she comes out with her pedi done and we walked up to her. We called her name and she looked at us like we were crazy and said, 'Yes, it's me.' I introduce myself to her, and I then asked if I could have a pic. She then says, 'No, I won't do that. I'll just introduce myself.' She then shakes my friend's hand and says, 'I have to get some things for my baby,' and walks away," Mallory said.




Mallory Proverbs
AnotherTwihard who wishes to remain anonymous spilled details about a chance sighting of Peter Facinelli and Kellan Lutz, both actors that portray vampires in the Cullen family. Parked outside the movie theatre, the fan started calling "Peter" and "Kellan." "Sorry guys, it's raining," said Facinelli, but Lutz was less than friendly. "He didn't even turn his head to acknowledge our presence," said the disappointed fan. "He's a jerkface," she added.
It's speculated that the cast and crew will leave Squamish by Friday. Until then, filming is rumoured to take place at the following locations:
Furry Creek, photo courtesy of www.golfbc.com
Paradise Valley, photo courtesy of Wikimedia Creative Commons
Shannon Falls, photo courtesy of Wikimedia Creative Commons