As many Vancouverites—and most Vancouver cyclists—can hardly mention urban cycling without waxing euphorically about Amsterdam and Copenhagen, I'm going to let Marc's story of Copenhagen's thriving cycling culture bring you a little what it could be like to have Copenhagen's cycling support here in Vancouver.
Marc lived in Vancouver for five years where he worked for Telus and WorkSafeBC. During this time it never occurred to him to own a bike, perhaps because by living in the West End, he was within walking distance of almost everything, and otherwise took the bus, Skytrain, or "cabbed it". But since moving to Copenhagen in 2008, his bike has become an indispensable part of his life. And despite having his first bicycle stolen last August, he got over his indignation and purchased a new one—such is the compulsion to cycle in Copenhagen. "I couldn't live without the freedom and convenience it provided me", he concludes.
Biking Copenhagen: Riding the Green Waves
"A lot of numbers are thrown around Copenhagen's thriving cycling culture: there are more bikes in the city than its 1.2 million inhabitants—37% of Copenhageners (roughly 450,000 people), cycle to work every day in the summertime. The busiest streets can see up to 30,000 cyclists daily. Traffic lights are synchronised during rush hour to allow for the continuous flow of cyclists at 20 kilometres per hour—creating the so-called "green waves".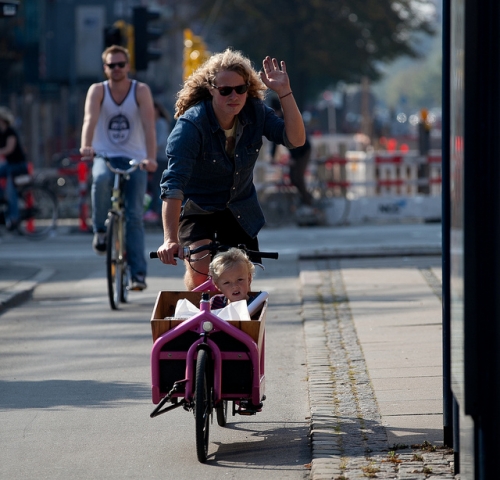 Biking Copenhagen: The Wheel of History
"Cycling in Copenhagen is not new. A craze in the 1860s found the upper-class riding 'hobby horses' around town. Presumably the working class followed suit. Since then, regular gas shortages, most prominently during the two World Wars, naturally promoted bike usage in Copenhagen. Danish cars are taxed 200% (yes, two hundred percent), and many who can afford to purchase a vehicle choose not to. Parking is a nightmare of course. Car ownership is not synonymous with financial success nor convenience.
Biking Copenhagen: Hills, and more Hills
An important difference between Copenhagen and Vancouver is the landscape, largely flat in Denmark's capital. I can only think of two 'hills' in this city, and neither compares to cycling across Burrard Bridge, or going from Denman street into downtown—never mind cycling up to UBC on Fourth avenue."
Marc finds cycling in Vancouver now a little anti-climactic after Copenhagen. He relates how, on a recent visit to Vancouver, he found "bike paths largely deserted but the roads as busy with cars as I had left them. And it wasn't very cold." Admittedly, that was over Christmas when only the most intrepid cyclists (i.e., hard core) continue on in the ever-drizzle of winter. Marc hopes that Vancouver will continue to follow Copenhagen's example, and indeed, lead with its own initiatives.
So why is biking Better in Copenhagen?
What enables a thriving bike culture in Copenhagen? Are Vancouver's current struggles normal growing pains, or is there a more fundamental problem at hand? According to fellow Copenhagener and cycling evangelist, Michael Rubbo (Copenhagen's cycle chic guru), a lot of it comes down to official support of cycling by the City, people's attitudes about cycling—and most of all—cycling helmet laws in other cities.
Marc points out other features on the streets of Copenhagen that make it cycle friendly, including a safe area for cyclists set in front of cars at red lights, and independent lights for cyclists. "In this case", he says, "the cyclist light turns green a few seconds earlier, reducing the number of accidents related to motorists turning right".
Marc also credits "socialist culture" in Denmark where it's been common for companies to supply showers and change rooms at the workplace (something not common when he lived in Vancouver a few years ago). In step with Rubbo, he recommends a good "bike chic" marketing campaign to "help Vancouver take that leap". He cites that WorkSafeBC, where he worked, "campaigned for at least ten years to change societal attitudes toward workplace accidents".
"It took Copenhagen 150 years to get to this point", says Marc, "there's hope for Vancouver yet".