Her sculpted cheekbones and natural grace in front of the camera has earned her over 3000 admiring fans on Facebook.
Sprawled seductively on a leopard print blanket, her provocative look has earned her comparisons to a young Brigitte Bardot.
But at age 10, Thylane Lena-Rose Blondeau has been the subject of heavy controversy over the sexualization of children.
The Tom Ford-edited shoot -- which was featured in the December/January issue of Vogue Enfant -- showcases Blondeau in sexy poses and garb that seemed more fitting for models twice her age.
Photos courtesy of Fashionista
While her Facebook fan page has many raving over her beauty, these images have resulted in a government initiative in Britain.
Organized by Prime Minister David Cameron and the Mothers' Union, it is aimed towards preventing the sexualization of children in media and advertising.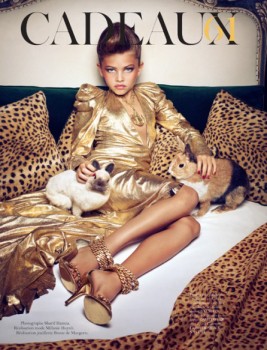 "Photo shoots requiring her, a 10-year-old girl, to dress in full make-up, teetering heels and a dress with a cleavage cut to the waist across her pre-pubescent body deny Blondeau the right to be the child she is," argued the Mother's Union in a statement criticizing the images.
---
Still, it is appalling that top fashion retailers are actually selling high-heeled shoes for little girls as young as three.
Many parenting groups have condemned these retailers for encouraging the sexualization of children.
Consequently, when Suri Cruise was photographed donning a pair last year, The Daily Mail reported:
"GapKids, Asda and Next are among the brands stocking the fashionable footwear after Suri Cruise..."
Photo courtesy of Daily Mail
---
Last year, British fashion retailer, New Look, found itself under fire for selling high heels ranging from size one, which is the average shoe size for an eight-year-old child.
This prompted online group Mumsnet to launch its "Let Girls be Girls" campaign, which actively encourages retailers to sign a pledge to discontinue selling products that sexualize children.
Anna van Heeswijk, grassroots coordinator of Object -- an award-winning organization advocating against the objectification of women -- states that premature sexualization of girls is damaging towards both genders.The group argues that such imagery affects the way men perceive women and pave the way for sexual harassment and violence.
According to clinical psychologist Dr. Emma Gray, children need to spend their childhood "appropriately preparing for the demands of the adult world."
In the case of Thylane, exposing a child to the adult world at such an early age is destructive psychologically. "Prematurely exposing a child to the adult world is dangerously preventing the completion of their development into a person who can survive in it," she said.
Photo courtesy of Fashionista.com
---
Obviously, the memo was lost upon the creators of Heelarious, a high heel shoe created for infants.
Many new mothers were outraged, saying the high heels were a "new low" for parenting. Despite the fact that the heels are soft, they argued that the shoe designs are meant for mature, sexual women and not appropriate for babies.
Photo courtesy of Daily Mail. Michele Elliot, founder of children's charity Kidscape, said the heels were ludicrous. "Parents should let babies be babies," she argued.
---
Parents wanting to combat sexualized images of children, however, face an uphill battle, as adult views of children creep into mainstream media. The TLC reality show Toddlers and Tiaras features little girls as young as four competing in beauty pageants. The show has been the target of much criticism from the start.
In addition to the contestants' bratty behaviour and ear-splitting tantrums, the show is borderline pedophilia, with little girls sporting sexy outfits (some featuring take breasts) and racy swimsuits.
Photo courtesy of Amelia Alisoun Wordpress
---
L.A. psychotherapist Nancy Irwin weighed in on the controversy, saying that parents must assume responsibility for their choices.
"Do not be surprised if your child is preyed upon as a result of this high degree of visibility," she said.

"Men can pose as agents/managers and track you/your girl down through the show. Further, know that they will be pleasuring themselves while looking at your daughter's YouTube clip."
ATiaras mother, Joey Lynn George, however, defended her choice in allowing her seven-year old daughter Hailey to compete in pageants.
"I'm not going to have her not do what she likes because they (predators) are everywhere ... No, we're just good parents that are going to support our kids no matter what they do."
Supporting your child is one thing. But teaching them suggestive dance routines while wearing Madonna's infamous coned bra (like New Jersey contestant Mia, 2) is another.
Despite the heavy critcism surrounding these pageants, Annette Hill, founder of Universal Royalty Child and Baby Beauty Pageants, begged to differ, arguing that it "promotes positive self esteem."
"Besides, what is wrong with showing off your beautiful, talented daughter to the world?" she asked. "It is up to the parents to keep their children grounded."
Photo courtesy of TLC (Makenzie, 4)
---
This public exposure is exactly what prompted Melissa Wardy - a writer for the blog
Pigtail Pals
- to write an
open letter
to TLC and urge producers to cancel the show.
Sexuality is an obvious part of adulthood. That said, it is an aspect that should be kept separate from the lives of children.
Being exposed to sexual imagery or sexual products eventually leads to children's pre-mature sexualization.
It infringes upon their innocence.
Photo courtesy of Fashionista (Thylane Blondeau)
---
Both Thylane Blondeau and Toddlers and Tiaras illustrate how the media sexualizes children in the public eye, while heels sold to children advertises the pressure to grow up.
- Establish safe channels of communication, where your child knows she can talk to you about what she sees, hears and thinks without being embarrassed, ridiculed or punished. Children need a safe place to process what the sexualized environment exposes them to -- and parents can play an essential role in providing it.
- Reduce gender stereotypes. Help daughters (and sons) develop a broad range of interests, skills and behaviors that get beyond the narrow focus on appearance that the sexualized childhood provides.
Although a government intiative organized by the Mothers' Union is currently underway in the U.K., there is no easy fix button that allows child sexualization to simply disappear. For now, it seems the most sensible thing that parents can do to protect their child is to help them feel comfortable being themselves, in their own skin and at their own age.