This weekend will be a celebration of the arts, with tons of cool artists showcasing their work along with some interesting design conferences and a lecture series. And without fail, there is always dancing.
On another note, if you haven't been to the Richmond or Chinatown Night Market, well, sounds like you're one of the few - read an article on this year's market here.
The BEE list is curated by Ajay Masala Puri, Lisa Craveiro, Steve Williams, and Lorien Henson.
Top Picks
1. Design Thinking Unconference
Aug 19-20 | Emily Carr University | $199 Full / $49 Student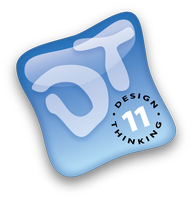 Come out for a two-day immersion in ideas, projects and practice exploring the craft of Design Thinking. Combining panel discussions and a free-wheeling unconference, you will engage with many facets of design from research, to product, urban and even design for social change.

2. KENTalks: Comedy Lecture Series
Aug 19 | Museum Of Vancouver | 7:30 – 10:30 PM | $12


KEN is a live comedy lecture series featuring some of Vancouver's funniest humans presenting hilarious ideas about ordinary life. Advance tickest are strongly recommended.

3. All Over the Map: Kutapira
Aug 21st | 2 PM | Ron Basford Park on Granville Island | Free


All Over the Map is an outdoor dance and music series, bringing you the best in free, outdoor cultural events in Vancouver. Be sure to bring your dancing shoes as the lively, all-ages performances have been known to get you moving. Drawn from traditions of African Diaspora and exemplifying the range of global rhythms, members switch effortlessly between various authentic African and Afro Cuban percussion instruments, paying tribute to their mentors.


Honourable Mentions
Submit Vancouver
Aug 18 | 7 PM | Granville Island Performance Works | $30


Showcasing local artists' magic on inimitably cool, limited-edition t-shirts celebrating the power of creation, education and community in Vancouver and across the planet in Ethiopia benefiting imagine1day.

FIELDWORK: recent projects by Paul de Guzman
Aug 18th | 7-10PM | Room 106 at The Waldorf Hotel | Free


In Fieldwork, de Guzman draws from a source collection of architectural postcards in an attempt at building an archive of historical, urban experiences. These postcards are ephemeral remnants of an urban history that endured a nomadic journey through the postal system. The projects in Fieldwork present findings from urban architectural encounters, and implicate history as material for artistic modelling. The exhibition runs from August 18th to September 4th @ Black & Yellow, 1489 East Hastings Street

Design Nerd Jam 5.9: Refab Jam
Aug 20 | 7-10 PM | The Hive (W. Hastings) | Free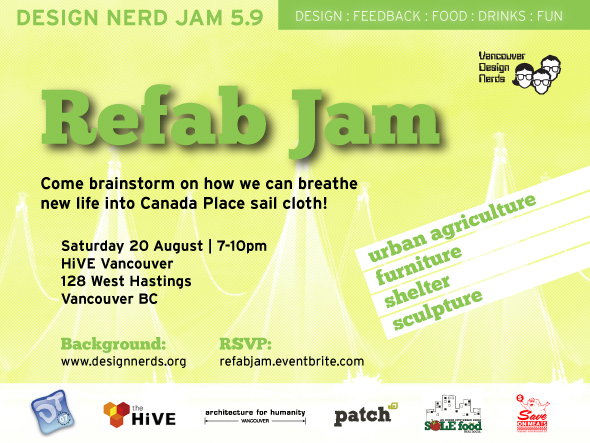 Design Nerds are teaming up with Architecture for Humanity, Patch and SOLEfood to bring you the REFAB Jam. The evening will focus on generating ideas on how to repurpose old sail cloth from Canada Place under 4 main areas of design: urban agricultural structures; furniture; shelter & sculpture. Teams who decide to take their ideas and prototype them will be invited to display their projects at ID West this fall. Time is tight so come prepared with ideas and enthusiasm. Food & alcoholic beverages will be available, but feel free to bring your own.

Likemind Vancouver
Aug 19 | 8-9:30 AM | Bump n Grind, Commercial Drive | Free


It's summer—time for iced coffees with good people. Likemind is a networking meeting where we leave the fancy things at home and focus on meeting people, not just business cards. Its an opportunity to enjoy conversation and a good cup of coffee; because you never know where drinking good coffee with likeminded people might lead you! No agenda. No theme. No speakers. Join the conversation! Bring someone who has never come before.

Artful Sundays
Sundays to Sept 4| Napier Square (Commercial)| 12–5 PM | Free
Once again, Artful Sundays is back. Held outdoors on Sundays in Napier Square at Commercial Drive, this annual event is a great opportunity to converse with local artists as well as view and purchase their artworks. Other features include live music, demonstrations and workshops, community groups, and much more.

Robson Square Summer Dance Series
Aug 19 & 26 | Robson Square | 8–10:30 PM | Free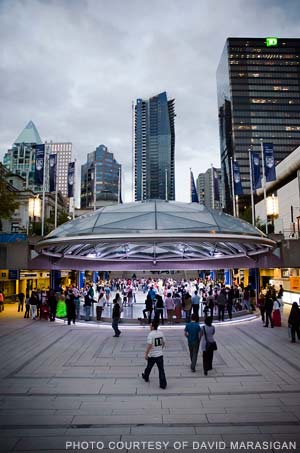 Dance your heart out! After a three-year hiatus Robson Square Summer Dance Series returns with ballroom dancing under the domes at the newly renovated Robson Square. Friday dance nights feature free lesson at 8 PM and shows 9 PM and 10 PM. Great for dancers of all ages and skill levels, including those that have never danced before. This Friday it's West Coast Swing.

Live At Squamish Music & Arts Festival
Aug 20-21 | Squamish BC | $89 1-day / $149 2-day
An outdoor music and arts festival in Squamish featuring headliners Metric, Weezer, John Butler Trio, Girl Talk and lots more.

Chinatown Night Market
Every Fri, Sat, Sun | Keefer St @ Main St | 6:30–11PM | Free
Coming Up
Safe Planet Gathering
Aug 16 | The Roundhouse | 6–10 PM | Suggested donation $10
Decentralized Dance Party - BIKE PARTY
Aug 20 | 9 PM-5AM | Vancouver Proper | Free
Tibet Festival Vancouver
Aug 27 | 11 AM - 7PM | VanDusen Botanical Garden | Free/$5 Donation

Vancouver Waterfight
Aug 27 | Stanley Park - Lumberman's Arch | 1–4 PM | Free
KidSport Fair Trade Community Soccer Match
Aug 28 | Tom Binnie Park, Surrey | 2 PM start | Free
Creative Mornings Vancouver
Sept 2 | 8.30 AM | W2 Media Cafe
Hapa-palooza
Sept 7–10 | Various Locations | Free and Ticketed
Vancouver Fringe Festival
Sept 8 – 18 | Granville Island | Ticket prices vary
24 Hours Of Reality
Sept 14 | Worldwide | All Day | Free
Want to be the first to know about the best events going on in Vancouver? Connect with BeeVancity
or subscribe to our weekly newsletter