So the campaigning and voting is all over. Regardless of how you feel about the outcome, give yourself a pat on the back if you went out and voted! We're excited for Elections Canada to release their stats on Youth Voting later this month.
This week looks a little different. It's full of music and dancing events, so we hope you find the time to let loose!
The BEE list is curated by Ajay Masala Puri (Spicy Masala Bee), Lisa Craveiro (Busy Bee), Steve Williams (Honey Bee), and Lorien Henson (Queen Bee)
Want to be the first to know about top events going on your city? Sign up for the weekly BEE VANCITY newsletter --> CLICK HERE!
Follow us on Twitter

Join us on Facebook
Top Picks
1. Dusty Flowerpot Cabaret
Sun. May 8 | 2 & 4 p.m. | Roundhouse | Advanced $5-$10, Door $5-$15
Comprised of a vibrant collective of young artists, The Dusty Flowerpot Cabaret presents a vaudevillian-style variety show featuring virtuoso tap dancing, swing dancing, contact improvisation and clowning. Following the recent smash-hit success of their theatrical extravaganza Hard Times Hit Parade, this closing performance of the Dance Allsorts 2010-11 season is sure to be a dazzling showstopper! -->Thanks Andrea!
2. Beats Without Borders presents: Nickodemus
Thu. May 5| 10 p.m. | Canada| Fortune Sound Club |$15 Advance

Sure to be another great dance night with Nils and friends from Beats Without Borders. The sound system at Fortune will keep the beats moving through your body all night long.
3. rePercussion (Fusion Drumming!)
Thu. May 5 | 7:30-9 p.m. | SFU Downtown | $18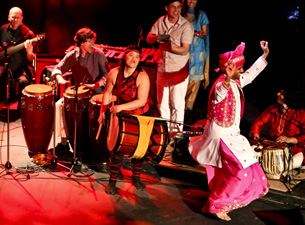 Led by multi-talented percussionist Paul Bray, this event explores percussion and folk drumming from the variety of cultures that represent Vancouver. Whether Chinese drums or Afro-Cuban, or a melding of Punjabi and Brazillian styles, rePercussion explores traditions of rhythm from around the world.
*May is Asian Heritage Month! Check out more fun events.
Honourable Mentions
Grow: Exploring Sustainability in South East False Creek
Sat. May 7 | 1:30–3 p.m. | Creekside Community Centre | Free!
Join a guided a tour in urban agriculture exploring social and ecological sustainability in South East False Creek with educator Duane Elverum and Holly. Learn about sustainable design and community engagement to consider the urban design issues of our growing and changing cities, as well as the social and ecological issues raised by Vancouver's "greenest" development. Holly will explore the question of how sustainability can be enacted not just built into our urban environments.
Expo 86 Quarter Century Lookback Party
Fri. May 6 | 7 p.m. | Science World | $15 - $20
Got Craft: Spring Edition
Sun. May 8 | 10 a.m. - 3 p.m. | Royal Canadian Legion | $3
Invitation to DIGINITY: Photography exhibition/auction + Social Venture
Thu. May 5 | 7-10 p.m. | Chapel Arts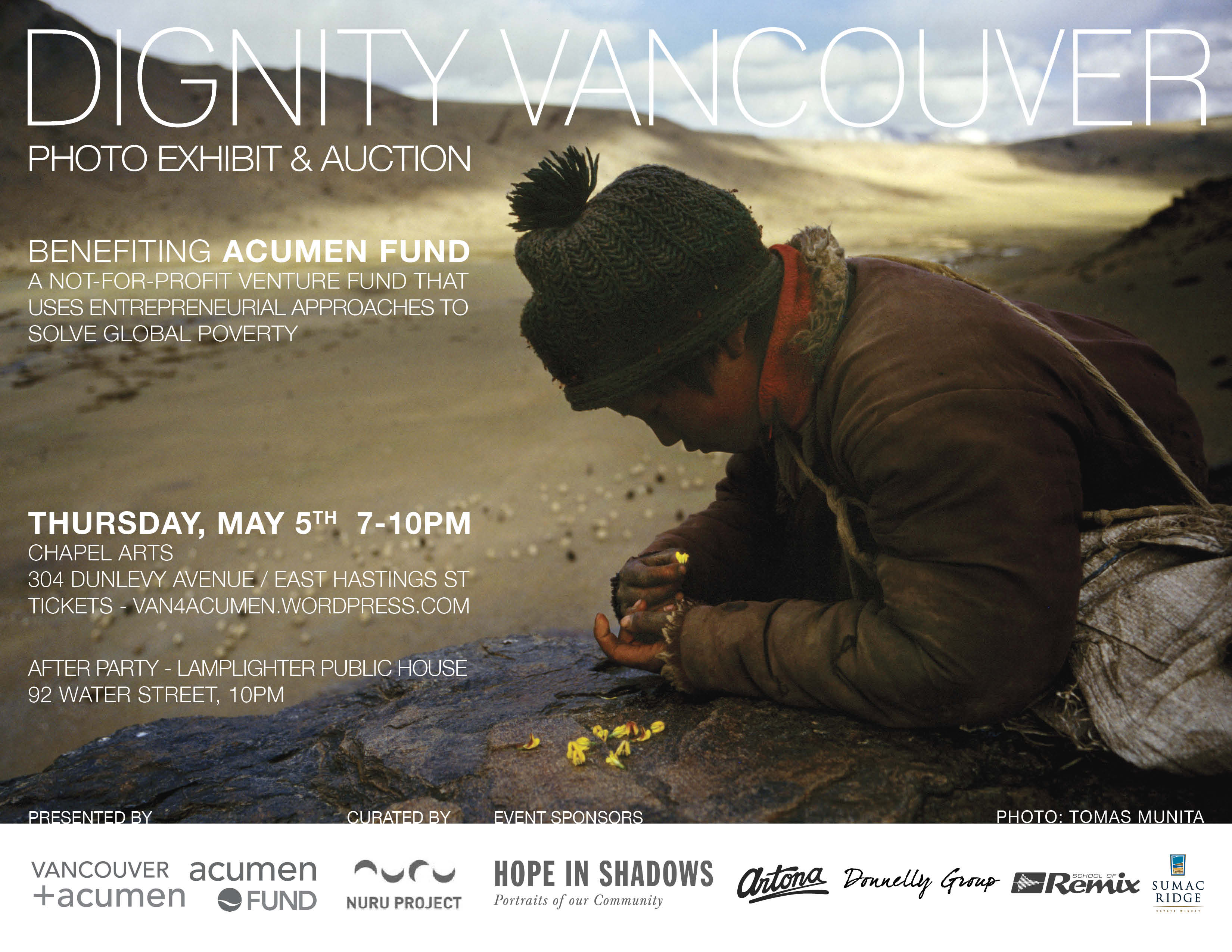 Acumen is a great organization, a non-for-profit venture fund that uses entrepreneurial approaches to solve global poverty. This event is a photo exhibit and silent auction to raise funds, highlighting some amazing local and international photographers. Click to purchase tickets.
Delhi 2 Dublin
Sat. May 7 | Doors 8 p.m. | Commodore | $25
D2D show are always amazing – a very cool combo of bhangra, beats and celtic music – perfect for dancing. And according to Tarun, this should be a special night: "It's going to be epic! Special guests, a whole bunch of new music, our two new fiddle players, and, erm, some very special costumes!"
Mabuhay Dance Party
Fri. May 7 | 7 p.m.-2 a.m. | J Lounge | $10 adv, $15 door

Come out and join us at the Filipino-Canadian LGBTQ's 1st Fundraising event! It's a night of live entertainment, door prizes and dancing. Everyone is welcome!! --> Thx Mable E for this one!
Charlie Demers headlines The Comedy Mix
May 5-7 | Comedy Mix | $12-18

Join our friend Charlie (of ShitHarperDid) when he headlines his first hometown show. With emcee Paul Bae and middle act Phil Hanley! Going to be a FUNNY night.
Learn how to Bee Keep!
Sat. May 7 | 1 p.m. | TBA | by donation
Coming Up
SlutWalk Vancouver
May 15 | Noon | FREE

Modesty, Ambition, and Imagination: International Development in the Knowledge Age
May 10 | 7 p.m. | FREE

"Food Security – it's in your hands." Film screening
May 13 | 6:30 p.m. | Vancouver Public Library, Alice Mackay Theatre | FREE

Climate Capitalism Launch with Mayor Gregor Robertson
May 16 |5:30 p.m. | Discovery Parks
EPIC Sustainability Living Expo
May 13-15 | Convention Centre | Free - $12 (Save $3 if buy online)
Projecting Change Film Festival
May 26 – 29 | SFU Woodwards | $10-$12 films / $75 gala
Love Vancouver Love Your Planet
June 5 | 11 a.m. – 6 p.m. | Olympic Village | Free