Random encounters with Twilight's biggest stars have some residents in the mountain town of Squamish, B.C. aflutter and the town is buzzing with gossip and "twi-fans" aka "tweeks." As the cast and crew of Twilight: Breaking Dawn wrap up filming this week in Squamish, the visiting celebrity heartthrobs have done what real people do: eat in restaurants, get pedicures, go to the movies and (gossip has it) get drunk.
"The cast of Twilight drunkenly stumbled into McDonalds three nights ago after a late-night party," Chris, a McDonald's employee told The Vancouver Observer. "They came in here in a swarm."
Chris, at McDonald's (below) said he heard the Twilight crew visited the fast food joint after their late-night party....
The wedding scene in Breaking Dawn is apparently being filmed in Squamish, under tight wraps. But despite the secrecy surrounding the set, the crew themselves seem to be relaxed about showing up around town. And ever since Twilight's crew rolled into town, business has improved for some merchants, like Jay Dewitt, District Manager of Metropolitan Theatres.
"It all started when Robert Pattinson and Kristen Stewart came to Red Riding Hood and social media took over. These young 14, 15-year-old girls were texting, facebooking and tweeting everyone they knew. By the end of the movie, we probably had over a 100 people inside our lobby and outside our doors waiting for the two of them to get out."
DeWitt tried to calm the storm by escorting the Twilight stars out the back door. "The cool thing was that Rob came up and said, 'Jay, don't worry about it, let them in.' Rob and Kristen stayed for a good 15, 20 minutes signing autographs and taking pictures," DeWitt said.
After this, "a group of 30-50 girls would come to the theatre daily over spring break in hopes that one of the cast would come in," he said.
17-year-old Boo Boo Stewart, who portrays wolf pack member Seth Clearwater has been generous with his time, Dewitt said. "Stewart has been to probably four or five movies and he's been a class act. He'll stay until every single person's got an autograph or picture."
Boo Boo Stewart
Stephanie, (pictured below), an employee at Fatburger, said filming for Twilight took place at Furry Creek. "Millions of 12-year-old girls were running around the plaza these past few weeks," she added. "Girls sit around at Booster Juice hoping to catch one of the celebrities spotted there."
Booster Juice, a popular place from which to Twi-stalk...
"One of my mom's friends was walking around because she works with Bear Aware, and she was looking for bear tracks. She sees this really nice-looking guy running down the trail," said Lauren Aiken with a quick laugh.
"He just comes up to her and says, 'Hey, how's it goin'?' And she's like, 'Good.' And she's really, like, she doesn't watch Twilight, so she's like, 'Am I supposed to know you?' thinking in her head, and then he runs away. And then she describes him to me, and I'm like, 'Okay, I'm pretty sure that's Taylor Lautner,' and I show her a picture of him, and she's like, 'Yeah, that's him. Oh my God.'"
Jacob Black/Taylor Lautner and Squamish local Lauren Aiken pictured below
Kursten Jack said she nearly fainted when she met the star. "Last I heard, they were in this Shady Tree in Brackendale," said the 18-year-old Jack. "I met Jacob." She was referring to Taylor Lautner who plays the werewolf, Jacob, in the Twilight series. "It was nerve-wracking. I almost fainted. I turned around and spilled my Booster Juice on him. He laughed," she said. Jack also dished on places where the cast has recently been spotted, like Parmesans Pizza, McDonald's and Burger King.
Where do Twilight stars stay in Squamish?
Locals unanimously report that cast and crew are staying at the Executive Suites (pictured below). The unglamorous Executive Suites stand across from the highway, surrounded by mountains, forest, marshes and electrical wires.
"No cameras are allowed because of certain guests who are staying here," said a security guard, who emerged from the front entrance to confront two reporters, quickly removing any doubt on the accuracy behind the rumours.



Before dusk, the fanpires emerged
Mallory Proverbs, creator of the Twilight fan page MontrealTwilightGirl.net, is a 25-year-Twilight fanatic who travelled all the way from Montreal in hopes of meeting her favourite film stars. So far, she's spent a month and two days tracking down the cast of Twilight: Breaking Dawn.
She spotted Pattinson and Stewart earlier at the Sheridan hotel in Vancouver but missed out on a photo opportunity. "We did see them but we were too in shock to take the picture," Mallory said. "They're so cute together."
She's "Team Edward," she said, by the way.
"Is that Kristen Stewart?" Mallory speculated, watching a brunette drink coffee inside The Cup cafe. The woman was not her, despite sharing Stewart's same stilted body movements and awkward mannerisms.
Kristen Stewart
"Three weeks ago at Executive Suites there was a loose security guard, and he kind of let anyone go up to the hotel as long as you asked the actor whether you could take a picture. So we were able to go up to the steps and take a picture of Peter Facinelli with the producer Wyck Godfrey, and Ashley Greene who plays Alice. Now it's more closed off," she said.
"Wednesday last week we could go in to eat, but we could not use our phones, even to text, because they believed you were recording what was going on. You couldn't take pictures in the hotel either. You could see them, you could say hi, but you couldn't take pictures," she added. "One by one, by five by ten, everyone came in, the new vampires, everyone."
Mallory pointed out actor Boo Boo Stewart in the passenger seat of a passing red car. Stewart noticed her eyeing him, and quickly smiled and waved.
"We spotted Sarah Clarke, aka Bella's mom, by the plaza on Tantalus Way. She was at the spa, so we waited for her to finish.
Sarah Clarke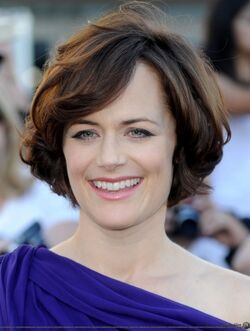 Two hours later she comes out with her pedi done and we walked up to her. We called her name and she looked at us like we were crazy and said, 'Yes, it's me.' I introduce myself to her, and I then asked if I could have a pic. She then says, 'No, I won't do that. I'll just introduce myself.' She then shakes my friend's hand and says, 'I have to get some things for my baby,' and walks away," Mallory said.




Mallory Proverbs
AnotherTwihard who wishes to remain anonymous spilled details about a chance sighting of Peter Facinelli and Kellan Lutz, both actors that portray vampires in the Cullen family. Parked outside the movie theatre, the fan started calling "Peter" and "Kellan." "Sorry guys, it's raining," said Facinelli, but Lutz was less than friendly. "He didn't even turn his head to acknowledge our presence," said the disappointed fan. "He's a jerkface," she added.
It's speculated that the cast and crew will leave Squamish by Friday. Until then, filming is rumoured to take place at the following locations:
Furry Creek, photo courtesy of www.golfbc.com
Paradise Valley, photo courtesy of Wikimedia Creative Commons
Shannon Falls, photo courtesy of Wikimedia Creative Commons