The list is long this week. There's no summer blockbuster new in town but there are several very good smaller films. Check these out.
Marianne & Leonard Words of Love: 4 stars
The Last Black Man in San Francisco: 3 ½
The Serengeti Rules: 4 ½
Stuber: 2
The Invisibles: 3 ½
Ray & Liz: 2 ½
Babylon: --
Crawl: --
Unplanned: --
MARIANNE & LEONARD: WORDS OF LOVE: She has top billing but there's much more about him in this enthralling film. Naturally. He's Leonard Cohen the Montreal poet who went world-wide with his songs about love and hate. She, Marianne Ihlen, from Norway, was for a time his muse (e.g. So Long Marianne and Bird on a Wire) and off and on over many years his lover. She met him on the Greek Island of Hydra, consoled him when his novel writing faltered and supported his music making. But was then out of his story most of the time when he left to become successful at that. A few tries to get back together didn't take but they remained friends until the end.
One of the last things he wrote was a letter read to her as she was dying. Their love story was poignant but as somebody in the film says "Poets do not make great husbands." Maybe it was Aviva, the widow of Cohen's friend Irving Layton. She has a number of cutting remarks about Cohen's womanizing and the free-wheeling circles he moved in. The film is most interested in that side of the story, including more drug taking than I had realized, insecurities and erratic behavior. Cohen took a seven-year break in recording one of his albums and also a long retreat into a monastery. He had children with another woman and courted a third. People who knew and worked with him tell it all and Nick Broomfield shapes it into a candid but still loving biography. Broomfield was one of Marianne's lovers too. She encouraged him to get into filmmaking and he has made a number about musical artists. This is the best of the ones I've seen. (5th Avenue) 4 out of 5
THE LAST BLACK MAN IN SAN FRANCISCO: Jimmie Fails is not the last. There are homeless ones, a grandfather (S.F. native Danny Glover) living alone and five guys always hanging about on the street commenting and criticizing as needed. But they're being pushed aside by gentrification, it seems, as housing has done down there much like it has in Vancouver. So the title is a bit of an ironic joke, the first of several. The film stirs up waves of nostalgia and a bit of anger for what used to be and what has happened. Though it is specific to that town, we here can easily understand.
Fails is both the actor and the character he plays (a fictionalized self). That's an indication of the oblique approach this film takes with the issues it raises. It's not a harangue, or even a speech, but a wistful fantasy. Jimmy sees that the heritage house his family used to live in is currently empty because of a real estate dispute. He starts to fix it up, revive the garden and then moves in along with his friend (Jonathan Majors) who is writing a play with the same title. Tourists flock outside on segways and are told the history of the house, which Jimmie disputes. A banker and real estate agent are supremely condescending. Ordinary people aren't part of this community anymore. The film makes that point precisely and it lands with feeling. Joe Talbot, who co-wrote it, is a first time director but a 5th generation San Franciscan. (Park Theatre) 3 ½ out of 5
THE SERENGETI RULES: This is one of the most interesting films about science and ecology I've ever seen. It's both alarming and hopeful. Yes, both. And stimulating in that it opens up a new way of looking at the natural world. New to us anyway; the five biologists shown here have been working on this for decades. The film explains it like a good, fast-moving mystery, helped immensely by Sean B. Carroll, who wrote the book and appears like a demonstrative narrator. The scientists themselves talk about their work and re-creations with actors as much younger versions of them show it. Tony Sinclair, professor emeritus at UBC is one of them.
His work in the Serengeti National Park in Tanzania both confirmed and expanded on the work started in Washington State by Bob Paine (who, by the way, was already on his deathbed when he talked for the film). Paine proved that predators are the controlling creatures in many natural communities. He studied starfish. Jim Estes and Mary Power found the same, he with otters in Alaska, she with bass in California. There are dramatic pictures of the same environment, healthy or dying, when the predators are or aren't there. Sinclair found these "keystone" creatures didn't need to be the predators, the wildebeest isn't one, and that systems can be restored by letting the keystone thrive. There are a lot of lessons for us there, including that nature can heal if we just stop interfering. (VanCity Theatre. Tony Sinclair will be at the Sunday afternoon screening for a Q&A). 4½ out of 5
STUBER: It's funny but pretty low class. It made me think of the much better movies these people have been involved with. Kumail Nanjiani co-wrote and starred in The Big Sick for which he got an Oscar nomination. Dave Bautista is one of The Guardians of the Galaxy and Iko Uwais, the main a villain here, is a great action star in the two Raid movies from Indonesia. The director, Michael Dowse made some Canadian audience pleasers including Goon but unfortunately he carries over the violence-is-funny bias from that film and lets it overpower what this one could have been.
It's a buddy comedy that, just like many before, pits two unalike personalities against each other. Bautista is a pushy cop who, after he wrecks his own car after an eye operation, commandeers an Uber driver (Nanjiani) in his pursuit of a killer (Ukwais). The driver's name is Stu, hence the film's name. He's mild-mannered and can't refuse because he needs good ratings from his passengers. A series of snappy interchanges between him and the cop reveal the film has ideas on its mind, about masculinity, police power and little people struggling to make do. It does little with them though. They're brief jokes amid the car chases and elaborate shootouts. Women characters (Mira Sorvino, Karen Gillan, et al) are either secondary or wasted. (Scotiabank and suburban theatres) 2 out of 5
THE INVISIBLES: It's almost impossible to believe, but it happened. In Berlin, during World War II, although Goebbels declared the city free of Jews, several thousand managed to stay there undetected by the Gestapo and unreported by informants. Claus Räfle's film shows this remarkable tale of survival and ingenuity through the experiences of four people, and in two ways. They tell their own stories years later (two have since died) and actors play them in dramatic re-creations. The film switches back and forth and though that's awkward a few times we do get terrific stories.
There are tense close calls and various strategies to avoid them.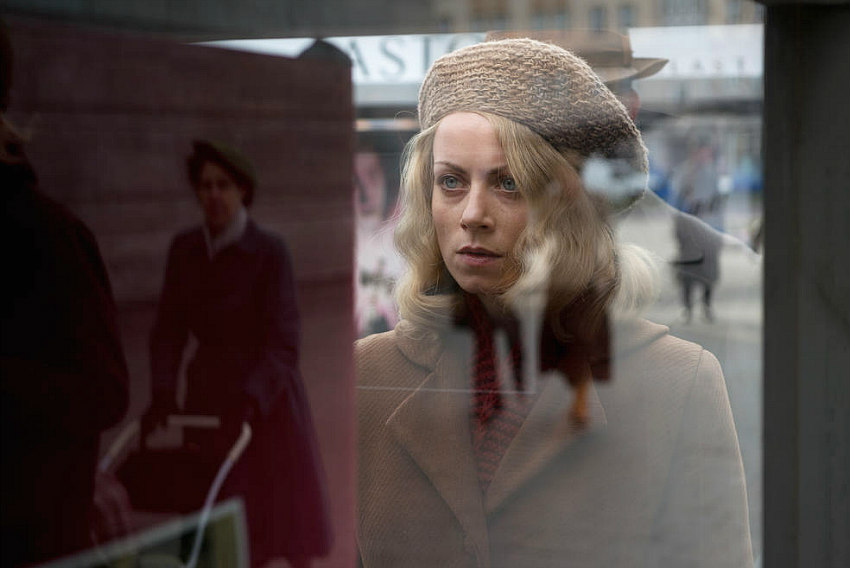 Hanni Levy had her hair dyed blonde to make herself "invisible." One man passed himself off as a soldier on leave. Another said he was an "essential worker" in a machine gun factory. All four were helped by Germans who hated the Nazis and one was even given a place to stay by a Nazi official. One helped counterfeit passports for which he was paid in food vouchers. These are not just stories of resilience. By acknowledging the help from some of the German people the film gives a much more nuanced picture than we're used to. It is being shown by the Foreign Film Society, just once, Saturday 3 p.m. at the VanCity Theatre. 3 ½ out of 4
RAY & LIZ: An instant classic to some, this is also one of the grimmest films you'll ever see. It was written, directed and lived by the English photographer Richard Billingham who in 1996 exhibited a series of pictures of his parents and here both re-creates it and expands on it. Actors play the roles as he shows his life growing up in a council flat in Birmingham with his severely neglectful parents. It can't carry a lot of fond memories but he doesn't judge.
The flat is a mess. Mom smokes constantly. A visitor plays a cruel trick on an uncle. Billingham alarms by showing his younger brother repeatedly in danger while his parents are out or just oblivious. It is an impressionistic exhibit of incidents in their life but what it means to say isn't clear. The film cuts between those early years and later when dad is alone in a single room, lying in bed and supplied with homemade wine. Other than one man's memories of his dysfunctional family, I don't see anything worthwhile to take from it. Thatcher's England is the era, which usually means the characters are victims of an uncompassionate system. Not these people. They're bad parents and inept people. Folks like that exist, sure, but it's depressing to watch them too long. (VanCity) 2 ½ out of 5
And three also now playing but not available to preview:
BABYLON: This one I'm very curious about. It seems to be something like the reggae-based The Harder They Come, only harder. So much so that although it was made almost 40 years ago and played at Cannes it was never released in North America. "Liable to inflame racial tensions," was the reason. Critics have widely praised it though for its music and its tough story of an aspiring dancehall DJ in London who has to fight against racism, xenophobia, police, and the National Front to advance his career. It's at The VanCity theatre until Monday and again Thursday.
CRAWL: The sharks are missing at the movies this summer. How about some alligators then? Horror specialist Alexandre Aja from France filmed them in Serbia of all places, pretending it was Florida, and with BC's own Barry Pepper menaced by them. He plays a father injured in a giant hurricane and trapped along with his daughter in the flooded crawl space of his home. The alligators are in there too. I haven't seen it. The only preview screening I'm aware of was for Pepper exclusively.
UNPLANNED: This is one of the most controversial films in some time. Some TV outlets in the US even refused to air its ads. It tells the true story of a Planned Parenthood abortion counselor in Texas who switched to become an anti-abortion activist and speaker. Apparently it contains grisly scenes and has been denounced as dangerous propaganda. A pro-life group campaigned to have it brought to Canada, which around here means Langley, Mission, and the Hollywood 3 in Surrey and Pitt Meadows.