It's official: Powell River (or Powtown, as it's known to its denizens) is now the "least polluted city in the world." So says the Guinness Book of Records.
My nose confirms the good news almost as soon as I reach the town of 13,000 some 180 road-and-ferry kilometers north of Vancouver along the Sunshine Coast. Cresting the wooded bluff of Marine Avenue out of the Westview suburb, I'm greeted with a whiff of pristine air, faintly scented with sea-spray and cedar.
All the more incongruous, as the unfolding vista of the historic, original Townsite district is dominated by a sprawling paper mill – Powtown's original raison d'être – sending up 100-metre billows out of multiple vents.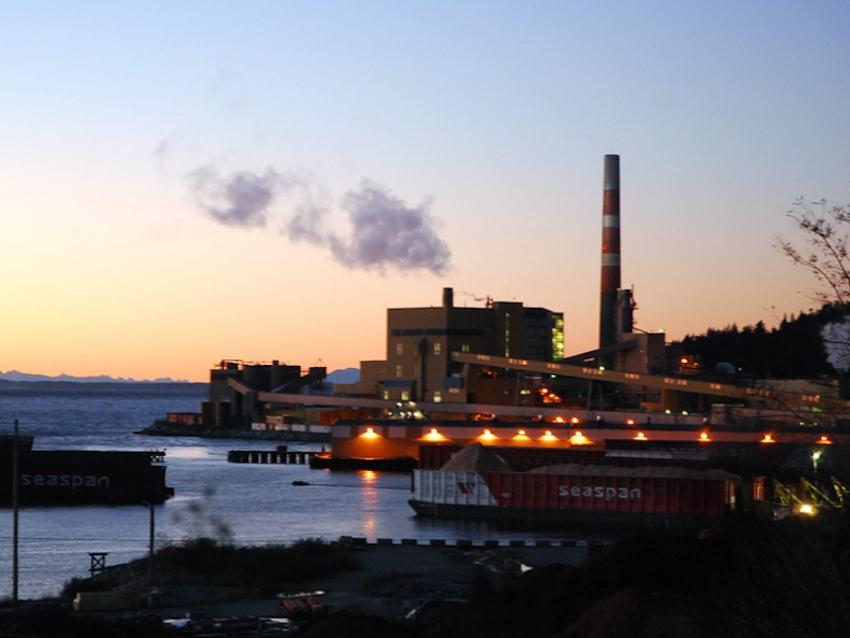 Paper mill at sunset; that's steam, not smog. Photo: John Berger
In the decades up to the 1960's, when this factory ranked as the worlds largest pulp and paper mill (by output), those stacks would have smothered the paternalistically planned company town in an acrid miasma of wood pulp smoke. But now they belch nothing but harmless steam from the mill's state-of-the-art wood-fuelled power plant.
So limpid is the gaseous and liquid effluent that the erstwhile log-pen has become a favourite roosting place for seals and sea lions. You can hear them keening and quarrelling all the way from the Marine Avenue overlook, a kilometre away. But the sound is most striking right down at the water's edge, where it echoes off the eerie, moss-grown Hulks that comprise the log-pen breakwater.
Ghost ships reincarnated
Back in Gibsons, when we started this road-trip, local artist Liz Williams complained that provincial and municipal officials were treating her live-in, flower-bedecked barge as "just an eyesore hulk" to be squeezed for tax revenue. But up here in Powell River, The Hulks are cherished as the town's most distinctive icons.
These 1940's-vintage ocean-going freighters, scuttled and anchored offshore, once served to shelter the mill's log-raft feedstock from the waves of the Malaspina Strait.
Cast in concrete due to World War II steel shortages, the ships still rate as a quirky living museum for nautical history buffs. One of the Hulks, the S.S. Quartz, was even pressed into service for the first atom bomb tests off Bikini Atoll (and was pronounced contamination-free before being towed to Powell River in 1947).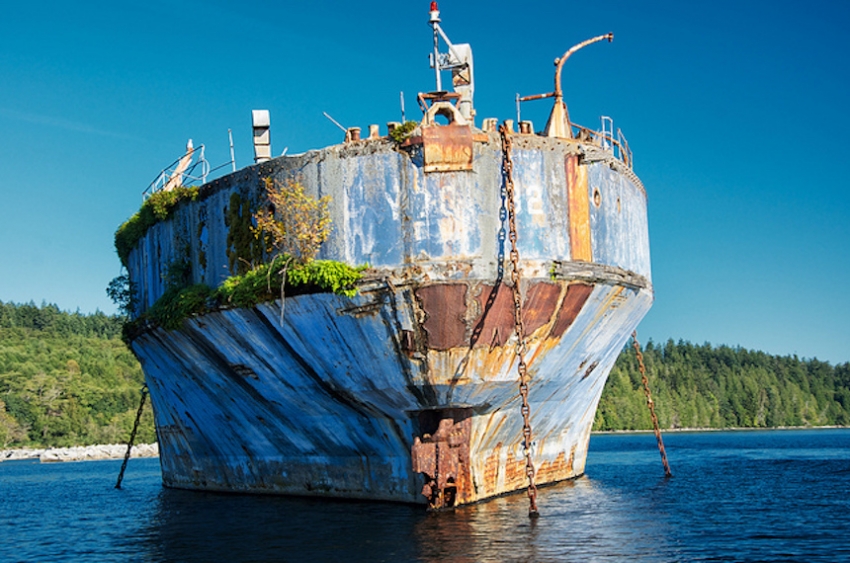 One Incredible Hulk. Photo: Lawrence Behan
But now that the drastically downsized plant no longer processes raw logs, the breakwater has outlived its utility (except to its resident pinnipeds). Plans are afoot to sink four of the Hulks on a barren stretch of seafloor midway between Westview and Townsite to make an "artificial reef" underwater park.
Sportsdiving tourists flock here in the summer to frolic with 12-foot octopodidae and other charismatic marine fauna. In the winter, though, tourists of any sort are scarce, so Powtown's charismatically local terrestrial fauna – especially the human ones – are left to frolic on their own.
Powtown's filmgoing public: broadening tastes and derrières
We join a queue of them outside the Patricia Theatre, North America's oldest continuously operational movie house, for opening night of the Powell River Film Festival.
Given the city's blue-collar antecedents, who would have expected such an artsy and international roster of movies? Some of them have already featured separately in the Vancouver Observer's Film section; for the rest, watch this space.
Especially striking how much of the queue is made up of Powell River lifers: Baby Boomers with decades – if not generations – of background in the town and the mill. Not so surprising, though, to Jim Dickenson, 78, waiting patiently in line at the glassed-in Art Deco ticket kiosk. "I'm kind of a Hulk, myself. I've been coming here since I was a kid, when I'd blow my whole week's allowance at a go: 15¢ for the movie and an ice cream next door for a dime."
Comfortably pensioned off when the factory slashed its payroll from over 3,000 to the present few hundred, Dickenson – like most Powell River Mill retirees – saw no reason to move away. But, with decades of leisure for self-cultivation, his film tastes have by now grown worldlier. So he looks forward to the Festival as an annually recurring treat.
Others attend the movies as much for sentiment as for the offerings onscreen. "I have one couple, now well in their 60s, who always come to sit in the same pair of seats where they used to smooch as high school kids," reports theatre-owner Ann Nelson.
Of course, she adds, by now "everyone's derrière has gotten a little wider." So the Patricia has installed new seats (still in red plush), acquired second-hand for cheap from a remodelling of Vancouver's Orpheum Theatre.
Not much else has changed, though, inside the little jewel box of The Pat (as it's locally nicknamed). Ceiling fans still chop the air. The proscenium is still framed in the original French silk curtains. The walls are still blazoned with hand-painted beachscapes, plausibly of Sunshine Coast vistas except for the pair of peacocks strutting incongruously in the frontmost panels.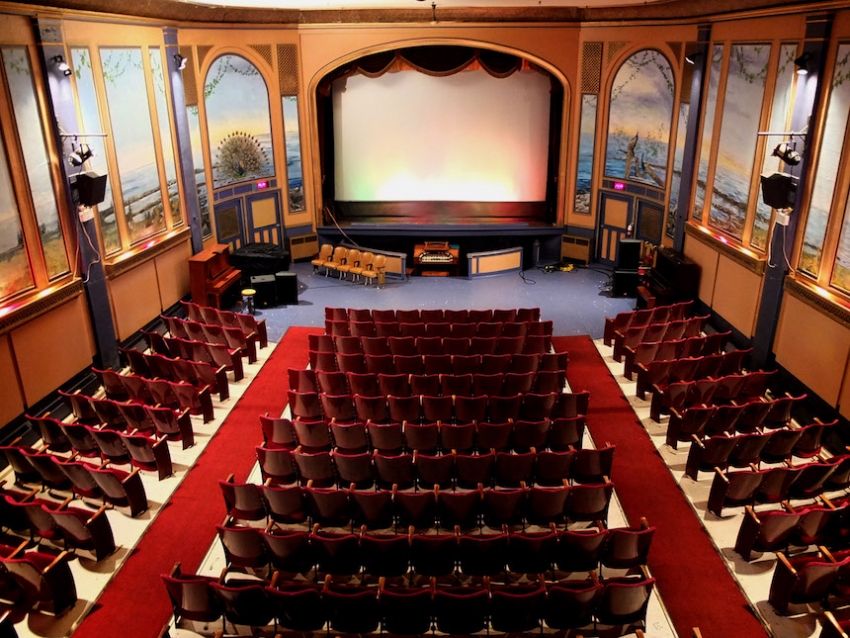 Time-travelling in The Pat. Photo: Patricia Theatre.
On the stairway up to the loge, a dewy young Queen Elizabeth in her coronation finery still beams from a 1950's rotogravure. Her Most Serene Majesty would no doubt blush to hear the stream of Queen's English emitting from the balcony above, which now serves as a dressing room for the Festival's pre-show.
Hoochie-koochie
"Sheesh! Anyone have a decent safety pin? I've got nothing here but these shitty Chinese ones from the Dollar Store!"
A pouty vedette in black lace bodice and fishnet stockings bustles halfway down the stairs, only to be met with a helpless shrug from Nina Mussellam, the dressing room door-keeper and doyenne of the Friends of the Historic Patricia Theatre Society. With a toss of her blonde mane, the buxom showgirl flounces back up to the balcony.
That'd be Carol Ann Leishman, Mussellam confides. She's leader of the burlesque kickline that the Film Fest has recruited to introduce its opening selection, The League of Exotique Dancers. Both the kickline and the risqué film have been laid on in recognition of The Pat's original incarnation as a burlesque venue before it was rebuilt, after a fire, as a cinema.
"It started out, in 1913, as little more than a tar paper shack," Mussellam explains, "down by the mill site and the old Union Steamship dock. The hoochie-koochie girls would come up every week on the ferry and play two shows, Thursday and Friday, along with vaudeville entertainers, at the theatre.
"Then they'd do a special Friday late night show at the pub for their most devoted fans." It's to celebrate these pioneer women that Leishman and her troupe have been brushing up on their bumps and grinds.
"By the way, that's City Councillor Carol Ann Leishman to you," Mussellam adds. "In fact she's Acting Mayor right now."
Passion flower
To cool down from the torrid mayoral can-can and the ensuing striptease footage, we adjourn to the cozy Latino-themed precincts of the Costa del Sol (tr. "Sunshine Coast") bistro for an after-theatre Jamaica Margarita. It's served under the ambiguous gaze -- benignant? bemused? censorious? -- of a full-wall mural portrait of Mexican revolutionary Emiliano Zapata, urging us on to "Libertad."
¡Viva Zapata! Photo: Hsu Mei-lang
Apt exhortation, considering that the drink's active ingredient -- aside from high-octane tequila -- is hibiscus flower, purportedly aphrodisiac. We find we're not altogether immune to its action, even after 40 years of marriage.
Boxwood outback
So it makes for a muzzy morning-after awakening to pearly rainlight in our honeymoon suite at the Boxwood Cottage, in the Westview end of town. Host Diana Wood is there to meet us, with umbrellas, for a tour of the grounds. She turns out to have a few key points in common with Mei-lang, my left-brain and adult supervisor: Taiwan birth and education, plus a bright green thumb.
Except, when it comes to gardening, Diana has had extra advantages: formal academic training in horticulture (at National Taiwan University with graduate work at U.C. Davis, California's premier Ag school), as well as 25 years to embellish her three-acre Powtown playground.
It shows in the Boxwood outback -- mazes and koi ponds and bowers and gazebos. Tucked in amidst the greenery, a half dozen outbuildings -- even a treehouse -- accommodate her overflow guests, as well as her volunteer organic farming interns, during the summer high season.
While Diana and Mei-lang dote on the compost heaps and banked mulch, I wander the eponymous boxwood hedgerows, inhaling the bitter tang of incipient spring. The arched bridge at the back of the garden fords a runoff-swollen creek to access a cedar-hewn meditation platform.
"A green thought in a green shade." Photo: Boxwood Cottage and Gardens
We reconvene at the meticulously crafted Japanese teahouse, just in time for the rain to abate. So we get directions from Diana to iconic Willingdon Beach for a mid-day stroll.
Next up: people-watching on a forested nature trail that's busy as a boulevard.