Late winter, on the Sunshine Coast, one thing not to be counted on is sunshine.
You can reliably look forward to panoramic vistas, poetic mists, layered history, gourmet ethnic dining, cross-country ski runs, roiling rapids, oyster shoals and affable locals with yarns to spin and ample time to tell them. Not to mention a world class annual international film festival now rounding on its 16th year.
But don't expect to improve your suntan.
Not that it's altogether impossible. Meteorologically, in February, anything can happen – even sunshine – along the 186 km stretch of ocean and asphalt comprising Highway 101 between Horseshoe Bay and Lund.
The evenest keel in the B.C. Ferries fleet
Last week, for instance, there was an unprecedented foot of snow all the way down to sea level. But then Valentine's Day dawned balmy and bright as we drove onto B.C. Ferries' Queen of Coquitlam at Horseshoe Bay. Yet by the time we rolled off in Langdale, 40 minutes later, it was already windshield-wiper weather.
That's par for the course, according to the snappily uniformed pursar who welcomed us aboard. Just days ago, she relates, her ferry had sailed into the teeth of a full-blown gale.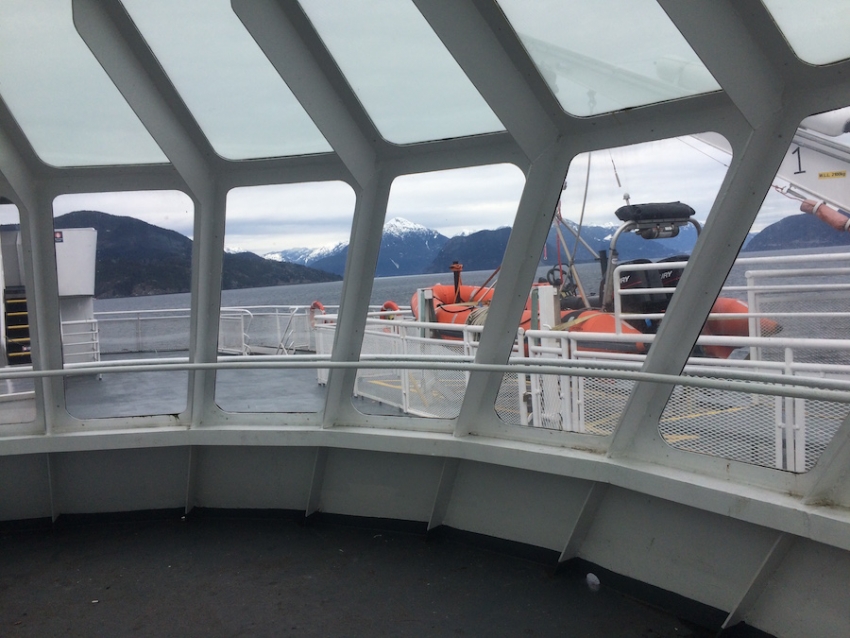 B.C. Ferries' Langdale-bound Queen of Coquitlam: Sunshine Coast, as seen from sunless solarium. Photo: Lincoln Kaye.
None of which fazed her off-season passengers, she adds. "This route is the most reliable in our system." Sheltered by islands and shoals, the Langdale crossing is relatively immune to winds and currents -- so stable that some locals can even rely on it for daily commutes to jobs in Greater Vancouver.
"We keep going even when the Nanaimo and Victoria services shut down. The only thing that'll tip this vessel at all is the whale pod that sometimes tracks us in the summer. Then enough passengers crowd the rail for the whole boat to list a little," she laughs.
Scouting Safari
But the laid-back Sunshine Coast lifestyle could start listing a whole lot more as current property market forces run their course.
Right in Horseshoe Bay, before even boarding the ferry, we ran into some harbingers of incipient real estate trends: a pair of high-rolling Beijing real estate speculators, along with their local overseas Chinese "fixer" and an Anglo potential "mark" who had 65 rural acres to sell.
Accompanied by a retinue of drivers, translators, lapdogs and assorted hangers-on, they rolled up to the on-ramp in a convoy of SUV's. Parking their bonsai schnauzer with the chauffeur below decks, they adjourned to the elegant Coastal Café to enjoy the view. We sat in the next booth, the better to eavesdrop.
Clearly the main expeditionaries – the speculators and their local agent – didn't know each other well, so the table talk turned right away to bragging. The mainlanders prided themselves not only on the quantity of money they represented, but also the quality: top-tier government functionaries – even military officials – held stakes in their capital pool.
The "fixer," for her part, claimed access to vast untapped reservoirs of overseas Chinese demand now that the sheen was off the Vancouver market. The Sunshine Coast, with plenty of unincorporated locales free of such impedimenta as zoning, building codes or vacancy levies, stands poised to become the next big Mecca of flippable development.
Before we'd even berthed at Langdale, the two sides had already sketched in the broad outlines of a deal: enough mainland money to build big and build fast, so the B.C. broker -- at 20% commission.-- could surf the cresting waves of demand.
"Nothing wrong with that," according to the agent. "Flipping," as far as she's concerned, is even a kind of public service. "Turnover, after all, is what makes the world go around. Isn't it?"
Unsinkable Liz
Emphatically not, according to the first Sunshine Coast denizen we meet upon debarkation. "Nothing here's for sale; none of it," Liz Williams declares, with a sweep of her deft, tough hand to encompass the whole of her winter lair.
Pretty as a TV set: Gibsons Harbour & Molly's Reach cafe of "Beachcombers" fame. Photo: Sunshine Coast Tourism.
It's a 10' x 10' cubicle mounted on a barge tucked under the wharf at Gibson's Landing. The space is crammed full of spangle and sheen: bead curtains, disco balls, translucent batiks, spirit-catching webs, rainbow-hued CD's, feather boas, fibre-optic fronds, winking nixies, dinky cars, bottle caps, ironwork filigree – more scintillating detail than the eye can take in.
Pearly rainlight shimmers among the piers under the wharf. It filters in through the beads and plumes and tiles. The boxy little room enfolds a hushed glow, like a stained glass chapel – but a good deal gaudier, with a magpie congeries of eclectic iconography.
Liz's sanctum – once a water-taxi office – occupies about a third of the barge. The rest is festooned with burgeoning container plants and trellised arbours that have made Williams locally famous.
But we'd never heard of her when we ventured down to the Molly's Reach café and its adjacent docks, iconic locales of CBC's long-running "Beachcomber" series. It was the ocean-going greenery that first caught our eye. "Your garden?" we asked the elfin figure we spotted trundling a trashcan up to the wharfside dumpster.
"Yeah," she confirmed, "but don't look at it now. I give it a rest all winter and let it mulch until spring. This time of year I mostly stay inside and play with my artwork – if you can call it that."
Intrigued, we asked whether we could see or buy her opus in any of Gibson's many galleries. Not on show anywhere, she assured us, and none of it's for sale. But she ushered us down the gangway into her charmed cubicle.
Lioness in winter; Liz Williams hibernates in her studio lair. Photo montage: Lincoln Kaye
Where we remained for over an hour, transfixed by her life story: How, as a rebellious 19-year-old "Motorcycling Mama," she'd first roared up to Gibsons (from North Van) "following a man, whom I unfortunately caught up with."
How, on the rebound from that relationship she wound up in another liaison that lasted just long enough to leave her single-parenting her now-grown, dotingly devoted son. How she supported herself by buying a clapped out dump truck which she drove as a freelance contractor up and down the coast.
How she landed a job as a school bus driver, which lasted long enough for her to watch her "clients" grow from first-day kindergarteners into glamorous prom queens. How 20 years ago she plunged her whole (meagre) life savings into buying an old Shuswap Lake houseboat.
No sooner had she shipped it back to Gibsons than it sank straight to the bottom of the harbour. Several years and borrowed thousands of dollars later, she finally got it back afloat, with the interior lovingly refurbished by her dockside neighbour, Ray, a Quebecois master-carpenter.
And then, just days later, she was hit with a diagnosis of breast cancer, a double mastectomy and a lengthy rehab. For a while she had to work three jobs at a time to pay for all this. She's only now finally managed to retire from the school board with enough of a pension to cover her moorage plus a few hundred left over to keep her in pasta, garden supplies and thrift-shop grist for her artwork.
"I guess I'm unsinkable after all," she laughs.
"Now and then men – and it's always somehow men (no offense) – urge me to sell my art to make ends meet. I tell them 'if I sold things for money, as a customer I'd have to respect you, sir. Which I don't.' And then I invite them to leave."
Children, on the other hand, are always welcome in Liz's sanctum. "And when I tell them that they can help themselves – for free – to anything they like here, you should see their eyes bug out." Their selections are precise, idiosyncratic, often shy and rarely greedy, she adds.
So after a stormy course, she feels herself, at age 69, securely berthed at last. "All I could wish for now might be some grandchildren of my own," she sighs. "Do you know any women that might be interested in a 40-something electrician living on 15 wooded acres in Madeira Park?" she enquires on behalf of her bachelor son.
But, having finally charted her brave course into this safe haven, no way is she going to let Christy Clark unmoor her. For half a decade, now, she's been embroiled in a running controversy with the B.C. government, which wants to assess her barge as real estate on the grounds that it's a live-aboard waterfront home, rather than actual seaworthy craft.
"It's a boat, dammit!" she protests. "Look: It's got an engine, a hull, a cockpit. I even took it out of the harbour to prove the point!"
Ironically, it's left up to the town of Gibsons to enforce the assessment. And local public opinion is solidly behind Williams, as reflected in letters to the local paper and the hundreds of signatures she amassed on a petition she posted alongside the massive pink protest banner she unfurled on the wharf on Canada Day, 2013.
The case has been in abeyance ever since. But this year, Williams is warned, it could come to a head with the seizure of her boat. She's already gearing up for another protest and petition with the onset of Gibsons' touristic high-season this summer.
"If you ask me," she says, "it's just a revenue-grab. Think of all the 'semi-retired' watercraft, inhabited or uninhabited, up and down the B.C. coast. Wouldn't the Province love to get its hands on such a nice tax base! I'm just the edge of a wedge.
"But we're not just eyesore hulks. We're a little piece of what makes this place special. We're culture; we're history."
Up next in Sunshine Coast travelogue: Hulks and History in Powell River.