As we get closer to the Academy Awards you've still got time to check out the contenders. Eight of the nine best picture nominees are still in theatres around here.
The VanCity Theatre is showing the short films several times, plus a documentary contender, A Life Animated, one time on Sunday afternoon. The wonderful Swedish dramedy A Man Called Ove is back for a regular booking at International Village (and reviewed below). And a few more contenders will arrive next week.
Meanwhile, these are this week's new comers:
The Great Wall: 2 stars
A Cure for Wellness: 2 ½
The River of My Dreams: A Portrait of Gordon Pinsent: 4
The End of the Road: 3 ½
A Man Called Ove: 3 ½
Fist Fight: --
THE GREAT WALL: This is notable more for its business goals than any artistic merits. Sure it's got Zhang Yimou, one of China's most accomplished directors, in charge but this is not anything like Raise the Red Lantern or even Hero. He's just a hired helmer here and says he took the job in hopes it will help spread Chinese culture. Little chance of that when the movie plays like a rampaging-monsters epic that could have come out of Hollywood. In fact, it did sort of. It's a co-production: filmed in China but written by Americans, starring Matt Damon and made by a US company recently bought by a Chinese corporation. They want to get into the world-wide blockbuster game, like the Americans.
Damon and Pedro Pascal (from Game of Thrones) are adventurers in 17th century China looking for black powder. They're captured and get involved with a stellar cast of Chinese actors including Andy Lau, Lin Gengxin, Kenny Lin, Eddie Peng and a new star just emerging internationally, Jing Tian. She'll next be seen in the new King Kong movie. Here they're all part of an army fighting a rampaging swarm of creatures from Chinese mythology called taotei. They look like they're from the dinosaur era. There are modern touches. There's no whites-to-the-rescue angle and women are just as involved in the battles as the men. There's no love interest developing and distracting. But there is lots of spectacle and thanks to Yimou lovely visual touches like the funeral with lanterns floating in the sky. The special effects were done by companies around the globe, including Quebec. You'll wish there was more story though. What's there isn't very involving. (Scotiabank, Marine Gateway and suburban theatres) 2 out of 5
A CURE FOR WELLNESS: This one starts so well. It's like a classy Hammer film in the early going, not too suspenseful but with a strong pull of searching and discovering. Then it takes forever to get us to a reveal we know all long is coming and finally a horror-movie flip out that didn't register, probably because it came so late. And it's more than a bit silly too.
Dane DeHaan plays an employee at a financial services company who is sent on a mission to a medical clinic in the Swiss Alps. He's to bring a senior executive back to New York to sign papers for a merger but finds the man unwilling to leave and interrupt his treatment. Nobody leaves, he's told, and when he suffers a broken leg in a car accident, he's stuck too. Now he has time to snoop around, get to know the overly helpful clinic director (Jason Isaacs), his blissed-out patients all hooked on the rejuvenating water he prescribes and a mysterious and sassy young woman (Mia Goth) who seems to know much. Meanwhile he, and us watching, are tormented by a dentist, hungry eels and fear of drowning. Gore Verbinski, director of three Pirates of the Caribbean movies, The Rings and many others) lays the squirm-inducing scenes on thick. There's too much of everything (except maybe logic) but the film looks great. (International Village, Marine Gateway and suburban theatres) 2 ½ out of 5
THE RIVER OF MY DREAMS: A PORTRAIT OF GORDON PINSENT: One of our most honored actors is also a great raconteur. He tells story after story and keeps us entertained and occasionally moved in this film about his life. And when he's not on screen, other notables talk: Norman Jewison, who took him to Hollywood and gave him a role in The Thomas Crown Affair, Christopher Plummer who became a great friend although he thought him boring when he first met him, Mary Walsh who calls him a "chick magnet" and R.H. Thomson who lauds him as "an anchor of the culture".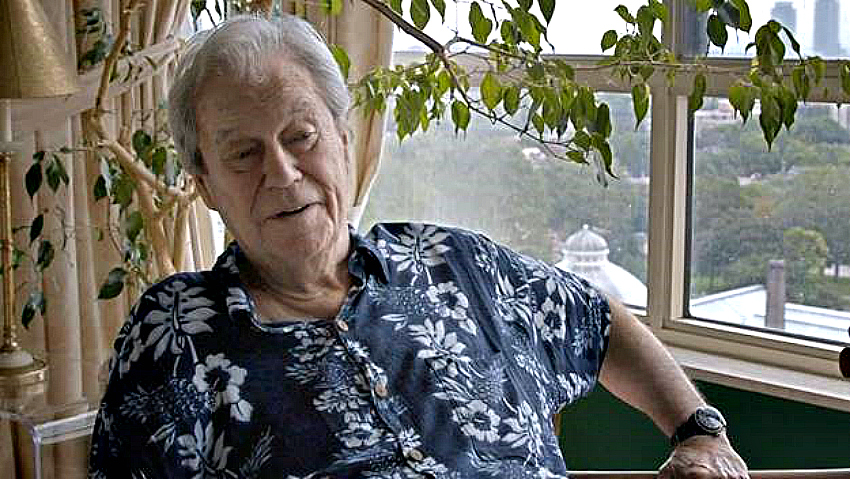 Pinsent himself describes growing up in Newfoundland, frequenting the movies and having a first job at a paper mill, getting to Canada through trickery, getting into theatre in Winnipeg and radio drama on the CBC. Also getting the token-white role in Blacula, being recognized by a young boy as the voice of Babar and sitting beside Pierre Trudeau at a premiere of his personal project The Rowdyman only to have the picture come on upside down. There are personal details. On the breakup of his first marriage: "I was unsuited to that stability," his deep love for his second wife although she took to the bottle and smokes and emotion when his two children from his first marriage contacted him. Lots of great anecdotes come by at a snappy pace. And, best of all, a Canadian is presented as not just worthy but interesting. The director, Brigitte Berman, won an Oscar 22 years ago for another profile, of jazzman Artie Shaw. (Park Theatre) 4 out of 5
THE END OF THE ROAD: For some this is nostalgia. For the rest of us it's a valuable historical record. Either way, if you're anywhere near Powell River this weekend, check it out at the film festival now underway. It's showing three times because it's a local film and yet documents a social phenomenon that took place in many locales around BC almost 50 years ago. Young Americans came up here to escape the draft for the Viet Nam war and, in some cases, as part of a back to the land movement.
In Lund (not far north of Powell River) some people called these hippies "bush bunnies". They didn't know how to build houses but did anyway. They organized community events, staged amateur theatre and held dances. Sex and drugs and rock and roll was practiced enthusiastically. One survivor talking in the film recalls a time of "sporadic and free joining of genitals" which among other things made Father's Day a difficult event to mark.
Tai Uhlmann was raised there and returned after years working in the film industry in the US. With her partner Theo Angell as editor, she made the film to let the people tell their stories. And they do. The film is crammed back to back with them. Some, not so compelling, would be better edited out. Many are revealling. Kids ran free. Single men were shared. Sexism was common. And yet, the people telling us these things seem to have come through it all perfectly normal. Home movies and photos show us what they were like back then. Maybe people caught up in big social movements don't change as much as we think. The film is a bit ragged with visual effects, maybe 20 minutes too long and skimpy on factual details but it'll have you engaged and thinking. (Sat. at 8, Sun at 1 and 3:45) 3 ½ out of 5
A MAN CALLED OVE: It was a hit at VIFF, has been back at the VanCity Theatre and has returned again. You can't keep a good film down. Not when it comes from a bestselling book, triumphs as the most popular foreign language film in the US last year and gets two Academy Award nominations. And is entertaining and funny with very dry Scandinavian humor.
Ove is a Swedish curmudgeon. Can he soften up? He's smarting from several losses: his wife, his job of 43 years and his position as head of the residents' association in his neighborhood. (His best friend won an election against him after they clashed about the relative merits of Saabs and Volvos). He continues his daily patrols though, cranky and nattering indignantly at people who litter or park badly. He's especially annoyed with bureaucrats and a noisy immigrant family that moves in nearby. He tries suicide but fails comically. Flashbacks show what made him that way. Train accidents play a role. He does the rest. You laugh and you cry as it evolves into a heartwarming film. (International Village) 3 ½ out of 5
Also now playing …
FIST FIGHT: Problems in the education system are examined not with reasoned analysis but juvenile humor. (I haven't seen it but an informant who has, gave me that word). A highschool is suffering from student pranks, inept administrators and budget cuts. One mild-mannered teacher (Charlie Day) manages to get another (Ice Cube) fired and that gets him invited to settle this outside. Somehow, in the imagination of the three screenwriters, the school stands to benefit from this. The highlight might be funnyman Tracy Morgan in his first film since a car accident three years ago caused him serious injuries. (Scotiabank, Marine Gateway and suburban theatres)