When Zakir Suleman wanders up and down Commercial Drive, he sees more than a colourful strip of boutiques and coffee shops.
He sees the park he played soccer in during elementary school, the grocer who has known him since childhood, and the Ethiopian restaurant where he took his girlfriend on one of their very first dates. He sees the café he used to work in, overflowing with customers during Italian Day, and the street musicians who have been playing jazz on the block for years.
In other words, when Suleman wanders up and down Commercial Drive, he sees home.
"When I think about this neighbourhood — the idiosyncrasies, the street — they're all things that really matter to me because they're my home," he says from the local JJ Bean Coffee Roasters, where he is working away on his laptop over an iced coffee. "They're my home, and the street matters to me because it's my living room."
Suleman, a 22-year-old philosophy student at UBC, has always lived in the Commercial Drive area, and has far too many memories here to consider moving anytime soon. He even credits the neighbourhood in part for making him who he is today.
Diversity on the Drive
"The diversity has really shaped my life because when you grow up in a place with so many different voices, you learn not to privilege one above the others," he explains. "Growing up here it's impossible not to run into people who are wildly different from you, and it's easy to find a space (to belong) when everybody's really different."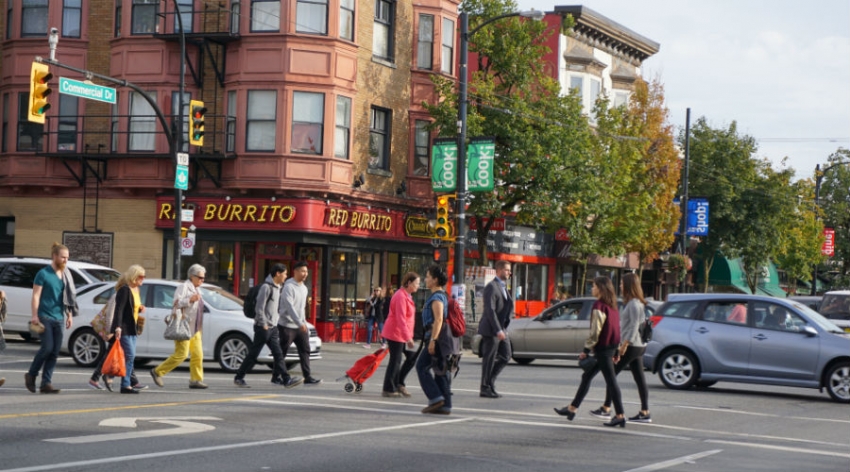 Residents of the Drive represent a true slice of urban Vancouver. Photo by Elizabeth McSheffrey.
Commercial Drive, or 'the Drive,' is famous for its counter-culture. Its residents include political activists, hippies, the LGBTQ community, artists, punks and more. The neighbourhood oozes defiance at every corner, from the slam poetry on Mondays at Cafe deux Soleils to the Impromptu Rock Choir performances at Wise Hall.
"There's the guy who makes jewelry out of forks, there's the trans woman who sells sage wands, there's the mechanized goat man — he's a busker," says Suleman. "I think (diversity) is a draw because Vancouver can be sterile… In a city where a lot of different places are struggling to find a street culture, Commercial Drive has one that's entrenched, one that's been here for a long time."
I take a stroll down the main drag and can see that this community has made every effort to resist the homogeneous. I pass several vintage clothing shops, natural and organic food stores, and family-owned coffee shops from around the world.
For as much as the Drive prides itself on alternative identities, Suleman explains, it prides itself on a thriving community of immigrants and families.
"I think the history of Commercial Drive is really rich because the neighbourhood has experienced a lot of change in terms of waves of immigrations and different class and other struggles," he tells me. "I think the thing that makes this an attractive place to live for me is that it's really its own spot."
All the amenities
But the neighbourhood's 'spot' didn't come easily, says Suleman. The community fought tooth and nail to earn its place in Vancouver from its protest of the freeway in 1968 to its resistance to gentrification and capitalism during May Day last spring.
The result today is a vibrant, eclectic community where everybody can feel at home.
"Life is pretty localized," Suleman says with a smile. "It's great when you're in some place and you don't have a lot of incentive to leave. That's kind of a nice thing because it means it's self-sufficient enough for most of your needs."
The Drive has all the amenities, including specialty food stores like the Dollar Grocers. Photo by Elizabeth McSheffrey.
The Drive is 21 blocks in length from Venables at the north end to 13th Avenue at the south end, but the greater community includes Grandview Woodlands as well. It's not only a hub for food and shopping, but for parks, schools, and recreational facilities.
Suleman's favourite amenity is Grandview Park, where we end our little walk through the neighbourhood. I take a quick look around and see children lining up for the swing set, students studying on the grass, and guitarists picking away next to the cenotaph.
"This culture, this street vibe — I think the whole neighbourhood kind of spills out into that park, because when it's sunny, people will just come out and lie in the sun, hula hoop, play music," he explains. "It has this instant neighbourhood feel which is quite nice."
Sign up for here for free registration and 30 free minutes
Contest: "Tell us why you love your neighbourhood" HAS ENDED.
Welcome to Evo Car Share's "Why I love my neighbourhood contest." Join us for a chance to win 100 minutes of Evo drive time.
To participate you just have to:
1) Post a photo on Instagram or Facebook of something that really makes you love your neighbourhood. Each post counts as one entry and each contestant can enter three times, so post often!
2) Tag us in your photo – For Instagram: @vanobserver, @evocarshare. For Facebook: https://www.facebook.com/VancouverObserver, https://www.facebook.com/evocarshare
If your user names are different on Instagram and Facebook, make sure to let us know.
3) Five winners will be chosen by Vancouver Observer using a random number generator. Maximum 3 entries per individual contestant will be entered into the draw.
Contest details:
This contest is sponsored by Evo Car Share.
The contest starts Sept. 15th, 2015 at 12am PST and ends Oct. 25th at 12pm PST. Five winners will be chosen by Vancouver Observer using a random number generator. Maximum three entries per individual contestant will be entered into the draw. The odds of winning depend on the number of valid entries received.
Winners will be announced on VO Facebook on Tuesday, Oct. 27, 2015. Vancouver Observer and Evo Car Share will not publish winners' names without prior written consent.
Evo will credit winners' accounts with 100 free minutes within three days of receiving their contact info. No purchase is required.
Contest eligibility, terms and conditions:
Contestants must be BC residents with a valid BC driver's license. All posts and photos posted to social media are the property of the owner and will not be reused or republished by Vancouver Observer or Evo without prior consent.
Posting on Facebook and Instagram for the purpose of the "Why I love my neighbourhood contest," constitutes an implicit and complete release of Instagram and Facebook by each entrant or participant.
This promotion is in no way sponsored, endorsed or administered by, or associated with, Instagram or Facebook. Void where prohibited.