The robots of Tokyo
The International Robot Exhibition (iREX) in Tokyo is as spectacular as you'd imagine. Robots, parts for robots, software for robots. Cute robots, plain robots, and scary robots.
iREX is divided into several zones, depending on the technology and its use. The main zones were service robots and industrial robots. When you hear "Tokyo" and "robot" in the same sentence, you probably think of cute plastic creatures with prominent eyes, or maybe the Uncanny Valley.
Perhaps you just think of this:
Fair enough, but robots are about much more than giant mecha: manufacturing, sorting, automated testing, and medical applications are only a few of the less sexy aspects of robotics.
For example, this is a robot that uses a tablet. We're not talking about a human-like robot sitting on the couch, wearing a Snuggie, and watching videos of goats yelling like humans. No, this robot tests apps to make sure all the gestures produce the right results. Tap, tap, tap, all day, every day.
There were a few humanoid robots on display, but mostly the robots built for daily human interaction only had human elements. Nobody will buy a robot that's terrifying.
For example, Panasonic's HOSPI is a medical telepresence robot. It cruises silently through the hospital corridors, peeking in on patients with its camera and delivering drugs on behalf of the nursing and pharmacy teams. It can use the elevator by itself, and it's always ready with a smile. If you get in HOSPI's way, it demurely says, "すみません (Excuse me)" and moves out of your way. It doesn't look human per se, but has a universally-recognizable digitized face. It has shoulders, but no arms. It's short, so it won't tower over you if you're lying in a hospital bed.
HOSPI & your humble contributor share a photo op.
Telepresence is a big deal in robotics these days. Japan's aging population means a shortage of doctors; anybody who lives in Alberta knows all about that. Robots such as HOSPI cannot actually practice medicine: they serve as legwork surrogates in order to save time for higher-level tasks.
Medicine is science shot through with art, and it's practiced between living things. Dr. Sumit Gupta, a pediatric oncologist at Toronto Children's Hospital: "Currently, no robots at all in my daily work. I don't really see there being any, either, given how intense the interactions end up being between us and the kids and their parents. The only thing I could see currently would be as a play aid for kids when they're stuck in the hospital. It's unfortunate, really, because I'd love to see robots around. Really for no other reasons than to see robots around."
This telepresence robot allows you can have a physical presence in a meeting, splitting the difference between a conference call and a long-haul flight. Check out its gentle curves, and a friendly digital face. It's short, so it can pull up to a table or desk and meet your eyes with its flatscreen face.
Notice how it's folded into a permanent deferential bow for when it crosses your path in the hallway.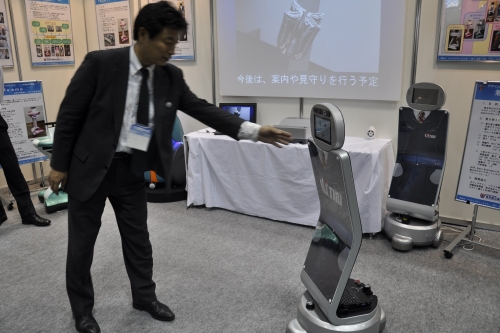 If If you want your friends and family to accept a robot in your stead, your best option is to give it your face. This little character uses a smartphone for a head, so it has your face; and, through the phone's camera, your eyes. It runs on the Tizen platform, and connects with the other networked devices in your life. This robot places a tiny version of you in the Internet of Things.
One of the use cases presented for this little robot was as a surrogate shopper. Rather than shop online, your face can make an appearance at your favorite boutique store, and the staff could engage with you directly. All part of the ongoing evolution of shopping at home.
More human than human
We're looking at humanized robots, but their design celebrates their machine qualities as well. Nikolas Badminton, principal at DesignCultureMind, sees this aesthetic as the future of friendly robotics: "Smilies and emoticons are much more effective at delivering emotion from a robotic source than it would be to actually have something that looks and feels like a human."
Actually getting a robot to look and feel human is... well, we're just not there yet, are we? Apologies in advance for the nightmares that this hospital training robot will give you.
This... thing is made by Kokoro, a division of Sanrio. As in, Hello Kitty. Horrifying though it may be, this robot is a force for good in the universe, allowing medical students to practice ear, nose, and throat procedures on a human body that moves and reacts.
Okay, one more time.
Again, I apologize.
Scare bear
Scariness is often in the eye of the beholder. For example, consider this robot panda. It looks sort of eerie just sitting there, but it didn't just sit there. No, this panda-bot insisted on rocking back and forth while speaking in a child's voice. I'd show you video footage of it, but I'm afraid that it'd be like in "The Ring" and kill anybody who watched.
Captain of industry
The scariest robot in Tokyo was not lurking in the social robotics zone. Instead, I found it in the industrial zone. Here you find massive robotic workhorses that can lift and manipulate a car chassis with alarming speed and surprising silence.
Advances in robot software allow for surprising grace, when the manufacturer deigns to consider such things. The elegance of a cutting-edge manufacturing robot's movement is beautiful to behold.
I saw several giant disembodied arms at iREX, used for everything from stacking to spot-welding. Failure scenarios for robots such as these can capture the imagination, but I wouldn't consider them scary.
The scariest robot in Tokyo is actually quite cute. What makes it scary is that its very presence implies. This is the robot that's going to take your job.
It has articulate arms that can support various manipulators, and its dexterity is improving with every software rewrite and hardware advancement. They're doing amazing things with hands these days.
This robot can work tirelessly on an assembly line. It has no legs, as it doesn't need to take a smoke break or use the toilet or go home to a family.
Ideally, robots will replace humans in performing tasks that we're unable to do. The cleanup at Fukushima Daiichi springs immediately to mind, as do the heavy-lifting tasks in elder care as populations age.
Not too many nurses will complain about handing this task to a robot:
It will not stop there, though. Business leaders have already figured out that a robot doesn't take sick days or join a union. That's why iREX exists in the first place.
Corporations have intensely compelling reasons to automate their workforces; just as those workforces have intensely compelling reasons to keep the robots at arm's length, welcoming them as assistants, but not as replacements.

The notion that the ongoing robotics revolution will actually create new jobs is simplistic at best: if a chunk of the manufacturing workforce gets replaced by robots, what, exactly, will they be doing next? Right now, nobody has come up with anything beyond "Oh, something futuristic, I imagine." At some point we must address the inescapable fact that our ability to invent has taken us beyond the economic systems that we conceived so many centuries ago.
Robots are not the result of an advancing society, but a symptom of it.
The theme of iREX 2013 is "Building a Future with Robot", and that's exactly what we're doing.
Robots still capture the imagination, and open new pathways of communication. The majority of robotics deals with industrial tasks, but who doesn't want a robo-puppy? As we program the puppy-bot to fetch, we should take a moment to consider the radically different future our robots will enable. That future is already happening.