While Vancouver is not too big on celebrating the good old man St. Nicholas on December 6, there are plenty of events laid out for the jolly season ahead of us. This week, you can splurge on craft fairs, donate your bike, meet the CBC staff and celebs or just your creative street king next door selling Megaphone, dress up as the hot cousin or the grumpy uncle, amuse yourself with arts and performances, entertain with festive lights, and/or, inevitably, try some good food too. Mmm, December … Did we forget to mention your event? Shoot us an email!

TOP PICKS


Festival of Lights at Van Dusen Gardens (Evi's PIck)
Dec 7-24 | 4:30-9PM | VanDusen Gardens | $14.25
FESTIVE LIGHTS? Yes please! Ever walked for blocks in your neighbourhood hoping to see some extravagant holiday decorations? Well this event will satisfy that craving for sure. If you have never walked through this enchanting garden for the festival of lights, I highly recommend you grab your loved ones and go check out this beautiful visual and sensual arrangement. Santa makes his appearance for the children but not to worry there is romance in the air for the loving couples. Grab an umbrella if its raining, it's ok.. it only makes for closer cuddles. Lots to see, hear, eat and explore. Take a look at the schedule for the list of highlights and events. Bring money because some vendors only accept cash. If you love holiday lights, you'll love it! (Closed Dec. 25th)


TOQUE 2012 (miraj's pick)
Dec 7-8 | Varies | 303 E. 8th Ave | By donation
Don't miss the annual craft sale + fundraiser of Western Front Society's - TOQUE. peruse selections from great craft artisans and support your local artistic community.
Bikes for Tykes (Kelly's Pick)
Until Dec 25 | 10AM - 6PM (M-F) 10AM - 5PM (Sunday) | Obsession Bikes
The Obsession Bikes team is putting their wicked mechanic skills to good use this Christmas.
As kids grow older they naturally grow out of their bikes, yet many families hold on to them for years despite them never getting any use. If you can relate and have some collecting dust in your garage, drop them off so they can be put to good use! They are accepting bike donations right up until Christmas that they will tune up and send to needy kids in the local community.
They have already received some very generous donations from Cycles Lambert and Shimano Canada who donated parts, Outdoor Gear Canada who donated $900 worth of helmets and Cycle Component Network who donated a ton of bikes. EMDOUBLEYU provided pro bono graphic and ads design while North Shore Outlook is providing free advertisement for the cause. And of course you can't forget about the generosity from Obsession Bikes who is donating between $3000-$5000 in labour and parts!
Indigenous Winter Market (Evi's Pick)
Dec 12-16 |W2 Auditorium | For schedule and prices click here (some free)
A 4-day community festival and market supporting local artisans, artists, and performing artists with a focus on local Indigenous Peoples. Non-Indigenous friends and neighbours are invited to celebrate the creative talent and share with dialogue opportunities. Baking and canning workshops, carolling, music, art, film, theatre, hip-hop Bingo? (I think I have to check that out).Theres LOTS to see and do in 4days. This is one winter market you don't want to miss. Hope to see you there!
HONORABLE MENTIONS
Jewel Box of Light (Evi's Pick )
Dec 6 -Jan 1| Opening night 4:30- 9PM | Queen Elizabeth Park| $7
Experience the warmth of a tropical paradise transformed for the holidays. Jewel Box of Lights at Bloedel Conservatory at Queen Elizabeth Park will capture the visual stimuli of all ages. Special opening night event 6 December will feature acapella Quartet trio of tubas, parrot cookies (while supplies last), hot apple cider, raffle prize draws and poinsettias for sale. Family, senior, children and group prices available. Parking is free after 4 pm. ( Closed on Dec. 25th)


CBC Open House and Food Bank Day (Kelly's Pick)
Dec 7 | 8AM - 6PM | CBC 700 Hamilton Street | Free

Celebrate the 26th Anniversary of CBC/Radio-Canada's Open House and Food Bank Day at CBC Vancouver's Broadcast Centre.
The day will unfold with newsroom tours, live broadcasts and the opportunity to meet CBC personalities such as Tony Parsons, Johanna Wagstaffe, and Rick Cluff. Peter Mansbridge and George Stroumboulopoulos will also be stopping by along with the stars of Arctic Air, Dragons' Den, Murdoch Mysteries, Marketplace and Heartland to support the Food Banks of BC.
Starting at 8 am, you can tour their new state-of-the-art integrated newsroom and get a behind-the-scenes look at how they make content for radio, television and digital programming. Along the way you'll even get a chance to try being a weather presenter!
Comedy at Goldies (Evi's Pick)
Dec 6-7 | 8:30PM | Golides Pizza | $5- $7
Open Mic Comedy at Goldies every Thursday in the Silver Lounge aka the basement kill room. Always a blast, and on top of it all we have the BEST pizza and cheapest drinks in town On Friday it's Michelle Shaughnessy's last time headlining before heading back to Toronto! Come say goodbye and share a few laughs! I love this place :) Check it out!
Megaphone's Night of Joyful Voices concert (miraj's pick)
Dec 6 | 8 PM - Midnight | Anza Club | $15-$50

Come celebrate Megaphone magazine - Vancouver's noteworthy street paper's two decades of publication. Enjoy a night of music and support the incredible work of Megaphone's street vendors.
221A Annual Fundraiser (Evi's Pick)
Dec 7 | 7-11pm | Hawksworth Restaurant | $80
221A is pleased to invite you to join us this winter for Provisions, a fundraising event that pairs Portland-based designer Lydia Cambron with Hawksworth Restaurant sous chef David Zilber to design a provisional environment for a 5-course tasting meal in the gallery. The ticket Includes the tasting, an annual membership and a free tote bag designed by Christy Nyiri. Most importantly, your contribution supports 221A's programs and its mandate to advance contemporary art and design. The evening will also include music in 5 acts prepared by Tonik Wojtyra. All guests receive a complimentary beverage. RSVP online at 221A.ca
Global Dance Connection Series : Shay Kuebler - Karoshi (Evi's Pick)
Dec 6-8 | 8PM | Scotiabank Dance Centre| $30
Shay Kuebler presents a new full-length version of his 2011 hit Karoshi (meaning 'death from overwork' in Japanese), which is inspired by the clash between extreme societal pressure and personal needs, as exemplified in Japanese salaryman culture. Kuebler draws on martial arts, hip hop and contemporary dance to create physically explosive, high energy choreography for an outstanding all-male ensemble, incorporating live taiko drumming and video to create a thrilling and visceral theatrical experience. www.shaykuebler.tumblr.com
Santaland Diaries: True confessions of an Elf (Evi's Pick)
Now-Dec 29 |Check Showtimes | Revue Stage 1601 Johnston St | From $25

From the popular humourist David Sedaris, comes this merrily wicked tale of his tour of duty as an elf at Macy's Santaland. From posts as Vomit Corner Elf to Water Cooler Elf to Cash Register Elf, Sedaris works his way up the candy-cane ladder and lives to share his hysterical, behind-the-scenes anecdotes. Both outlandish and illuminating, this sardonic comedy is a holiday treat for adults.

2012 HiVE Winter Party - Awkward Family Reunion (Kelly's Pick)
Dec 7 | 7 PM | Hive Vancouver | $10 donation or potluck item
Our friends at the HiVE are throwing a party! The theme is AWKWARD FAMILY REUNION to celebrate their friends, who feel like family members. So dress as the hot cousin, the grumpy uncle, the loud aunt, the goth brother and be ready for some great music, a photobooth, a libations (cashbar), a Mystery Gift Box Silent Auction, HiVE Member Awards, and more! Please bring some food for the potluck (to feed 10-12 people) or $10 to help cover costs.

Art for Impact : OU(X)PO (Evi's PIck)
Dec 8 | 7:30PM | Russian Hall | $20

Ou(x)po, exploring the possibilities found within creative constraints... All proceeds are going to Instruments of Change and their Women Rock! program, a 12-week project for women in the BC prison system to gain self-empowerment through learning to play rock instruments, forming bands, managing gear and writing songs.
Ou(x)po invites guests to roam the building and enjoy the many pieces (ranging from classical music and dance to shadow puppetry, clown, film and beyond), all going on in unconventional locations. There will be drinks available for purchase, and this year we're featuring an afterparty (10pm-midnight) featuring the awesome band Miss You in Tuques, and a raffle draw.
Embryonic Wings and StarFrukt : Sale (Evi's Pick)
Dec 8/9/14 | Various Venues | Shop till you drop :)

Christmas sales of unique artwork/handmade clothes from local artists. The 8th and 14th events will also have performances and live music. All the Embryonic Wings prints, Starfrukt handmade clothes, and a collection of clothing & costumes from all over the world, is on sale. If you've always wanted to own something by Embryonic Wings or Starfrukt, this is your last chance to grab it.

Projecting Change Film Festival Launch (Ariella's Pick)
Dec 8 | 1:30 - 5 PM | $40 (Workshop) $15 (Film Screening)
Vancouver's Projecting Change Film Festival is a forum for film and dialogue about social and environmental issues. This six-day event features inspiring, eye-opening, and often award-winning films from around the globe, each followed by a dynamic speaker and panel discussion. The festival launch features a DIY gardening workshop with Let's Patch and Le Chou, followed by a film screening of the critically-acclaimed film Genetic Roulette by Jeffrey M. Smith. This event is in support of Le Chou, an intergenerational gardening program at the Woodland Community Garden.
23rd Annual Diorama Party (Evi's Pick)
Dec 8 | 8pm | Celebrities NightClub | $10
World Famous show starts at 9pm!!! A line-up of amazing performers. Lots of fun to be had and all for a good cause. All proceeds to benefit: Rumble Productions, The D.M.S. Charities, Friends For Life, The Greater Vancouver Food Banks and Vancouver Orphan Kitten Rescue (VOKRA). Donations of toys and toiletries on behalf of the Downtown Eastside Women's Centre are gratefully accepted. And don't forget to ...Shake your groove thing, baby!


Pin it to Me (Kelly's Pick)
Dec 6 | 7-11PM | Black & Yellow at Waldorf Hotel | Free
Exploring the role of performance in the development of virtual identity, and the projection of taste in connection with pop culture's appropriation of a 'curated' space. Four artists, one space.

Bandcouver Blast- Coop radio Fundraiser (Evi's Pick)
Dec 7 | 9pm | Railway Club | $10 advance tix
Come out to a stellar benefit concert to help raise money to keep Co-op Radio's RADIO BANDCOUVER on the air! Featuring headliner BOCEPHUS KING in his first Railway Club appearance in years joined by local dynamos The WALK-INS & JOYCE ISLAND (accompanied by special guest MATTHEW MEI), This is an event that will have you dancing for a great cause!
Shiny Fuzzy Muddy Show Lucky #13 (Kelly's Pick)
Dec 8-9 | 11-7 PM | 3102 Main Street | Free
Another craft fair? Sure, why not. Tis the season for shopping. Skip the mall and check out what local artisans are making. Surely you can find something for someone here! And maybe get lucky??

Writing and Healing Workshop (Evi's Pick)
Dec 8 | 2:30-6:30 PM | 3331 No3 Rd | Like FB page for $60 offer

A Transformative Workshop. This interactive workshop is ideal for anyone who seeks to access a deeper understanding of their true, creative potential. Sherry is a graduate of the Canadian College of Naturopathic Medicine. Sherry applies expressive arts principles to her workshops so that she can help her students tap into the mind and spirit components of the " body, mind and spirit" triad for true healing and transformation. Please bring a journal and pen as we will be doing a practical writing exercise.


Bring Your Boomers # 3 - Power and Energy: Connecting the Dots
Dec 11 | 7 PM | Rio Theatre | $15


Bring Your Boomers combines intelligent conversation with music, film, visual art, storytelling and dance to provide a culturally-driven entry point to discuss social transformation. This installment would explore BC's emerging carbon corridor and the provincial policies needed to change course towards a green economy, just society and a healthy new era. An inter-genrational dialogue would be bookended by performances from Luciterra Fusion Belly Dance quartet, Brasstronaut and Ta'Kaiya Blaney. Thanks Tara!
Chateau Ste. Michelle Winemaker Dinner (Evi's Pick)
Dec 11 7PM Q4 by Quattro 2563 Broadway $99 (all inclusive)


Marquis Wine Cellars and Authentic Wine and Spirits have teamed up to bring you a very special Holiday present. The guest of honour at this dinner will be Bob Bertheau who has been the head winemaker at Chateau Ste. Michelle since 2004. Built in the 1912 the winery's roots date back to the Repeal of Prohibition. Ste. Michelle Vintners planted its first vines at Cold Creek Vineyard in Eastern Washington in 1972. Quattro will be preparing a special seasonal menu to pair with a selection of wines. Call Marquis for tickets 604-684-0445

Eco-Arts Salon: Year of the Snake Lantern (Evi's Pick)
Dec 11 | 7PM | Dr. Sun Yat-Sen Garden | Free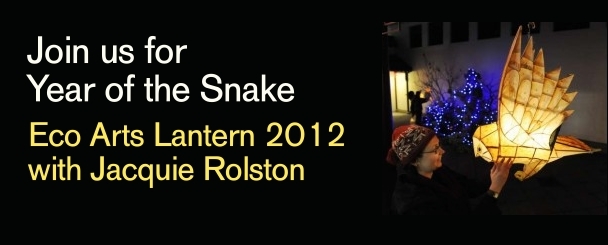 Join Eco Arts in the construction of this year's lantern: a segmented snake made of natural & recycled materials. This lantern-making workshop will be led by artist Jacquie Rolston, whose lanterns can be seen at the Dr. Sun Yat-Sen Garden's lantern festival. In this session we will craft a segment of the snake using lunaria (from the "money plant").
Railtown Supper Lobster Party (Kelly's Pick)
Dec 12 | 6-8PM | Vancouver Urban Winery • 55 Dunlevy | $65
Come out for a dinner on the cellar floor of Vancouver Urban Winery, for a very special Railtown Supper Party edition. This unique edition will feature LobsterMatt - a Maritimer who has mastered the art of preparing lobster. Dig into some fresh lobster, flown in from the Maritimes with LobsterMatt. Each lobster portion will be paired with wines hand-picked from the Winery's rotating selection of wine-on-tap.
SMCYVR Social Media Club of Vancouver's Annual Fundraiser and Holiday Party for Beauty Night Society (Evi's Pick)
Dec 12 | 6PM | Relish GastroPub | $12
Holiday parties are so much better when people come together for a good cause.
And all the better when it benefits our community. Beauty Night Society creates a safe environment for giving and receiving loving touch and care. Now in its 12th year, Beauty Night has given over 26,000 life-makeovers to women who live in poverty. 100% proceeds for this event will be donated to this wonderful organization. There will be music, prizes and more. Come out and support.
UPCOMING EVENTS
Dec 13 | 7 PM-12AM | Boneta | $22.19
String Fling: String quartet meets indie rock
Dec 13 | 7.30 PM | Rio Theatre | $15/$20
Dec 15 | 12-6PM | Chinese Cultural Centre | By Donation
Dec 15-16 | 10AM-6PM | The Salt Building | $7/15
A Celebration of Dignity - Beauty Nights Fundraiser
Dec 15 | 7-11PM | 128 W. Hastings | $99
Dec 15 | 8PM | Orpheum Theatre | Various prices
Sounds and Furies: Womens Winter Faire
Dec 15-16 | 11AM-6PM | Heritage Hall | $3-$5 Donation
All Day Anime - A Retro Animated Holiday Package - and more
Dec 16 | 1PM- 10PM | The Cinematheque | $10-$12 or DBL $13.50

Workshop with Cirque du Soleil's Edouard Doye
Dec 17 | 5:30-7PM | Tantra Fitness | $80 &HST
Dec 20| 6-9PM | Rhizome Cafe| $1-$5 donations
Winter Solstice Lantern Festival :Shadow Show
Dec 21 | 6-10PM | Granville Island | Free
Castles in the Sky: VIFF Animated Series
Dec 22-23 | 12:00/5:45 | Vancity Theatre | $11
Jan 13 | 3-8 PM | Vancouver | $20/$35