It was a jam-packed evening of pop culture guilty pleasure at famed blogger and music enthusiast Perez Hilton's "One Night in Austin" party at SXSW.
Since its debut, Hilton has taken "One Night In…" across the globe with events in New York City, Los Angeles, Chicago, Toronto, and London.
This year is the fifth installment of his SX musical showcase. Headliner acts for the event were specially curated by Hilton to reflect an array of talent crossing multiple musical genres showcasing breakout acts from Kat Graham (Vampire Diaries), Rosi Golan to the most recognized names in music, including Timbaland, B.O.B, DEV, Dragonette, Kreayshawn, Ed Sheeran and more.
L-R: Timbaland, DEV, and Perez Hilton
Timbaland drove the crowd wild, performing hit song after hit song.
B.O.B getting the crowd to sing along to Nothing on You.
Our new favourite singer, Kimbra singing Cameo Lover.
Kat Graham (centre) of Vampire Diaries fame. Who knew she had a budding pop career on the go?
"Music is the answer! This year, I have decided to donate all of the money raised through ticket sales to The VH1 Save The Music Foundation. It combines two things I am passionate about – music and inspiring youth," says Hilton.
Repping Canada that night was Dragonette.
The VH1 Save The Music Foundation is a non-profit organization dedicated to restoring instrumental music education in America's public schools, and raising awareness about the importance of music as part of each child's complete education. Since its inception in 1997, the VH1 Save The Music Foundation has provided $48 million in new musical instruments to 1,800 public schools in more than 100 cities around the country, impacting the lives of over 1.8 million children. Proceeds from "One Night in Austin" will support the Foundation in its mission to equip public school students with the tools to lead, innovate and create in the 21st century.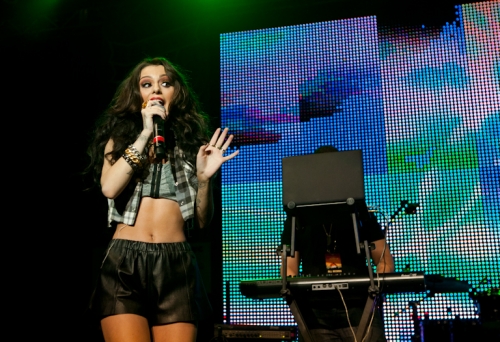 UK pop star Cher Lloyd got a second chance at showcasing her music at Hilton's party, after technical problems cut her SXSW Nylon Magazine party performance short.
Ed Sheeran played his guitar so hard he broke a string on his guitar.
Kreayshawn singing her song Gucci Gucci.
DJ Mia Moretti with special guest violinist Caitlin Moe.