Welcome to BeeVancity. Love our weekly event listings? Subscribe to our weekly email newsletter and follow us
for your chance to win tickets to upcoming events and more. Psst: there's a contest going on right now!


Top Pick

FUSE Beat Nation (Ajay's pick)
Fri Feb 24 830PM - Late | VAG | $17.50


Celebrate Beat Nation at this special edition of FUSE, the definitive Vancouver party put on by Cause+Affect. Art, hip hop and Aboriginal culture take over the gallery in this special edition of FUSE. Artists include: Raymond Boisjoly, Os12, A Tribe Called Red, Jackson2Bears, Bear Witness, Nicholas Galanin, Skeena Reece

Science World After Dark (Kelly's pick)
Feb 24| 7-10PM | Science World | $25


Build it to break it...at least that's what I say. LEGO® lovers and brickologists unite for a night of minifigure flinging competitions, speed-building and of course, drinking.


Honorable Mention

Talking Stick Festival
Feb 20 - Mar 3 | Roundhouse | Free
Power Plant X - Gathering For Green Leaders
Feb 21 | Waldorf Hotel | $15 adv / $20 door

Re:Generation II - Wasteless In Vancouver
Feb 22 | SFU Woodwards | $5-10 sliding scale

Thursty!
Feb 23 | 8:30-1AM | Calabash Bistro | $10


Quench your thirst for good music with Chin Daddy, Sophia Danai and others.

Open Data Hackathon
Feb 25 | 9 AM - 6 PM | iQmetrix, 250 Howe St. | $10

Bass Without Borders Volume 2
Feb 25 | 9PM-late | Red Room | $18 adv / $23 door


Amazing dance and exploration starring: Random Rab (San Fran) & Govinda (Austin)
The Factory Girls
Feb 25 | 8:30-1AM | Masik Studio | $35/$50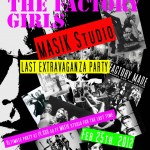 The Masik Studio gets revamped in to Warhol's "Sliver Factory" his original NYC studio playground in the 60's. Immerse yourself in a series of interactive happenings, film, live music and performances.

Free Market 5 - Leap
Feb 26 | 12-4 | Grandview Park | Free


We've been given a free day this year (29th - it's a leap year!) so it only makes sense to have a free market in its honor. There'll be on-site portraits, games, face painting, music, community, and organic fruit and veg. Bring your things, gift 'em away, and take stuff too - all's fair in free and market.


Upcoming Events

From Here to There: Food, Energy and Resilient Communities
Feb 28 | 5:30-7:30 PM | Museum of Vancouver | By donation

Bold Ideas To Transform Health Care (Powered by Pecha Kucha)
Mar 7 | Four Seasons | $15

Health Care 2.0: Social Media Camp
Mar 7 | Four Seasons | $100

Maker Faire | Show and Tell
Mar 15 | 5:30-9:30 PM | Museum of Vancouver | By donation


Want to be the first to know about the best events going on in Vancouver? Connect with BeeVancity
and subscribe to our weekly newsletter.