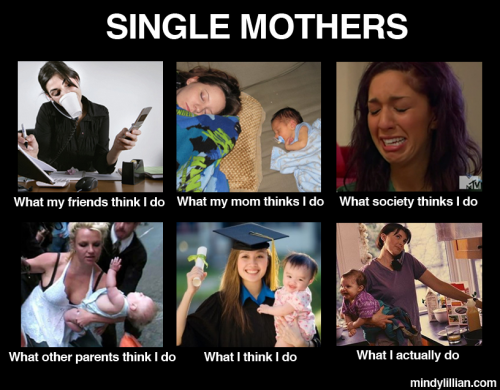 Graphic by Mindy Chapman
To get a feeling of what it's like to be a single parent, do 200 sit-ups right now. Are you completely exhausted yet? Great! Now, do 200 more.
This is what my body feels like most of the time. Generally, my brain power is not at optimum speed either. Instead of lamenting, I like to imagine my exhaustion in a humorous light. A couple of times now I've tried to use my son's set of baby keys to open the front door, or worked myself up thinking that my white blouse shrunk 10x it's size in the dryer when really it wasn't my shirt at all. My best friend admits to putting her 2 year old son's socks on her feet sometimes, wondering why they don't fit.
A typical day in the life of a single mother
It's 6 a.m., the start of another morning. I've just laid my son beside me in bed. "I want juice, Mommy," he says, so I head straight to the dishwasher for a clean cup. If I pretend I'm not awake yet I don't have to register the feeling of fatigue. "Thanks you, Mommy." I fall peacefully asleep beside him until 7 a.m. My alarm sounds. I decide to snooze for 20 minutes longer. This morning's cuddles are extra precious. This is the best part of my day.
We ran out of leftovers last night. I decide that a trip to Urban Fare on our way to preschool will suffice for a packed lunch. My son's clothes are in the dryer, fresh from last night. I need an extra set for the diaper bag so I grab two socks, two shirts, two pants, and one sweater. My son is usually opposed to getting dressed, so it's best to do it all at once and get it over with. It has to be very carefully planned, like a magic trick. I serve breakfast on the table and scoop him into my lap while he's distracted. He thinks I'm giving him a place to sit while he eats. Off with the pajamas, on with the clean clothes. Done.
It took two-and-a-half years to be able to do this with ease.
It also took this long for my omnipotent dirty laundry pile to evolve into a folded, clean one, at least half put away. I finish getting ready, check that the diaper bag is properly packed. We brush our teeth, put on our shoes and head out the door.
"Ding-dong!" I try to prevent my son from pushing the elevator alarm button, but he has a determined personality. He is able to get past my defense for at least one millisecond every morning. About six times a week he sets it off.
"I do it! I do it!" My son also proudly attempts to open each of the four heavy doors on the way to the parking garage. We're almost to the car and he turns to me, grinning from ear to ear. This translates into 'I'm about to run full-speed in the opposite direction you want me to'.
He's fast enough to run twice around the car before I catch him. I give him a mildly stern talking to about why it's unsafe to run off, put him in the car-seat and we drive off.
"I do it! I do it!" My son puts the quarters in the parking meter. It takes less energy to pay at the meter than to use the underground parking.
"No running off. Hold my hand, please--" a command worthy of about 10 per cent recognition in my son's eyes. My son has always had strong legs. He runs off at full speed, and I chase after him down the aisles with cottage cheese, yogurt, milk, and applesauce in my arms. His name is Theodore but I like to call him The Wild Theo-boar.
Once my son is captured, I herd him back towards the deli.
"How much Turkey would you like?" The lady asks. I give her an obscure answer as I'm heavily distracted grabbing my son's coat, hand, leg, and suddenly, the cloud of dust behind him as he runs in the other direction. I run after him again. The lady has my eight slices of turkey wrapped and ready by the time I drag my son -- literally, back to the deli.
"Stand up, please," I ask, but he refuses. I'd rather not pick him up because of the injured disc in my lower back and my mild scoliosis, but I have no choice. I carry my squirmy toddler to the checkout counter, so far already exhausted from the day.
I put my groceries on the counter, simultaneously keeping my son from disrupting a display of chocolates. I knock a stack of magazines onto the floor and use one hand to put them back neatly. Paying with my credit card feels like a relay race. I rush to make the transaction in the allotted time before my son finds trouble. A great remedy for this chaos is to sit my son on the counter and have him help me stick the card in the machine and push the buttons. It takes extra time though, so this morning isn't one of those times.
Pre-school discipline
We make it to preschool, late. My plan of pre-made meal efficiency backfired. The lovely teachers at the preschool don't expect me at a certain time since my son is going through slow immersion. Two-and-a-half is an early age for starting preschool. I put the pre-made meal into the tupperware I brought with me, pour the little carton of milk into his sippy cup and pack it into his bag. "Milk! Mumma, PUHLEASE! MILK!" He's becoming upset. I insist that he wait until lunch, which escalates into crying.
Discipline is a difficult thing.
He rubs tears away from his eyes and wears a frown, not his usual demeanor. His teacher offers to give him extra milk to make him happy. He sips down the milk, now happy as ever. I unzip his jacket, take off our shoes, pack his cubby, and put his lunch in the fridge. We exchange kisses: "I love you, have fun today." I step out the door and wave to teachers and kids alike.
"Au revoir!"
When I get to the car, I think to myself how two-and-a-half is the stage that I'll remember wanting to go back to bed as soon as I drop my son off at school. I turn up the volume on my CD player and start the drive back home. I still have to make the commute to work on the SkyTrain before the hour is over.
Grocery spills
I arrive in the parking garage. I manage the cottage cheese, applesauce and yogurt in my arms. I had forgotten my son's usual lunch bag so I had to sacrifice my plastic grocery one. A lady steps out of her car a few stalls down and walks towards me. She is the first witness to my grocery catastrophe.
My yogurt, (my breakfast), somehow slips from my grasp and falls onto the ground, exploding over a two-foot radius. I make eye contact with the woman and we exchange a brief moment of shock. In this moment, my applesauce also somehow slips from my arms and crashes right on top of the yogurt. Glass shards fly across two parking stalls.
"You're going to have to come back down here with a broom. Probably a mop, too," she informs me.
"Yes. I will."
I pick up the remains of the jar, shaking off frustration. Before I reach the elevator on my way up to grab a broom, I notice the woman has trouble walking. I hold the door open for her so she can pass.
A man is approaching, so I hold the door open for him too. Right after he passes me, my cottage cheese follows suit and also drops to the floor, exploding up the wall and all over the carpet.
"Are you serious?!..." I shake my head and look up at the sky. I've been involved in lots of these situations by now, and have learned that anger is only destructive. Although it can be difficult sometimes, I make the choice not to use it.
"Guess you should have brought a bag," says the man.
The woman and I wait on the elevator for the same floor. She studies my face.
"Doesn't that just make you angry?" she asks. I stare blankly at nothing.
"Well yeah, I'm a little frustrated."
The door opens and we part ways.
A light at the end of the tunnel
I grab the broom, throw away my not-so-fresh groceries, and head back downstairs. I'm out of paper-towels due to last night's water spill, so instead I bring a roll of toilet paper with me.
I estimate I'll arrive about an hour late for work. I'm too tired to handle more stress. I focus on something else. I find myself entering an intense state of reflection. I start to sweep. Often, we pity ourselves for attracting bad luck in our lives. From countless experiences of a similar fashion, I have learned to make hard-work (especially cleaning) a meditation, and so it began that way.
'Do unto others'. I think about how good it feels to be able to say that as I sweep my neighbor's stall completely free of not just glass, but dirt and dust. They will never know how dedicated I was, but today they will come home to a cleaner stall.
Sweeping is the simplest thing I could have done that day. Sweep once, repeat. I'm not usually able to have complete freedom of thought while being typically productive. Unless I stay awake late into the night, the leisure of thought-wandering is something I rarely have time for nowadays.
I finish one stall, take a breath, and begin the next one.
I think about how people choose to have faith in good things or nothing at all. The 'light at the end of the tunnel' concept makes a huge difference to me because I'm constantly pushing past my physical limits. At times, when I'm exhausted and hurting all over, I question whether or not I can get out of bed in the morning.
I wish I could rest for just one whole day, but there is no one else here to do the work but me. I carry on. I know that this will get easier with time. The confidence gained from knowing that I can handle it in the interim helps me live a positive life. It's what stops me from getting angry when sweeping parking stalls.
I sweep everything twice over.
Staying calm burns up less of my energy -- energy that I will need for chasing my son later when I go to buy a new broom. If I can manage it, I will pick up some groceries then; although, grocery shopping is a whole other story.
For now, off to a full day's work.
Buy one month get another month free at Budding Children's Garden and Daycare