Attention all creative souls: this week's catered to you. Tons of artsy events going on around town, from Design Nerd Jam and a poetry slam to the PuSh Festival. Don't forget to book your reservations for Dine Out Vancouver - tons of great restaurants participating this year.
This is why we love Vancouver.
Top Picks

Design Nerd Jam 6.1: Open Jam (Ajay Pick)
Fri Jan 20 | Hive | Free


If you have a collaborative project you are working on or thinking about starting, come and give your 90 second pitch to the group. This is a fantastic way to garner feedback, connect with a diverse group of thoughtful people and propel your ideas forward, sideways, upside down or right side up. Bring food and drink to share – this is a potluck affair! All are welcome – come armed with a playful spirit, an open mind, potluck food, and of course – ideas.
W2 Real Vancouver Writers' Series: 2ND Anni Ed. (Miraj's pick)
Jan 24 | 7–10 PM | W2 Media Cafe | $5/By donation


The W2 Real Vancouver Writers' Series features some of Canada's most respected and best known writers sharing the stage with emerging literary talents. It will be livestreamed to the world. In addition to fabulous local talents like Zsuzsi Gartner, David Lester, Arley McNeney, Garry Thomas Morse, Jen Neale - the event is welcoming writers beyond BC's Lower Mainland to the stage - Fernie's Angie Abdou, and Toronto's Ayelet Tsabari.
Vancouver Youth Poetry Slam (Kelly's Pick)
Jan 23 | 7-10:30 PM | Cafe Deux Soleils | $3-$6


Inspired by my Saturday spent at the UBC Student Leadership Conference and the keynote speaker, Sarah Kay, a well known spoken word poet, this Poetry Slam stood out to me because it is set up to inspire and encourage youth in their passion for the spoken word. The event is held every 4th Monday of the Month with this weeks feature being "Vancouver's most dynamic and prolific performance poet" Maggie Ulysses.

Honorable Mentions

PuSH International Performing Arts Festival
Jan 17 - Feb 4


The PuSh Festival expands the horizons of Vancouver artists and audiences with work that is visionary, genre-bending, multi-disciplined, startling and original. The Festival showcases acclaimed international, Canadian and local artists and mixes them together with an alchemy that inspires audiences, rejuvenates artists, stimulates the industry and forges productive relationships around the globe.

Force of Nature: David Suzuki Movie and William Shatner Sings
Jan 19 | 7-9 PM | Alice MacKay Room, VPL | Free
David Suzuki and William Shatner? That's an interesting combination. Come for an evening focused on Suzuki's life, full of social scientific, cultural and political movements, and then listen to Shatner, the most famous space cadet, as he belts out the National Anthem.
Hour Hands: A Group Photography Exhibition
Jan 19 | 6 - 11 PM | Dynamo Gallery, 142 W. Hastings | Free


Looks like a cool collection of photographers and their creations! This is Color Magazine's group photography exhibition. Free copies of Color Magazine 9.6, special "timeless" issue will be flying of the easels. Then there's a wicked after-party at Waldorf's Tiki bar from 10.30pm onwards.

Beer and Code Vancouver
Jan 19 | iQmetrix - #1210, 250 Howe Street | Free

Design Nerd Jam 6.1 - Open Jam
Jan 20 | 7 - 10 PM | HiVE Vancouver | Free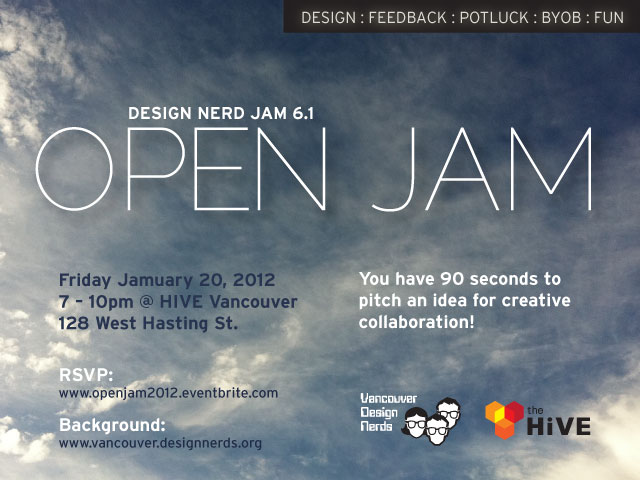 The nerds are at it again - Vancouver's crazy Design Nerds are hosting their first jam of 2012 - which is as open as the sky. If you have a collaborative project you are working on or thinking about starting, come out and pitch it. This is also a potluck - come armed with a playful spirit, an open mind, potluck food/drinks, and of course – ideas.

Dine Out Vancouver
Jan 20 - Feb 5 | Various Restaurants | $18/$28/$38


An annual event (in it's 10th year) that allows thousands of local food enthusiasts and tourists to dine at some of Vancouver's top restaurants at equally attractive prices.

Mod Club
Jan 20 | Cobalt | Cheap

Sleep Late Dance Party
Jan 21 | 11:30 PM | 360 Glen
A late night party that goes until the early morn'. With Cherchez La Femme, Dr. Seiz and a Special Guest! Brought to you by: VVO x EASY NOW
Future Events
Do You Want What I Have Got? A Craigslist Cantata
Jan 19–Feb 11 | 8PM (Tue 7:30PM) | Arts Club Revue Stage | $35

REIMAGINE CBC (via OpenMedia.ca + Leadnow.ca)
Jan 24 | R&B Brewing | Free

PowerPlant Vancouver - Green Gathering For Green Leaders
Jan 24 | Salt | $15

Kyu Hwang/Jackie Dives: ILLUSTRATIONS
Jan 26 | 12- 3 PM | Kafka's Coffee | Free

Vertality2
Jan 26 | 6-10 PM | Club 560 | $15

Intl Climate Change Diplomacy: Where To From Durban? (ft. Elizabeth May)
Jan 26 | 12:30-1:30 PM | SFU Harbour Centre | Free

Supernova3: Kyle MacDonald (One Red Paperclip), Co-Founder Panel & More
Feb 8 | 6 PM | The Hive, 128 W Hastings | $5