Lust, Caution: China's love-hate relationship with iPhone5
Countless Chinese netizens are excited for the unveiling of the iPhone5 -- but not all of them.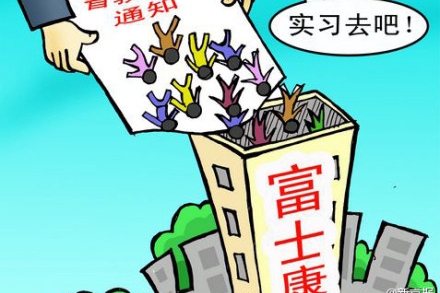 Chinese social media is abuzz with anticipation – and resentment – over Apple's September 12th unveiling of the latest iPhone 5, what has become a status symbol in the People's Republic – and prompted a series of suicides at Chinese factories where it is assembled.
Well over 10 million messages have mentioned the coveted smartphone on Sina Weibo, the Chinese Twitter, since news of the revelation day broke two days ago.
Student "interns" working to produce iPhone 5
Some of those messages responded to articles from various state media, alleging students from eastern Jiangsu Province were forced to "intern" at Foxconn factories (where the suicide scandal made headlines worldwide last year), producing the iPhone5.
Allegedly working six days a week for little over $240 a month, the lowest-grade iPhone would have cost the students three months of labour.
That didn't seem to bother many prospective buyers, broadcasting their lust for Apple products on the Web.
"Of course I'll get one," said user likexnv, explaining that if she did well on a school entrance examination, "My old lady will buy me one."
Not everyone was as confident in their parents' finances.
"F*ck – an iPhone5 [would be] so expensive. What am I going to do?" wrote user XiaoTu Mogui Yaya.
It seems China's enthusiasm for iPhones has become something of an obsession. During the Chinese holiday to commemorate deceased loved ones, Qingming Jie (清明节), stores in the southeastern province of Guangzhou reportedly sold paper iPhones this year to burn as offerings to the dead costing as much hundreds of RMB.
Chinese consumers not buying iPhone 5
Still, nearly 80 percent of 12,000 Weibo users polled said they would not purchase an iPhone5.
"I choose not to buy an iPhone 5, because I don't like being 装B (zhuang bi)," said Beijing-based user XiaoHe Shuaishuai, employing the popular – expletive – slang for someone pretentious, often nouveau riche.
Another user agreed.
"Does buying one prove you are 牛逼 (niu bi – cool) or 傻逼 (sha bi – idiotic)?" asked the poetic KioKU_KK.
"I would buy it if I could afford it," wrote a resentful qianxingzhe de jiafei, from the landlocked northeastern province of Henan, echoing countless other messages.
An iPhone 4S – sold in China – costs roughly a third of the country's disposal income per capita of $3,000 a year, a figure significantly skewed by stark economic disparities between the very rich and poor.
"Where would I get that kind of money 555555555," wrote user Dian – 5 in Chinese is pronounced wu, which Chinese netizens and text messagers maintain sounds like crying.
Very few users expressed that they chose not to buy the new iPhone because of ongoing problems at the Foxconn factories.
"Foxconn didn't make a good impression. I refuse to use Apple products," wrote user zq750523.