Manitoba reporter fired from her job for "biased" reporting on federal politics speaks out
On a rainy afternoon in October, Jill Winzoski, a 38 year old reporter at The Selkirk Record, walked into her boss' small office and took a deep breath. That morning, Winzoski's editor had told her over the phone that she'd received an email from a Member of Parliament with harsh words about Winzoski's "biased" reporting. James Bezan, the Conservative MP for Selkirk-Interlake, included as proof part of an email petition about a China-Canada investment treaty Winzoski had sent him the day before.
Her editor said that Brett Mitchell—one of the owners of the The Selkirk Record, and Winzoski's boss—had gotten the email as well.
Mitchell told Winzoski that she would no longer be employed at The Record. He cited her email petition to Bezan's office.

Winzoski was confused. Was she was getting fired for expressing her views as a private citizen to Bezan?

Mitchell denied that it was her signing the petition.
"To this day, I question James Bezan's ethics in forwarding that email to my employer," she said. "But Brett has told me that no politician should know how you feel."
"Perhaps it was a lack of good judgment on my part, but I wasn't aware of other newspaper policies."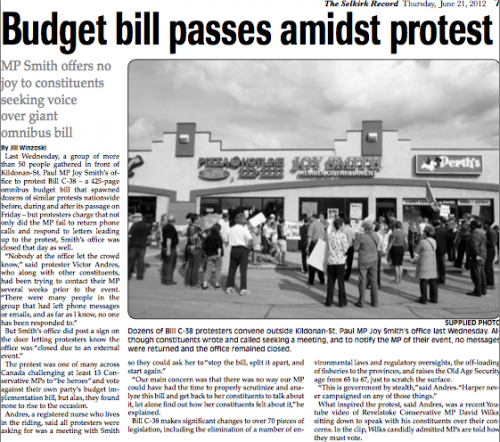 One of Winzoski's stories in The Selkirk Record about the omnibus Bill C-38. Source: The Selkirk Record.
In a recorded interview on November 2 between Bezan and journalist Jim Mosher, Bezan admitted to contacting her employer, complaining about the bias in her reporting.
Winzoski said she doesn't know which stories in particular were biased in Bezan's view. She knew she had reported stories that made her a little nervous before she wrote them, the ones that caused people to write letters to the editor. The stories about the Canada-Europe trade agreement. The protest outside a Consertive MP's—not Bezan's—office protesting the omnibus budget bill C-38. The stories she wrote about robocalls during the 2011 federal election. She had also written two op-eds, one of them critical of the Conservatives' dismantling of the Wheat Board.

After forty minutes, Winzoski left Mitchell's office. She drove home unemployed, after two years at a job she loved.
____________________________________________________
The Vancouver Observer reports urgent stories that otherwise wouldn't be told—stories that make a difference. Become a friend of The Vancouver Observer today.
____________________________________________________
For two years she had driven all over town, covering local festivals, community fundraisers and the occasional municipal cover-up. Six to twelve stories a week at fifteen cents a word paid just enough to cover the basics. Winzoski relished reporting and writing stories that mattered. She loved being outside, meeting new people, and asking questions: especially the ones powerful people didn't want to answer. She loved doing her job.
Winzoski came home that day to find that she couldn't log in to her The Selkirk Record email account.

Two and a half weeks later, Winzoski was still wondering whether she was fired for doing her job.
"We discussed at length what a journalist can do, and I said I do find that it doesn't add up that a newspaper-- say, an editorial board-- can endorse a party during an election...how is that anything but a blatant display of bias, right there? Why can an editorial board endorse any party at all?" she said. "I don't know-- maybe I'm naïve."
Reporter told to "rein in any bad stories about federal politics"
While getting fired rattled her, Winzoski said she wasn't completely shocked.
Winzoski recalls Mitchell once asking her to do a glowing profile of Bezan, to smooth things over. Maxwell vetoed the idea, immediately recognizing the conflict of interest. But Winzoski's political reporting was a growing concern to the management.