Ten-year-old as sex symbol: Thylane Blondeau and the troubling choices of Vogue Enfant
Blondeau's provocative photoshoot for Vogue Enfant triggers the controversy over the sexualization of children.
Her sculpted cheekbones and natural grace in front of the camera has earned her over 3000 admiring fans on Facebook.
Sprawled seductively on a leopard print blanket, her provocative look has earned her comparisons to a young Brigitte Bardot.
But at age 10, Thylane Lena-Rose Blondeau has been the subject of heavy controversy over the sexualization of children.
The Tom Ford-edited shoot -- which was featured in the December/January issue of Vogue Enfant -- showcases Blondeau in sexy poses and garb that seemed more fitting for models twice her age.
Photos courtesy of Fashionista
While her Facebook fan page has many raving over her beauty, these images have resulted in a government initiative in Britain.
Organized by Prime Minister David Cameron and the Mothers' Union, it is aimed towards preventing the sexualization of children in media and advertising.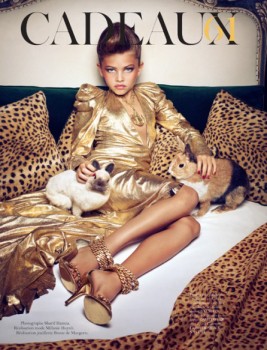 "Photo shoots requiring her, a 10-year-old girl, to dress in full make-up, teetering heels and a dress with a cleavage cut to the waist across her pre-pubescent body deny Blondeau the right to be the child she is," argued the Mother's Union in a statement criticizing the images.
---
Still, it is appalling that top fashion retailers are actually selling high-heeled shoes for little girls as young as three.
Many parenting groups have condemned these retailers for encouraging the sexualization of children.
Consequently, when Suri Cruise was photographed donning a pair last year, The Daily Mail reported:
"GapKids, Asda and Next are among the brands stocking the fashionable footwear after Suri Cruise..."
Photo courtesy of Daily Mail
---
Last year, British fashion retailer, New Look, found itself under fire for selling high heels ranging from size one, which is the average shoe size for an eight-year-old child.
This prompted online group Mumsnet to launch its "Let Girls be Girls" campaign, which actively encourages retailers to sign a pledge to discontinue selling products that sexualize children.
Anna van Heeswijk, grassroots coordinator of Object -- an award-winning organization advocating against the objectification of women -- states that premature sexualization of girls is damaging towards both genders.The group argues that such imagery affects the way men perceive women and pave the way for sexual harassment and violence.
According to clinical psychologist Dr. Emma Gray, children need to spend their childhood "appropriately preparing for the demands of the adult world."
In the case of Thylane, exposing a child to the adult world at such an early age is destructive psychologically. "Prematurely exposing a child to the adult world is dangerously preventing the completion of their development into a person who can survive in it," she said.
Photo courtesy of Fashionista.com
---
Obviously, the memo was lost upon the creators of Heelarious, a high heel shoe created for infants.
Many new mothers were outraged, saying the high heels were a "new low" for parenting. Despite the fact that the heels are soft, they argued that the shoe designs are meant for mature, sexual women and not appropriate for babies.