Greenpeace Comes "Home" to Protest a Short-Sighted Pipeline Project
Members of Greenpeace were back in Vancouver today where the famed (infamous?) organization started more than 40 years ago as a small ragtag group of people trying to stop nuclear testing in the North Sea.
Today, in regular Greenpeace-style, sixteen members occupied and hung banners at the Kinder Morgan oil storage and shipping facility on Vancouver's Burrard inlet. This is the same company and facility that is currently pushing Premier Christy Clark and Prime Minister Harper to approve the construction of a new pipeline to pump more tar sands oil from Alberta to our coast and off to foreign markets.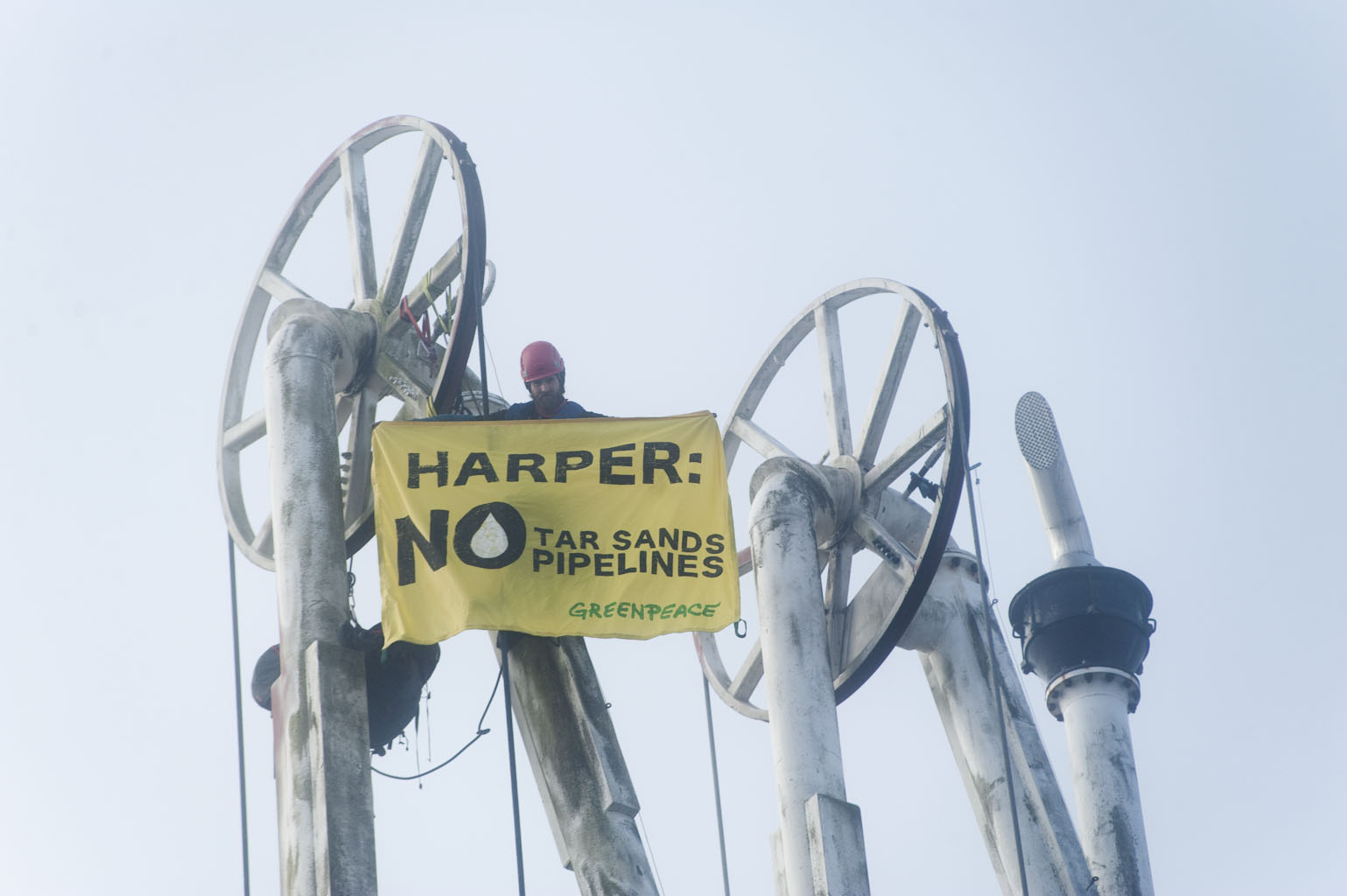 (Full disclosure: I used to work for Greenpeace USA as the Director of Online Strategy - but remain afraid of heights).
The expanded pipeline will mean more oil tankers than ever in Vancouver's harbor area and it is a ridiculously short-sighted idea.
The math is simple: the more tankers, the more risk of spills and a spill in Vancouver's Burrard inlet, or anywhere on our coast for that matter, puts at jeopardy our thriving multi-billion dollar tourism industry and other coastal economies.
Imagine the sea wall around Stanley Park lapping in oil. We would likely have to get rid of the "Beautiful BC" on our license plates. Sure there will be a short-term boost in jobs, but those jobs are typically over the day construction is complete. Long-term, there will only be around 45 permanent jobs. Less than the average McDonald's restaurant.
Sweet deal for Kinder Morgan who will no doubt profit well with an expanded pipeline, but BC will get the butt end with less new full time jobs than a fast-food joint.
And those few jobs come at a greatly increased risk of a spill in our harbour.
Tell me, after the BP disaster in the Gulf of Mexico, are you willing to put your faith in an oil company's ability to clean up a spill in return for 45 new jobs in an economy that already has 2.4 million jobs?
Greenpeace is doing what they do and drawing attention to this important issue. You don't need to hang off an oil storage tanker to do something about this, but you can do something. Maybe start by signing a petition, or sending a letter to Premier Clark. Heck here's the Premier's office phone number: 250-387-1715. Give her office a call and tell her you don't want her risking our beautiful coast for a few jobs.
You pay for that phone with your tax dollars might as well put it to good use!