Gentrification: Fight the system, not your neighbours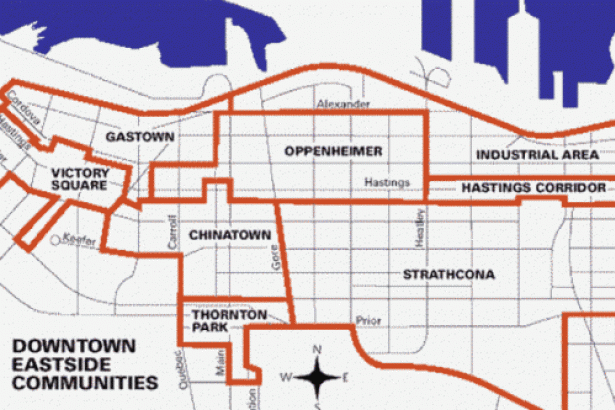 A recent op-ed piece by Sid Chow Tan, long-time Downtown Eastside (DTES) activist, captured nicely the current false dichotomy of self-interested gentrifying businesses vs. attention-loving, if not genuinely concerned demonstrators in the DTES. (Where can you call the bullied the bullies. My thoughts on the restaurant pickets, Georgia Straight, July 16, 2013) I call it a false dichotomy because the two sides that have been vocal in the past few months share so many of the same concerns that it's absurd that such animosity should exist as portrayed by the media, if at all.
Sid takes the opportunity to turn a recent plea by over a dozen community organizations to end bullying, intimidation and harassment on its head (see www.hxbia.com/statement) by claiming that the picketers outside Pidgin and Cuchillo are the ones being bullied. I know of a retired woman who had to call 911 after being abusively yelled at and called disgusting names by an aggressive picketer, who might argue otherwise. Handcuffing doors shut, spreading false rumours about a restaurant owner, threatening to burn down a building, yelling in people's faces, openly and proudly stating that you are here to destroy someone's business (which has taken years of effort and savings or investment raising to open) - please tell me how this doesn't sound like bullying, intimidation or harassment?
But this letter isn't about the knit picking of people's actions or comments, it's about the bigger picture that we're not seeing discussed through the volleys being lobbed back and forth through the media. That we share the same concerns about the lack of control we currently have to self-actualize an inclusive and diverse neighbourhood where residents of all income levels have their needs adequately met, most especially low-income residents who comprise the majority of our community's population, now and into the future.
In essence it's a frustration shared by many others throughout the city including most especially young working professionals, students, middle-class families, immigrants and the elderly. The frustration that our city, our home, is becoming increasingly unaffordable as it continues to change before our eyes. So what can we do?
To those who feel that picketing outside small businesses, vandalizing them, stealing their signs, or threatening their patrons and employees is the best or only way to stand up to forces and processes you're concerned about, I encourage you to fight the system not your neighbours.
Business owners in the DTES, and dare I say across Vancouver, see that we live in a city and world that has many, many problems right now. A growing income and wealth gap between the wealthiest 1% and the rest, the latter of which the majority of small business owners here in Vancouver are part of. We see a rising cost of living complimented by the worst child poverty rates in Canada, unsustainable energy consumption abbetted by a reliance on dirty unsustainable fuels, families ravaged by predatory lenders and opportunistic multinational corporations, the list goes on. We are inheritors of economic systems that have become frighteningly flawed, skewed and entropic. In fact, we are the inheritors of a host of institutions that many argue are woefully inadequate to enable us to meet the challenges we face locally and globally today. These are the things we need to be protesting, these are the things we need to be tearing down and challenging, not small restaurants and entrepreneurs in our communities.
When economists like Jeffry Sachs, Joseph Stiglitz and Harvard Business review contributor Umair Haque are echoing the sentiments of Chris Hedges and Noam Chomsky it is clearly time for everyone to stop and take stock.