Oil sands fumes linked to families' health woes, Alberta regulator concludes
Report links oil sands pollution to dizziness, fatigue, and headaches in Alberta's northwest -- while another report clears the industry of cancer concerns in Fort Chipewyan area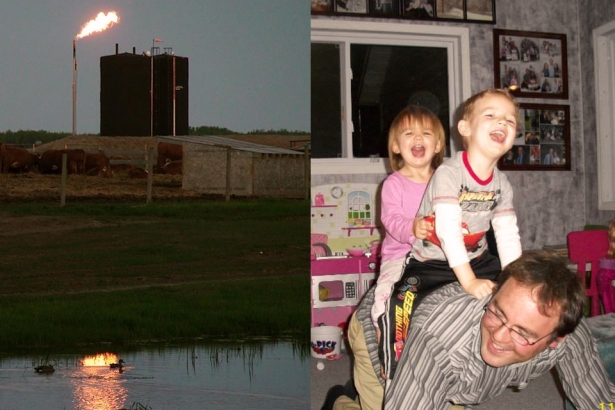 As health concerns stir explosive passions among opponents and defenders of the oil sands, a new Alberta Energy Regulator report finds that emissions from the multi-billion-dollar industry may be causing significant health woes in the northwest of the province.
The industry-funded agency spent months hearing from residents and experts about the toxic, smelly fumes from the Peace River oil sands region, about 500 km northwest of Edmonton. It concluded on Monday that the emissions have the potential to hurt local families.
"The Panel's main finding...is that odours from heavy oil operations in the Peace River area have the potential to cause some of the symptoms experienced by residents; therefore, these odours should be eliminated," stated the regulator's report.

Farmer Alain Labreque, his wife Karla and two small children found the fumes so painful, they abandoned their home, and the province, in search of a safer community. They now live in Smithers, B.C. Six other Alberta families fled the Reno area, and dozens more in the wider Peace River region have also complained about the fumes from the oil sands industry.
"Of course it's impacting health. Today, nothing has changed as far as the process of extraction," Labreque said Tuesday.
"For me, it started with headaches I couldn't shake off. Then it proceeded into eye twitching... loss of balance, no short term memory, night sweats -- this was all coming on very quickly after the December months. Big muscle cramps in my back, soreness all over."
The formal recognition of these health problems by the Alberta government, said Labreque, is crucial for making changes, and could cause major ripples in the industry.
"If they accept anything to do with that it caused health problems... it's pretty serious. Now it's going to affect all the operators costs, revenues, royalties -- it's the bread and butter of Alberta."
Local heavy oil sands operators were told to
"eliminate venting, reduce flaring
and ultimately conserve all produced gas where feasible" said the AER.
The Canadian Association of Petroleum Producers (CAPP) said the energy regulator's findings are a "a company-specific issue" and declined to say more.
Cancer scare questioned
The regulator's report on the health effects of oil sands emissions comes at a time, as industry defenders as well as national commentators such a Margaret Wente, seized upon another government health report, released last week, that cleared the industry of any significant rise in cancer rates in the Fort Chipewyan area.
The Aboriginal community down river to the north of Fort McMurray's colossal Athabasca oil sands operations has "statistically higher than expected" cervical cancer and biliary tract cancers, stated the medical report. Fort McMurray physician Dr. John O'Connor had earlier sounded the alarm about these rare cancers to two U.S. Senators opposed to Keystone XL.