At Convergence 2014: Protecting Our Sacred Waters march, Grand Chief says Harper may delay pipeline decision
The President of the Union of BC Indian Chiefs said the government's big announcement on Northern Gateway could take place as early as tomorrow.
Speaking in front of a large crowd gathered for the Convergence 2014: Protecting Our Sacred Waters rally on Sunday afternoon, Grand Chief Stewart Philip said the federal government may delay its decision on the controversial Enbridge Northern Gateway pipeline.
"We've heard through the grapevine that the Harper government is going to announce a delay," said the Chief Phillip said to the hundreds of people gathered to protest the bitumen pipeline proposal.
"This is the rumour -- that it's going to be a delay to allow for more consultation with First Nations communities. We know that if we take this matter to the court today, the Harper government will lose."
The Grand Chief and president of the Union of BC Indian Chiefs said the government's announcement on Northern Gateway could take place as early as tomorrow, or possibly on Thursday, June 12. He said on the day of the decision, there would be a gathering in front of the CBC studio in downtown Vancouver at 6 p.m.

Photo by Valentina Luiz Leotaud
Chief Phillip reiterated that the controversial project, which would pump 570,000 barrels of bitumen per day from Alberta to a terminal in Kitimat, was unacceptable for BC's First Nations. Despite being supported by the federal government for its capacity to expand Canada's oil exports to Asia, the project has remained unpopular in British Columbia, with just 29 per cent of respondents in a recent poll in favour.
"The absolute final answer on Enbridge Northern Gateway is no," he said.
YouTube video of crowd crossing the bridge to Vanier Park
Geraldine Thomas-Flurer, of the Yinka Dene Alliance, which co-organized the demonstration with UBCIC, said she was certain that the federal government was going to approve the project at some point, regardless of the date.
"We know they're going to say yes," she told the Vancouver Observer in an earlier interview.

"We've been preparing ourselves since 2006...it's going to end up that we are going to literally, physically, going to have to stand in front of bulldozers and use all the support we've built up for the last four years."
But in light of violent confrontations against a gas company's plans for seismic testing ahead of fracking in New Brunswick last year, Thomas-Flurer said the Enbridge protests need to be peaceful at all costs.
"We don't want that -- you see Aboriginal people being portrayed very negatively (in the media)," she said, referring to the Elsipogtog Nation's standoff with police, which began peacefully but later flared up and resulted in arrests, injuries and police cars lit on fire.
"For me to see something like that, it's horrific. That's not what we want our kids to see. We want our kids to see that we're all holding hands to stop this in a non-violent way. We want a way that is respectful to the earth and to the people."
Crystal Lameman, from the Beaver Lake Cree Nation, spoke about the impact the oil industry has had on her Nation's territory in Alberta. The Beaver Lake Cree is suing for an injunction in its traditional territory, which could tie up a significant number of oil development projects if granted.


Photo of Crystal Lameman by Zack Embree
According to Lameman, four oil spills have been discovered within the traditional hunting territory of the Beaver Lake Cree Nation and Treaty 6.
"To date, over one and a half million litres of bitumen emulsion has seeped to the surface and has been contaminating ground water that we all depend on," she said.
She said the federal government has "dismantled" environmental protections, with omnibus bills C-38 and C-45 passed in 2012, which were controversial for facilitating oil and gas infrastructure projects that would otherwise be violating regulations.
With files from Mychaylo Prystupa


Nadleh Whut'en Chief Martin Louie photo by Zack Embree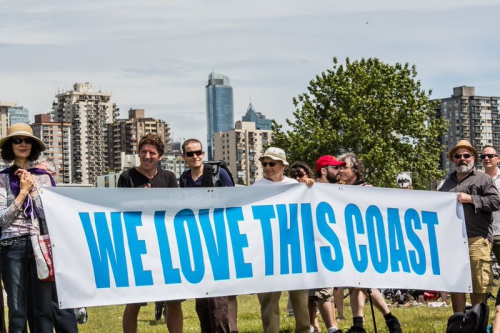 Photo by Zack Embree