Ezra Levant provokes outrage at anti-oil pipeline rally (VIDEO)
"I just think you're a bunch of morally preening, self-righteous, luxurious rich white kids" said Sun News Network's TV host Ezra Levant to citizens at rally.
Conservative political activist and Sun News broadcaster Ezra Levant stirred a hornet's nest of attention at a Vancouver "No Enbridge" rally on Saturday -- perhaps the largest ever such gathering.
The author of Ethical Oil and host of The Source worked his way through a crowd of an estimated 5,000 with his cameraman, putting his microphone to citizens opposed to oil pipelines – first asking questions, then making accusations.
"You guys are hypocrites," said Levant. "China is the largest greenhouse gas emitter in the world. And you don't care."
"No! You come over here and say, 'if we're using petrol... then we're not allowed to protest petrol," yelled back an unidentified young man, recorded in a Vancouver Observer video.
"Well yeah – that would be like a butcher telling you to be a vegetarian," replied Levant.
The man then said: "If you're pro-mining, you're pro carbon... and you think that's better than having a clean environment, that everybody who doesn't think a clean environment isn't important should stop breathing air."
"I just think you're a bunch of morally preening, self-righteous, luxurious, rich white kids," retorted Levant.
Earlier, Levant spoke with the Vancouver Observer and said he was not at the rally to express his opinions.
"Well I'm not here with a placard, I'm here in my capacity as a Sun News Network host. So I'm asking questions, I'm not counter-protesting."
"[Laughing] I'd say 51 percent of people are friendly. I'm just asking them why they're here, that's all."
"I'm being very well behaved by the way."
"Oh my goodness, there's someone with an 'I love oil sands' shirt – I want to talk to talk to that man, right there!" said an enthused Levant, and walked off.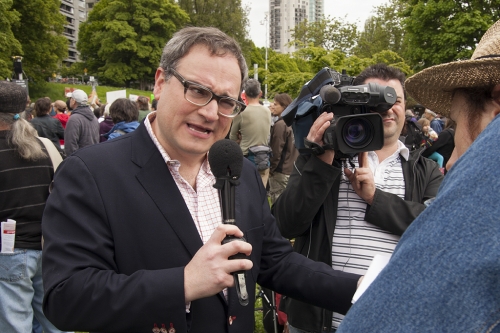 Levant gathering TV clips for his story on opposition to pipe lines - photo by Mychaylo Prystupa
But many of his exchanges with citizens opposed to the oil sands' rapid expansion got heated. Levant suggested those who want society to reduce fossil fuels were against poor people in the developing world.
"Go away Ezra – you're turning this into a frickn' racist rant," said Bet Cecil to Levant.
Levant replied: "You're a rich white woman in North America saying it's ok for us to be industrialized. But the Third World can't?"
"No, that's not what I'm saying!" said an exasperated Cecil.
"I'm saying, the rich industrialized world needs to lower their carbon footprint, and then there will actually be something left over for people in the third world. I am not talking about the Third World. I am talking about the world I live in."
Cecil was so worked up, she swore. Levant said later in an e-mail he intends to use such swear words, and bleep them, in his Sun TV story about the event.
False dichotomies?
Seconds after the exchange, Cecil told the Vancouver Observer:
"[sighs] I think he's very good at stirring the pot. I dislike his opinion," she said.
"He puts up false dichotomies. He's not interested in talking about the issues. He's interested in stoking controversy for his television program. And like a fool, I fell right into it!"
"It's that thing about 'you don't want the Chinese to have anything.' 'You don't want the Indians to have anything.' It's like 'you can have everything, but you don't want them to have everything' – and that absolutely starts falling into quite a racist dialogue ultimately or it can," said Cecil.
Amateur video cameras were everywhere at the event.
"It is true that I called people 'hypocrites' and 'classist' and 'systemic racists', but I didn't use those as personal insults, but rather as comments on their political views," wrote Levant in an e-mail.
ForestEthics organizer Ben West (right) giving speech at #NoEnbridge rally
Rally organizer Ben West from ForestEthics Advocacy said it was "brave" of Levant to walk into the hornet's nest of an anti-oil pipeline rally, and said he had a certain amount of respect for him for that.