International Robot Exhibition in Tokyo is as spectacular as you'd imagine
Robots are not the result of an advancing society, but a symptom of it. In building robots more friendly to humans, we might be squeezing ourselves out of the picture.
The robots of Tokyo
The International Robot Exhibition (iREX) in Tokyo is as spectacular as you'd imagine. Robots, parts for robots, software for robots. Cute robots, plain robots, and scary robots.
iREX is divided into several zones, depending on the technology and its use. The main zones were service robots and industrial robots. When you hear "Tokyo" and "robot" in the same sentence, you probably think of cute plastic creatures with prominent eyes, or maybe the Uncanny Valley.
Perhaps you just think of this:
Fair enough, but robots are about much more than giant mecha: manufacturing, sorting, automated testing, and medical applications are only a few of the less sexy aspects of robotics.
For example, this is a robot that uses a tablet. We're not talking about a human-like robot sitting on the couch, wearing a Snuggie, and watching videos of goats yelling like humans. No, this robot tests apps to make sure all the gestures produce the right results. Tap, tap, tap, all day, every day.
There were a few humanoid robots on display, but mostly the robots built for daily human interaction only had human elements. Nobody will buy a robot that's terrifying.
For example, Panasonic's HOSPI is a medical telepresence robot. It cruises silently through the hospital corridors, peeking in on patients with its camera and delivering drugs on behalf of the nursing and pharmacy teams. It can use the elevator by itself, and it's always ready with a smile. If you get in HOSPI's way, it demurely says, "すみません (Excuse me)" and moves out of your way. It doesn't look human per se, but has a universally-recognizable digitized face. It has shoulders, but no arms. It's short, so it won't tower over you if you're lying in a hospital bed.
HOSPI & your humble contributor share a photo op.
Telepresence is a big deal in robotics these days. Japan's aging population means a shortage of doctors; anybody who lives in Alberta knows all about that. Robots such as HOSPI cannot actually practice medicine: they serve as legwork surrogates in order to save time for higher-level tasks.
Medicine is science shot through with art, and it's practiced between living things. Dr. Sumit Gupta, a pediatric oncologist at Toronto Children's Hospital: "Currently, no robots at all in my daily work. I don't really see there being any, either, given how intense the interactions end up being between us and the kids and their parents. The only thing I could see currently would be as a play aid for kids when they're stuck in the hospital. It's unfortunate, really, because I'd love to see robots around. Really for no other reasons than to see robots around."
This telepresence robot allows you can have a physical presence in a meeting, splitting the difference between a conference call and a long-haul flight. Check out its gentle curves, and a friendly digital face. It's short, so it can pull up to a table or desk and meet your eyes with its flatscreen face.
Notice how it's folded into a permanent deferential bow for when it crosses your path in the hallway.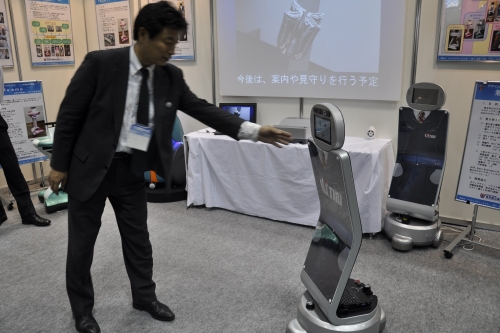 If If you want your friends and family to accept a robot in your stead, your best option is to give it your face. This little character uses a smartphone for a head, so it has your face; and, through the phone's camera, your eyes. It runs on the Tizen platform, and connects with the other networked devices in your life. This robot places a tiny version of you in the Internet of Things.
One of the use cases presented for this little robot was as a surrogate shopper. Rather than shop online, your face can make an appearance at your favorite boutique store, and the staff could engage with you directly. All part of the ongoing evolution of shopping at home.