Tacofino on Hastings offers amazingly tasty dining
Last summer, my daughter told me she travelled with her twin sister to Tofino for a taco. I was somewhat surprised and asked her if I'd heard her correctly.
You travelled to Tofino for a taco? She responded: yes.
Here's why I asked the question.
My twin daughters are in wheelchairs due to their disability, and they live in Nanaimo, the central part of the island.
Traveling to Tofino from Nanaimo is a bit of a drive, given the challenges both girls would face accessing the opportunity to go to the washroom. It's something that many of us take for granted.
When I go on a road trip, it's no big deal should I choose to make a pit stop along the way, but that's not the case with my girls.
My next question was, "How was the taco?"
Amazing, she said. Without any debate, the taco at Tacofino was the best she'd ever tasted.
So, last week, when I told her that Tacofino now had a location in Vancouver on Hastings Street and that I was going to check it out, she was excited.
"Oh, try the cookie, for sure, with the taco, and can I come too?" she said.
Try it I did -- and wow, was I impressed. It's probably one of my favorite food events to date.
Tacofino is located on Hastings on the West Side of Nanaimo with a small awning and in white lettering that's easy to miss if you're not looking closely.
The place is small and cozy and when I arrived there had to have been at least 50 people, which on a Thursday night at 8:30 p.m., I thought was pretty impressive, especially considering it was a big night for the pineapple express weather system to pass through our neck of the woods.
Some of the staff shared that it's not unusual to have a lineup for the first-come-first-serve bench-type seating that is available with a handful of tables set for two on the outside perimeter of the main dining area.
The bar is also available with huge, heavy wooden stools up close to a heavy wood counter. I chose to sit there so I could be up-close-and-personal and take in all things moving around me.
The kitchen is long and narrow with not a lot of space for the staff to work in, and, yet, they kept the kitchen moving steadily and smoothly.
Although there wasn't much chatter amongst the staff, it felt smooth, and I sensed a connected energy amongst them.
Music was playing throughout the evening and, in addition to the music setting, the ambiance for the food experience, the lightning and décor around the room also enhanced the visual sensation of my first Tacofino adventure.
The sweet waitress Katherine greeted me at the bar and offered the menu and a drink to start. I choose a Cesar made with tequila instead of vodka, which had an intense kick to it. Whew.
The food menu, although small, is unique, inviting and incredibly delicious and certainly not the mainstream North American version of a taco.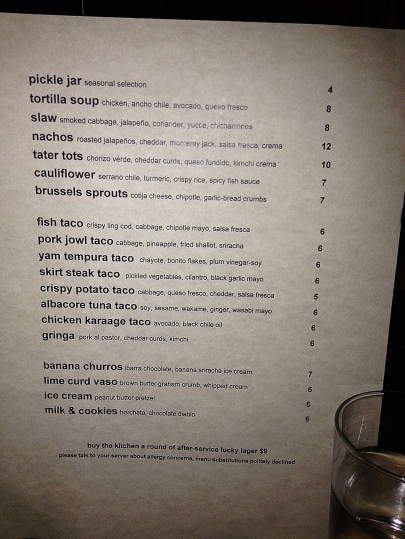 I chose from a couple of varieties and was impressed with each and every bite I had.
My first choice was the Chicken Karaage taco that was filled with avocado and black chili oil. Amazingly tasty. Three pieces of chicken on the avocado drizzled with chili oil in an open warmed soft taco shell. I quickly wrapped it up and savored each and every bite of it.