Climate change devouring forest at alarming rate
A forest pest is doubling in size each year, expanding beyond its historic range and threatening to spread across the vast boreal forest, but it's not the British Columbia mountain pine beetle.
A forest pest is doubling in size each year, expanding beyond its historic range and threatening to spread across Canada's vast boreal forest.
But this time, it's not the British Columbia mountain pine beetle. It's the Quebec spruce budworm, a small caterpillar-moth that attacks evergreens.
The caterpillar-moth has munched its way across Quebec's northern coast of the St. Lawrence River, roughly doubling in size every year since 2006.
As B.C., followed by Alberta and Saskatchewan, has come to understand the economic, environmental and policy impacts of a runaway tree pest, Quebec is now coming to terms with their own slow-moving disaster.
Similarly to B.C.'s mountain pine beetle, the Spruce budworm is a naturally occurring pest. But climate change, as it did in B.C., threatens to upend previous expectations of the pest's behaviour and impact. As a possible new reality unfolds for Quebec and its neighbours, will they learn from B.C.'s mistakes? Will their forest-dependent communities thrive or face a future of uncertainty?
The spruce budworm attacks primarily balsam firs and also white and black spruce. In 2013, the infestation covered 3.2 million hectares – about the size of Belgium or Taiwan – up from 2.2 million hectares in 2012.
"Near my outfitter, it is everywhere – the spruce budworm is everywhere," says Jean Vachon, owner of an outfitter 100 kilometres north of Baie Comeau.
"The trees are sick and brown," says Jean Frennet, whose outfitter is right on the coast of the St. Lawrence, about 100 km east of Baie Comeau. "The balsam fir is in terrible shape and in another year, 90 per cent of the trees will die."
Economic impact of dead trees
Both outfitters say at this stage in the outbreak, their businesses haven't suffered, but the tourists are starting to ask questions about all the dead trees. Resolute Forest Products Inc. is seeing an impact on their bottom line. Their costs are on the rise as they try to salvage trees in infected areas – for them, it's a race against rot.
"Once the budworm attacks a balsam fir tree, we have maximum three to five years to harvest the tree and after that the fiber is no good," says Karl Blackburn, director of Canadian Public Affairs and Government Relations at Resolute. "We are very limited by time."
Resolute is not slowing their business down, rather they are adjusting their cut zones based on the infestation, as the Quebec government works to slow the infestation down long enough for the industry to harvest trees, says Blackburn.
"If it is a new sector that is not ready for harvesting equipment, then the area has to be prepared, we have to redeploy our field equipment and that has a substantial cost for us," says Blackburn.
Unprecedented outbreak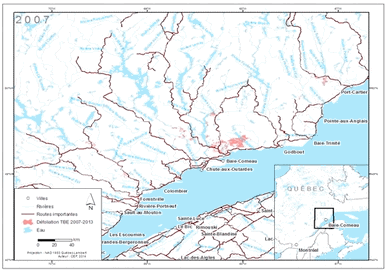 Big outbreaks occur every 20-30 years and are naturally occurring phenomenon curtailed by the lack of tress to kill and the rise of predators. A 1970s outbreak defoliated 55 million hectares in eastern Canada. So this outbreak isn't yet worrying scientists over its size. Rather, its unprecedented characteristics are keeping scientists up at night.
In past observed outbreaks, the spruce budworm attacked the older trees and the younger trees took over once the infestation ran its course.
But with this infestation, the "regeneration layer (of younger trees) is being hit really hard," says spruce budworm expert, Daniel Kneeshaw from the Université du Québec à Montréal.
Historically, infestations have started in the south and spread northward, but this outbreak started in the north.
"We don't know in the last couple of centuries of any outbreak that has caused as much damage this far north," says Kneeshaw. "We are seeing something that is very unusual."
The movement north aligns with the projections made by climate change scientists showing that a longer summer will allow the budworm to expand its range, says Kneeshaw.
"It has people wondering, will this insect move out of its relatively small zone that it was attacking in the past?
The budworm likes to eat the younger more nutrient rich needles and only in early spring. Over six to eight years, the budworm slowly defoliates and kills a tree.
Normally, the north is a marginal breeding ground for the budworm because its biological timed feeding cycle doesn't traditionally line up with the blooming cycles of northern balsam fir and spruce trees. But the blooming and feeding cycles are showing signs of change, says Kneeshaw.
"Slight shifts can have large consequences on these interactions that have evolved with the current climate," says Kneeshaw. "If these shifts go in the wrong way then a great amount of the Canadian boreal forest will suddenly be available as food."
There are still many unknown aspects of the changing biology to study, such as the balance predators can bring to infested areas that are also traditionally outside of their range, says Kneeshaw.
Uncertain future for forests
As B.C. wildfires tear through the already dead tinder dry pine beetle infested forests, Frennet, who's owned his outfitter for over 40 years, is worried about a similar future for his forests.
"I am afraid of forest fires because it will be like a torch if a wildfire starts – it will be an immediate disaster," says Frenette.
A recent B.C. Forest Practice Board report decried the British Columbia government's response to the pine beetle epidemic, calling their large-scale salvage program unsustainable. Resolute, already in legal tussles with Greenpeace Canada over their forest practices, says they can harvest a maximum of trees while working to minimize the economic costs on the impacted regions, but it is the Quebec government that is the manager of the forest and will set harvest rates.