Theatre Sports League's ad-lib take on Lotus Land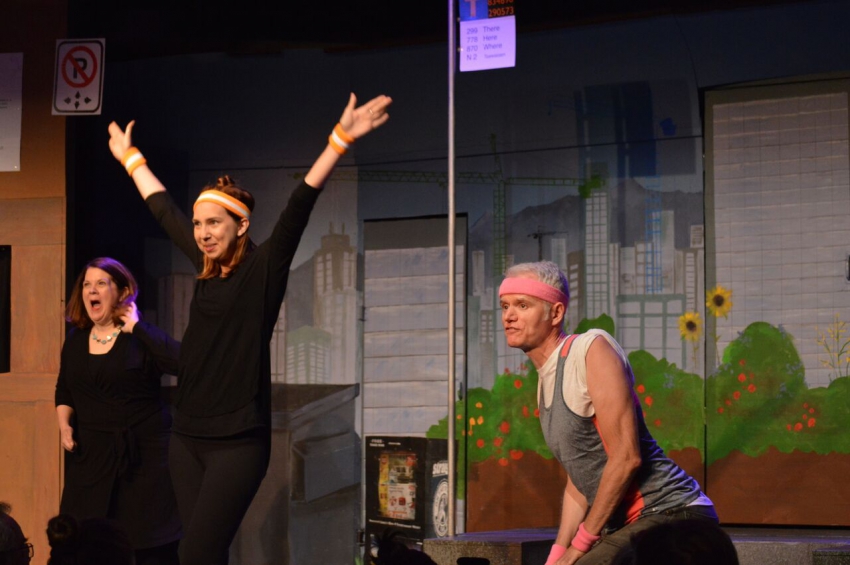 The difference between improv and stand-up, I've now come to understand, is the difference between "Funny ha-ha" versus "Funny; Aha!"
As the conspicuously oldest member of the packed-house audience on opening night of Avocado Toast, I must have looked in need of a guide. The 90-minute farrago is the primetime summer season offering of the Vancouver Theatresports League (VTSL). Greeting me at the door of Granville Island's Improv Centre, Teresa Trovato offered herself as a millennial Virgil to my doddering Dante.
Tonight's performers, she wanted me to know, "are all actors, not comedians. There is no script, no 'cast members'" with fixed, determined roles. But "the actors within the ensemble are all truly in the present in the moment."
Sometimes "the moment" can get pretty surreal. That's a natural function of the Mad Libs premise of improv: a barebones narrative framework is fleshed out with quirky suggestions from the audience.
The humour comes not from carefully scripted build-ups to zingy punch lines, as in stand-up. Rather, it's all about the incongruities of the situation – the startling juxtaposition of random inputs in a familiar context.
To really fly, then, the familiar elements need to be as lullingly homely as the over-the-transom cues are jarringly bizarre. Not much that director Bill Pozzobon or his troupe can – or should – do to control audience whimsies. But at least these can be offset against reassuringly well-known, tried-and-true tropes. So Avocado Toast homes in on some of the most familiar, almost hackneyed, clichés about our Lotusland-on-the-Sea.
Even before any actors take the stage, the gambit is already evident in John Taylor's set design. It's a mishmash of iconic 'Couvisms: cryptic parking and transit signs, Rezoning and Development notices, a Mobi bike stand, an Evo lot, an ATM, freebie newspaper boxes, a green cycle lane.
To people this cityscape, Pozzobon and "format creator" Lauren McGibbon invoke some of our hardiest endemic species of homo Vancouviensis, e.g. spandex-swaddled fitness coaches (Rae-Lynne Carson and Ken Lawson), hardhat-crested DayGlo-vested demolition crewmen (Julian Kolstee and Taz Vanrassel), or the umbrella-wielding tour guide (played by McGibbon herself).
Besides supplying topical prompts, we spectators periodically get dragooned into more kinetic crowd scenes. Every quarter hour or so our "personal trainers," Carson and Lawson, sprint out on stage and order us onto our feet to flop around in a series of increasingly silly calisthenics, all cued by audience suggestions.
In between these set pieces, the scenarios turn a lot zanier, with more degrees of freedom for audience inputs. But, in the course of the evening, each of the performers manages to project a sense of an underlying personality across a dizzying array of personae: Carson goofy and puppyish, Vanrassel with a basilisk deadpan, Lawson bug-eyed and earnest, McGibbon an indefatigable cheerleader, Kolstee a master of the just-in-time pinprick to puncture runaway ridiculosity.
Two more players round out the ensemble. Ed Witzke comes through as a sweet-faced innocent, unscathed by any encroaching chaos. And Margaret Nyfors emerges as a woman who's been around and seen a lot, but remains game for whatever new absurdity comes her way.
By Act Two of the evening, after we've all had a chance to alcoholically "rehydrate" at the lobby bar under orders from our "personal trainers," we have the feeling (perhaps illusory) that we've already somewhat come to know these actors as people. Which itself inject a note of familiarity to juxtapose against the Mad Libs nutsiness of audience-cued scenarios.
Like its titular tidbit, Avocado Toast offers ideal "comfort food" for the Vancouver palate: light, rich, a little bland, none too nutritious, but organic, after all, with a pastel eye-appeal and a pleasant "mouth feel."