Marion Bridge; pro-Life menage à trois
Touchstone brings witty MacIvor melodrama to West Van's Kay Meek Theatre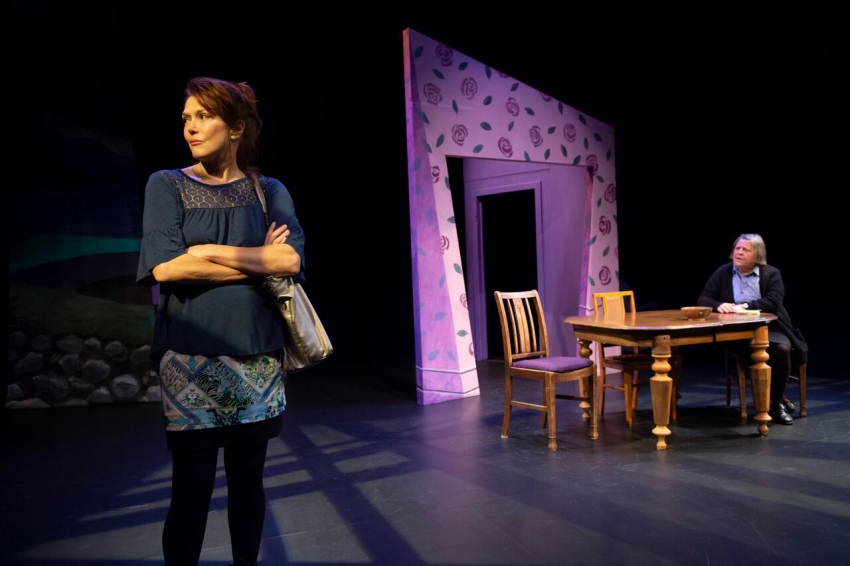 Since its premiere 20 years ago, Daniel MacIvor's award-winnning Marion Bridge has become one of the most-produced staples of Canadian repertory. Yet the genre-defying tragi-farce remains timelessly fresh, and West Van's current Kay Meek Arts Centre production feels definitive.
Nicola Cavendish, doyenne of the Vancouver stage now that she's come home to roost after a dazzling four-decade pan-Canada and Broadway career, has dedicated herself for the past three years to pulling this version of Marion Bridge together.
She's recruited a pair of equally lustrous co-stars, Lynda Boyd and Beatrice Zeilinger, as well as veteran director Roy Surette, newly returned to Touchstone Theatre after 20 years of distinguished directorial stints from Montreal to Victoria. Along with their top-flight design team, they've mounted an impeccably paced and crafted production. No lags or superfluities – everything fits tight as a drum.
Specifically a bodhrán, the iconic Irish frame-drum that enlivens many a reel and ballad. Surette splices bursts of this music in between scenes, in keeping with the Celtic idiom of MacIvor's native Cape Breton, Nova Scotia, where the play is set. The dialogue spans the full spectrum of Irish eloquence, veering from tart-tongued acerbity to almost maudlin sentimentality to rhapsodic lyricism.
For ambitious actresses, it's a dream script. No bit parts; everyone is a star in her own right. The play homes in on three sisters: Theresa, a faith-challenged nun (Cavendish), Agnes, an actress manquée (Boyd) and Louise, a stay-at-home shut-in (Zeilinger).
But the character who is, arguably, the true protagonist – their mother – never even appears on stage. She's confined out of sight in an upstairs bedroom, felled by a stroke, barely able to communicate through notepad scribbles. By Act II, she's already dead.
We get a piecemeal sense of her, though, as an embittered, tyrannically conventional, alcoholic divorcée. This we learn though the dialogue – by turns wickedly funny and heartrendingly raw – among the three women who convene at the deathbed vigil in their bleak ancestral home.
Theresa and Agnes have "come from away" (Maritime parlance for returning émigrées). The nun has had to forego the solace of her convent, while the actress finds herself abruptly plucked back to Cape Breton from the demi-monde of Toronto's "Little Theatre" circuit.
Louise, the third daughter, has never left the island. But then again she's never quite been "all there" either, closed off behind autistic obsessions with the minutiae of TV serials, Catholic patron saints and automobile mechanics. So they're all in some degree of denial, unready to face past traumas or the present reality of their mutual estrangement.
We, as an audience, feel we may know them better than they know each other, as they each get to directly address us in a long stream-of-consciousness soliloquy. Agnes recounts a drowning dream, Louise extols the Zen of aimless day-trip motoring, while Theresa pines for the comforting routine of her rural monastery, where guileless farm animals are so much steadier than fallen humanity.
Lighting designer Michael Hewitt offsets these monologues with a subtle brightening and blue-shift in the full frontal spots. For interactive scenes between the characters, the lighting – like the dialogue – is more oblique, mostly reverting towards the murkier, mellower end of the spectrum.
Tiko Kerr's stage set, too – a pair of concentric, off-kilter, squarish frames – reflects the crabbed boxes-within-boxes fragmentation of the hemmed-in island world. The only other stage furniture is a stolid oak kitchen table, stage centre, a faded Barcalounger facing off into the wings to catch the flickering glow of an offstage TV, stage left, and the hint of a bannister, stage right to suggest the steep, fraught climb to the unseen upstairs bedroom.
Yet this minimalist décor never oppresses us with a sense of claustrophobia. In fact scenic painter Tracy-Lynn Chernaske has daubed the framing arches with stylized mountains, forests, tree leaves, flowers, ocean billows and clouds to invoke the Cape Breton landscape that, in the course of the two-hour drama, figures more and more in the characters' growing understanding of their mother, their past, their bond and their more hopeful way forward.
Without tipping off too many of MacIvor's meticulously crafted plot-points suffice it to say these epiphanies revolve around an out-of-wedlock baby girl that the mother, out of Irish Catholic convention, shamed a teenaged Agnes to carry to term and then discretely give up for adoption.
Now back on Cape Breton, the actress can't resist tracking down the girl, who's now grown to a troubled teen in her own right. Their on-again/off-again reconnection adamantly opposes by Theresa and resolutely ignored by Louise, at least initially.
But when the long-lost daughter turns out to be pregnant, unwed and determined to carry the child to term, all three sisters rally to the cause and resolve to stay on-island, turning their ménage à trois into a ménage à quatre or maybe even à cinq, thereby each (hopefully) resolving some of their own inner demons.
Very Irish Catholic resolution, but wholly convincing in its own terms, at least for the length of a two-hour melodrama. Standing ovation from the Kay Meek house and hardly a dry eye in the crowd. Not for nothing do they brand that dogma 'Pro-Life.'