Fighting Chance Productions herds CATS at Jericho Theatre
Fitting a mega-musical into a compact black box theatre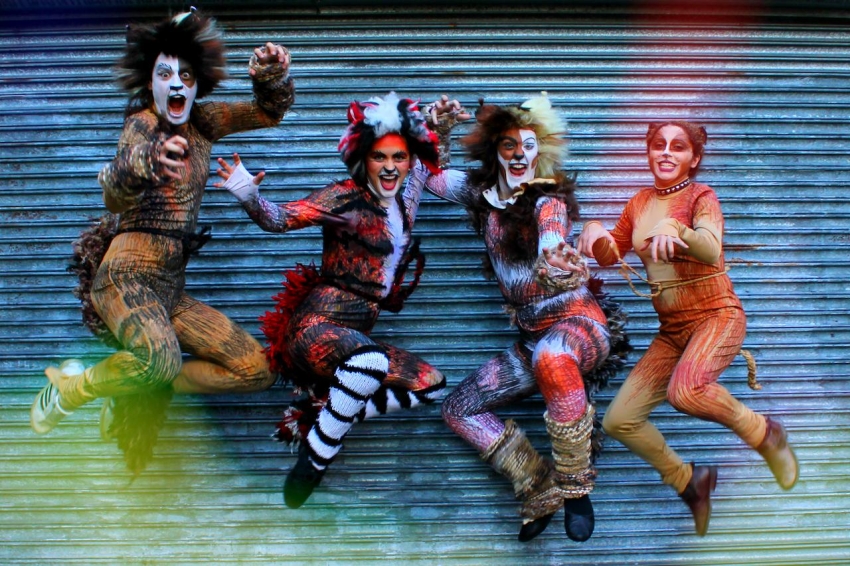 Cramming a cast of 20 and a five-member music ensemble into the intimate black box of the Jericho Theatre, director Ryan Mooney had no choice but to go for an audience participatory theatre-in-the-round presentation.
In our front-row seats we could smell the greasepaint and stroke the CATS behind the tufted ears of costume designer Fairlith Harvey's fanciful wigs.
The show's vaudeville review format obliged choreographer Rachael Carlson to think vertically as well as horizontally, slotting each "act" in turn atop the tottering freight pallet ziggurat of stage designer Tim Driscoll's junkyard setting.
Lighting designer Nicole Weismiller chased the slinking felines all around the stage, swapping gels on her spotlights to fit the mercurial mood shifts of the script.
This was another outing with the grandchildren. Having (mistakenly) rejected The Phantom of the Opera as "not scary enough," the seven-year-old grandson decided to take a chance, after all, on another Andrew Lloyd Webber extravaganza.
But why, he wanted to know, was this show all singing and dancing, with no dialogue? (Because, I tried to explain, it's mostly based on the text and characters of T.S. Eliot's rhymed and highly metrical doggerel).
His sister, age nine, homed in on the homiletics and metaphysics of the two main stars, Old Deuteronomy (Doug Thoms) and Grizabella (Lisa Ricketts). Why was he so venerated by the whole coven of Jellicles? (Because he lived forever and sired most of them).
And why was she so sad and despised? (Because she'd fallen from youthful grace to aged decrepitude). And how and why did he single her out for Jellicle reincarnation? (By Godly grace or Broadway sentimentalism, take your pick).
At which point Jasper, ever practical, chimed in with the matter-of-fact tip that all cats had exactly nine lives, no more and no less.
Still, Thom mustered such benignly patriarchal gravity, and Ricketts belted out her iconic torch song "Memory" with such contralto pathos that there wasn't a dry eye in the house -- not even Jasper's -- at her apotheosis.
Polling the children afterward about their favourite ancillary Jellicles, they mentioned Amanda Lau and Lucia Forward as the sassy cat-burglar duo of Rumpleteazer and Mungojerrie.
Cody Fonda played Rum Tum Tugger with true rock star charisma. Randy McCormick brought out the has-been pathos of Gus the Theatre Cat (he also made a hit with the kids by greeting them at the Jericho door and handing out their playbills).
Damon Jang portrayed Shimbleshanks with all the worldly suavity of a well-traveled Railroad Cat.
But in the end, the kids concluded, the whole ensemble was so endearing that it was almost pointless to single out any one of them for special strokes.
In a most impressive endorsement, the granddaughter even dropped the whole of her hard-earned Chinese New Year laisee loot into the Fighting Chance collection plate to help fund their next production, Facing East, a new musical.