Diwali Fest wraps with "Brothel #9"
Drama of sisterhood in darkest Calcutta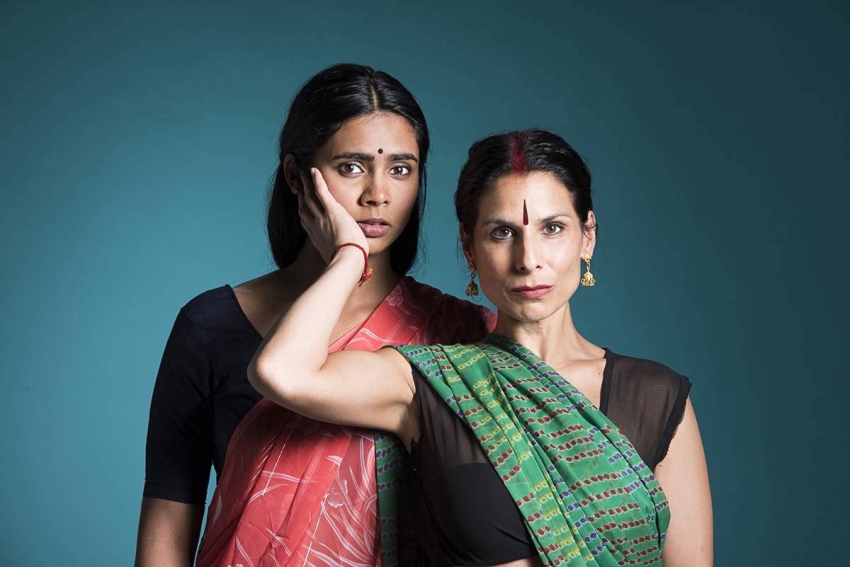 Settling into a front row seat for Brothel # 9, Drew Facey's set laps at your feet like a redolent seepage of Hooghly water from a cracked storm drain. It sure sets the Calcutta mood even before any characters appear onstage. The urban courtyard tableau fills the whole front of The Cultch's Lab Theatre wall-to-wall and floor-to-ceiling:
An outdoor rasoi (kitchen), with its array of pots and an oklah (stone mortar) for spice-grinding. Flanking the water cistern and the earthenware earthenware chullah (stove), two plank doors lead to "service" cubbies; a third plank opens onto the latrine. A bare bulb lights the narrow, arched passage to the street. Electric cables loop crazily overhead.
Downstage left presides a rotogravure icon of Calcutta's patron goddess, Maa Kali – four-armed, teal blue, skull-garlanded, brandishing a bloody sword and a severed head. When anyone offers her an incense stick, the whole audience swoons from the perfumed smoke.
The space is so cramped that front-row spectators have to tuck in their feet to let devotees through to the altar niche. Yet this narrowly claustrophobic slice of urban blight becomes a whole, self-contained, karmically charged universe for the protagonists of Anusree Roy's compelling script.
Jamuna (Laara Sadiq) opens the scene as a one-woman bordello: she's the madam, the 'talent,' the cook, sweeper, cashier, bouncer and bribery lobbyist all in one. The underling that used to work with her has lately run away, so now the brothel's second cubby is empty.
But not for long. Teenage Rekha (Adele Noronha), a naïve village girl, shows up for what she'd been told was a cash-paying factory job in the glamorous big city. Birbal (David Adams), the pimp she's been sold to, quickly disabuses her of that fantasy.
The neighbourhood beat cop (Shekhar Paleja) drops into the brothel on his routine rounds. But, instead of heeding Rekha's pleas for rescue, he rapes her at the madam's express invitation.
Normally, Jamuna reserves the policeman's attentions as her personal perk. But why not, just this once, toss him a bonus bribe and let him break in the new girl? To drown out the kicks and screams from behind the plank door, the madam busies herself with her kitchen pots, softly crooning snatches of shyama sangeet (Maa Kali hymns).
Melodrama enough to set the scene. But it's in the characters' evolution that Brothel #9 sheds the facile dichotomies of a Bollywood morality play for the more nuanced, troubling – and, ultimately, uplifting – enigmas of tragedy.
For the brothel women are not outright chattel slaves. More like serfs or sharecroppers, with a cramped but still meaningful modicum of economic and social agency. They have their own pecking order and some net worth after pay-offs. They stay trapped in Sonagachi (Calcutta's red light district) by debt, shame and habit, but there's always at least the theoretical possibility of running or buying a way out.
Gradually, the Rekha/Jamuna nexus transforms from captive/jailer to victim/comforter, and then to novice/mentor. But when the dependency balance begins to tip the other way, the relationship curdles into bitter rivalry.
The clientele migrates from the superannuated madam to the younger, spryer, more soignée upstart. Like the hatch of a cuckoo clock, the newbie's plank door issues forth of succession of freshly sated lechers – a street tough, a shaved Brahmin, a doddering dotard (all played by Munish Sharma in a dazzling display of costume designer Farnaz Khaki-Sadigh's quick-change ingenuity).
Rekha's bra is soon bulging with rupees, even as Jamuna's deflates. Most galling of all, she manages – despite the madam's most self-degrading efforts to the contrary – to alienate the affections of the randy beat cop. Only some version of Stockholm syndrome could account for both women's devotion to their reptilian tormenter.
Paleja convincingly conveys this reptile's declension from the merciless adder of the first scene to the hypnotic cobra of the next two acts and finally to the simpering worm of the denouement. Likewise the pimp, in Adams' portrayal, all too plausibly devolves from a brutally bluffing bully to a wheedling glutton and finally to an AIDS-wracked grieving widower. This is India, after all, where karma holds sway.
Karmic law also steers Jamuna and Rekha to an enhanced bond. Through plot twists and back-story revelations (which we won't reveal here), they renew their sisterhood even as they part forever – Rekha returning to her village with the iconic Maa Kali rotogravure as Jamuna remains in Brothel #9, singing shyama sangeet to the dying Birbal.
The emotional momentum of this trajectory is propelled by director Katrina Dunn's impeccable pacing, much helped by production manager Adrian Muir's subtle mood lighting and music supervisor Rup Sidhu's judicious dhrupad quotations.
But ultimately the drama hinges upon the two lead actors and the chemistry between them. Hard to imagine a pair who could outshine Noronha and Sadiq at this, achieving so much nuance amidst such intensity of feeling and coordinating their performances without ever upstaging each other.
Brothel #9 marks the last offering of this year's "Diwali Fest" roster. Hindus, Sikhs, Jains and Buddhists each have their own Diwali mythology, but all interpret it as a post-equinox and pre-solstice celebration of light triumphant over darkness. What could better convey this improbable victory than a saga of resurgent human sympathy in darkest Sonagachi?