B'way meta-magic @ Malkin
Backstage byplays & Depression Era nostalgia in TUTS' "42nd St."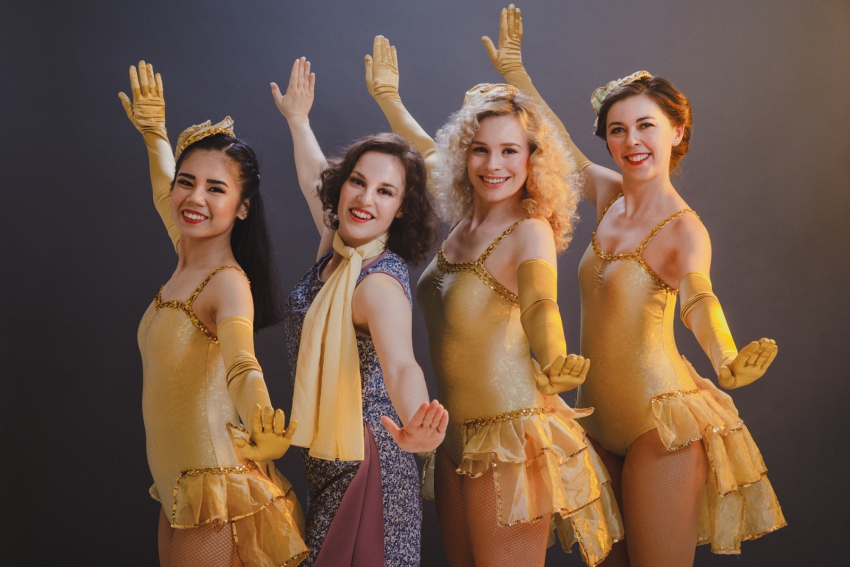 Easy enough for latter-day theatre goers – even us greying Boomers – to muster up a bemused, high-camp nostalgia for the classic musical reviews of Broadway's golden age. All those feathers and spangles, those punning libretti, the non-stop lightsome pitter-pat of a high-gloss tap shoes.
But back in the 1930's, when those musicals premiered, attendees who splurged a whopping $4.40 apiece for Broadway theatre seats were well aware that they were whistling through some very dark times indeed.
All the more so for the stage-struck "hoofers" who filled out the shows' chorus lines. In the meta-mirror of David Merrick's 1980 Broadway hit 42nd Street, these chorines serve as mere singing/dancing backdrops for the headline star (played by Janet Gigliotti in this year's Theatre Under the Stars revival) of Pretty Lady, a fictitious 1933 review.
Their dictatorial director/impresario (played by Andrew Cownden in the current TUTS production) spells out the terms of their contract: a rehearsal grind of 12-hour days and six-day weeks with no guarantee of steady Broadway work after the gruelling gamut of out-of-town previews.
Don't like it? "The nearest breadline is right around the corner," Cownden reminds them right at the start of Scene One. After all, the action is set in 1932, near the onset of the worldwide Great Depression. That's when pulp novelist Bradford Ropes wrote the show's source text, a potboiler that pulled back Broadway's (tasselled, velour) curtain to expose the seamier underlying facts of show biz life.
Almost a century before our #MeToo era, Ropes avowedly set out to produce "the 'Uncle Tom's Cabin' of the chorus girl," replete with gangsters, jealous rivalries, preening vedettes, Sugar Daddy producers and casting room couch-surfing. Within a year, Hollywood director Busby Berkeley had co-opted the book into a 1933 movie extravaganza in his own signature "pop-Wagnerian" style, which in turn inspired Merrick's 1980 hit.
So the script we're left with combines Ropes' wannabe exposé with Berkeley's showmanship. The result is a curious melange of glitz and grit, intimate tête-à-têtes and flamboyant spectaculars.
The classic tune I'm in the Money starts out with ragamuffin street waifs magnet-fishing for lost change in a sewer grating and then morphs into a costumed kick-line of dancing dimes. Music director Christopher King seems to spend as much time onstage, pounding out vintage show tunes on a clapped out spinet, as he does in the orchestra pit conducting the 14-piece live ensemble.
Such old chestnuts as Getting to be a Habit with Me or Lullaby of Broadway are introduced as sentimental duets, only to unfurl into sprawling set pieces, costumed and choreographed to a fare-the-well.But what sets (thanks to designer Brian Ball)! What costumes (by TUTS' longtime wardrobe wizard Christina Sinosich)! And what choreography (by Malkin Bowl veteran Shelley Stewart Hunt)! Director Robert McQueen brilliantly coordinates these inputs; the pieces all click together in vivid, engaging, ever-shifting symmetries like a hypnotically mutable kaleidoscope.
Searching for a story-line in 42nd Street is about as relevant as it might be in kaleidoscope. But the plot, such as it is, revolves (often quite literally) around a stage-struck, fresh-out-of-the-boonies ingénue (Paige Fraser). She longs for any bit part in Pretty Lady, but gets initially shut out by the company's hard-boiled dance captain (Colin Humphrey).
The show's leading man (tenor Blake Sartin) promptly falls for her at first sight and finagles a place for her on the kick line, where her generous personability and her triple-threat singing/acting/dancing talent promptly earn her the respect of the captain and all the other choristers.
So that, when the company's temperamental leading lady suffers an injury that threatens to derail Pretty Lady before it even reaches Broadway, our ingénue is prevailed upon by general acclaim to step into the breach at the last moment. Ensues a crushing one-on-one crash course rehearsal regimen under the relentless tutelage of the show's martinet director.
Needless to say she survives, opens the show to universal acclaim, is launched on a fast-track trajectory to stardom that is every hoofer's dream. But, of course, she modestly eschews celebratory champagne in her producers' penthouse in favour of a homelier cast party with her fellow chorines.
Dated and corny? Maybe. But a glance at the TUTS playbill bio's can amply attest that the glamour of show biz still retains its allure for talented young hopefuls. In the entire 28-member cast of 42nd Street, Cownden and Gigliotti are the only veterans enrolled in Actors' Equity.
Most of the rest are fresh young faces, either recently graduated from or still enrolled in Studio 58 (with a smattering from Capilano, Langara and other local theatre departments).
For director McQueen, himself a Studio 58 alum, 42nd Street marks his return to TUTS, where he made his directorial debut on the professional stage a quarter century ago. Since then he's gone on to a lustrous career in Toronto and worldwide, but still knows how to spot and promote our own homegrown talent "under the stars."
Go see these headliners-to-be while you can still catch them in Vancouver. Their incandescent candle-power will light up your night even brighter than the August fireworks.