Taiwan puppeteers work hand-in-glove with First Nations at MOA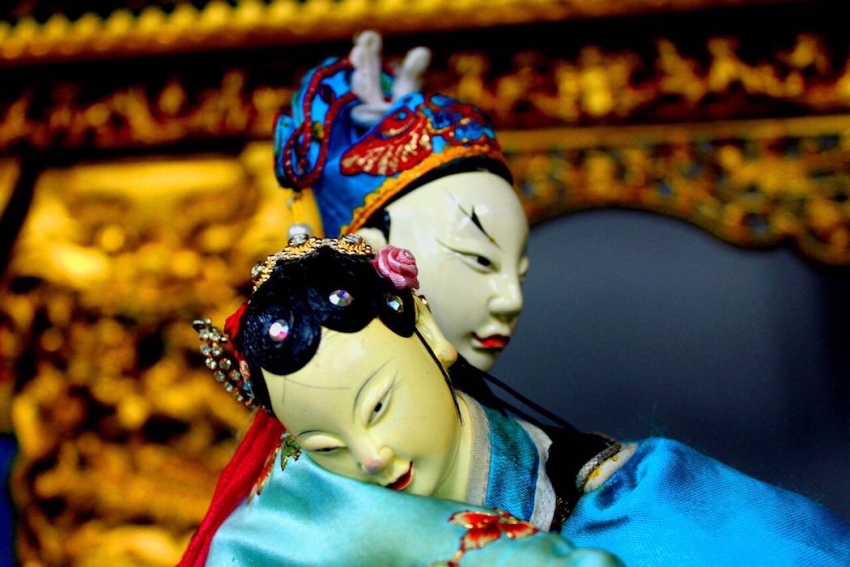 Amidst the tree-tall totem poles and house-high cedar slabs in the Great Hall of UBC's Museum of Anthropology (MOA), busloads of Vancouver-area schoolchildren sat agog before an ornate gilt-framed box barely the size of a flat-screen TV.
All eyes were fixed upon a succession of tiny acrobats spinning platters in the air, balancing wine-pots on their foreheads or flailing purple silk streamers in great looping arcs. The performers were no bigger than a human hand. They were, in fact, gloves; traditional "glove puppets" (布袋傀儡) from Taiwan.
Their very miniaturization made their feats of balance almost supernaturally hypnotic – an effect as pronounced among the hushed Vancouver school groups last week as it once was among the Taoist temple fair crowds back when my wife was growing up in Taiwan half a century ago.
In those days, the island nation could sustain dozens of puppet troupes to act as intercessors with a whole vibrant pantheon of much-revered demiurges. Nowadays, the gods are fading, temple fairs are few and far between and most of the puppet troupes have long-since disbanded.
One last hold-out, however, the Happy Puppetry Company (真快樂木偶劇團), survives largely through the patronage of Taiwan's Ministry of Culture.
The government promotes performances domestically, so as to remind Taiwanese of their distinctive artistic heritage. It also sponsors international tours like the MOA engagement to counter Beijing propaganda claims that Taiwan is a renegade province of China.
At age 84, Happy Puppetry's founding grande dame, Madame Ko Chiang, quite enjoys her life as a cultural diplomat. At least it beats her hardscrabble existence in the 1930's as a female puppeteer – an unprecedented rarity – in Japanese-ruled Taiwan.
And later, when the island was taken over by U.S. ally Chiang Kai-shek after his 1949 defeat in the Chinese civil war, the Mandarin mainland occupiers deliberately set out to suppress such vestiges of Taiwanese language and culture as the glove puppet theatre.
Madame Ko had to moonlight as a patent medicine huckster just to make ends meet.
But the grandiloquently operatic old puppet play scripts outlived Chiang, and successive Ko family generations have, of their own accord, taken up the Happy Puppetry mantle.
Madame Ko's grandson, Ko Shih-hung, even enrolled in the puppetry master's program at the University of Connecticut (UConn) – the only such graduate institute in North America – to keep abreast of the latest developments in his chosen art.
UConn was also alma mater to Hsueh Mei-hua, whose rather more contemporary Puppet & Its Double Theatre ("puppetX2," or 無獨有偶工作室劇團) rounded out the Culture Ministry's "Spotlight Taiwan" program at the MOA.
But, unlike many UConn puppetry alumni, both "puppetX2" and "Happy Puppetry" steer clear of political subjects, despite – or perhaps precisely because of – the island nation's intense partisan infighting and the vexed state of its relations with the Chinese mainland across the Taiwan Straits.
Still, the MOA event amounted to something of a quiet diplomatic coup for the newly ascendant government of Taiwanese President Tsai Ying-wen.
At the end of "Spotlight Taiwan," both the visiting puppet troupes joined in with Vancouver's own First Nations visual artist Connie Watts to improvise a collaborative performance featuring Taiwanese puppets, ancient and modern, alongside traditional Coast Indian artefacts (Raven and Bear masks and potlatch boxes) from the Museum's collection.
The little playlet lacked any coherent content or storyline, but the sheer spectacle riveted the attention of its multi-cultural and multi-generational audience at the MOA.
Contrast that with the Beijing government's lavishly promoted touring performance of Lao She's masterpiece, Teahouse, which sold out its high-priced tickets to a Vancouver Playhouse-full of local Chinese for two nights in a row, but attracted virtually no notice at all in the wider community.