More radioactive water leaking from Fukushima Daiichi
Up to 45,000 liters of highly radioactive water leaked from Japan's Fukushima nuclear station at the weekend and some of it might have reached the ocean, according to Tokyo Electric Power Co. (Tepco).
The water contained 1.8 millisieverts per hour of gamma radiation and 110 millisieverts of beta radiation, according to the company.
The water is likely to include strontium 90, which -- if absorbed in the body through eating seaweed or fish -- accumulates in bone and can cause cancer, according to Tetsuo Ito of the Kinki University's Atomic Energy Research Institute, quoted in Bloomberg Businessweek.
The implications of this news for B.C. are unknown, but things don't seem to bode well for life on the coast.
The view from Japan
Recently, I was speaking to a Japanese friend on Skype who seemed distraught about recent developments in Fukushima. Although the rest of the world has largely moved on from the nuclear crisis in Japan since the March earthquake, updates about Fukushima continue to hang over the nation like a dark cloud.

"They said the fuel rods inside the reactors might have totally melted," he said. "The fuel rods had in fact melted, and eaten into the concrete floor – things are much worse than the government was telling us before."
The concrete floor is the reactor's last line of defence before its steel outer casing, narrowly avoiding the "China Syndrome".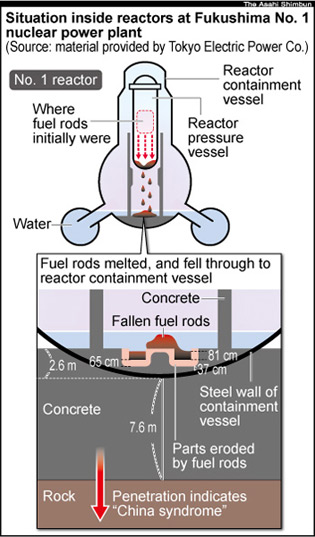 Diagram from Asahi Shimbun newspaper
My friend suddenly began a rapid-fire account of snippets that he had absorbed on TV or in the online news: that the nuclear radiation levels at Fukushima were several times higher than that of Hiroshima, that the area will be unsafe for decades, that while everyone pledges support to earthquake victims, no one wants to take on the mass of debris from the region, that the government has no clear plans about how to dispense of the nuclear waste, etc.
He was most distraught about the work involved in cooling down the fuel rods with water for years at Fukushima Daiichi, the vast amount of time and energy it would take, all over a plant that has ceased to be of any use to anybody. Where to dispose all that radioactive water? Would everything be shipped out to a developing country? There are many questions, but no answers.
Who deals with the aftermath?
There's an expression, 'ki no touku naru youna,' which literally means it makes you feel faint just thinking about it: that's exactly how he felt about the aftermath at Fukushima Daiichi. According to Japan's atomic commission, the Fukushima plant could take 30 years to clean up. In the meantime, the area will remain a dead zone: farmers won't be growing food crops near the area, and fishermen will likely not be able to fish.
"We should simply get rid of nuclear power plants altogether. After what happened at Hiroshima..." he paused, shaking his head. "It's not appropriate that we even have nuclear power in the first place. It's too much trouble, and the government doesn't know what to do when something goes wrong."
This was a surprising admission from someone who had been adamantly pro-nuclear, who thought the radiation problem was exaggerated by opportunistic reporters, claiming that back in April said that the foreign news coverage of Fukushima was "hysterical" and "over-sensitive".
Slowly, though, news is leaking out to the general public. There are horror stories of workers having their boots melted off as they worked at the destroyed plant. Prior to the nuclear crisis, Japan was planning to increase its use of nuclear power for the nation's electricity to 50 per cent by 2030.
Obviously, that plan has come up against public opposition since the tsunami and is unlikely to be carried out.
What's Canada doing about nuclear power in the meantime? Amid calls to shut down the Gentilly 2 reactor in Quebec, Hydro-Québec was quietly granted a go-ahead for $2 billion in renovations, which would keep the plant going until 2040. The refurbishment of Darlington plant, run by Bruce Power in Ontario, is currently pending review.
Candu Energy Inc. (a subsidiary SNC-Lavalin), recently signed onto a $444-million project with Argentina in August to revamp its Embalse nuclear power plant (the same area where a three-eyed fish was caught back in October).
For Japan, the accident has already come and gone -- its people now have to deal with the aftermath. Canadians will have to speak up now if they want their views to be heard on the role of nuclear power in their future.