Japanese confused by worldwide "bagel head" trend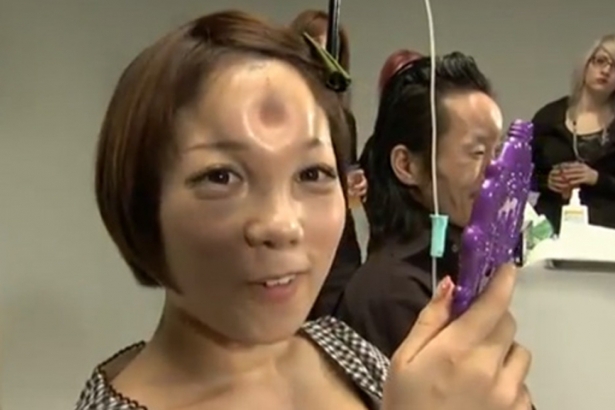 "Bagel head a trend in Japan? So wrong--but wait a sec, there's no such trend here!" tweeted @ststgc, or Shota, a Japanese twitter user.
Many confused Japanese readers are finding out about the 'bagel head' trend, which is allegedly all the rage in Japan, from US and international media.
"When I was listening to a UK radio station at noon, I heard something about bagel heads trending in Japan. It's a misunderstanding, but seriously, what is this?" another tweeter asked.
The extreme body modification involves injecting saline water into a person's forehead, then making a 'bagel' shape. The technique was reportedly pioneered by Canadian photographer Jerome Abramovitch, who started saline infusions at an extreme body modification conference called Modcon in 1999.
Keroppy Maeda, a Japanese blogger, had an explanation for why television crews from around the world were suddenly keen to explore the bagel head phenomenon.
"It seems like last year, the television crews that were in Japan for the Fukushima nuclear fallout were looking for something new to shoot about youth culture, and they jumped on bagel heads," he wrote.
Japan is home to a small crowd of extreme body-modifiers and unusual fashion. One award-winning novel and subsequent film, Hebi ni Piasu ("Snakes and Earrings"), explores the painful world of body modification, which involves a snake-like forked tongue and copious amounts of facial piercing.
But few of such underground 'trends' actually break into mainstream Japanese fashion. Coloured contacts and dyed hair are one thing: injecting 400 cc of salt water in one's forehead is quite another.
A case in point of a Japanese fashion "trend" in the world press are the 'bikini jeans', which were allegedly popular in Japan around five years ago. Visitors may have been disappointed to find that few women on the street had even heard of this type of jeans, let alone own a pair in their closet.
Not found at Uniqlo or any Lumine stores: 'trendy' bikini jeans
Bagel heads obviously exist, and the aesthetic is becoming popular within a marginal subculture in Japan. But is the "beauty trend" aspect a bit of an exaggeration? The verdict in Japanese social media right now seems to be yes.
The new rage...or not.