I'm not a hippie but I'm hopeful
Walking to the Broadway Skytrain Station, on my way to check out Occupy Vancouver on Saturday morning, I noted that it was a beautiful day. I recall thinking the same thing about 9/11 and the October morning that my father died. Good thing I don't believe in omens. I stopped at a corner store to buy a bag of nuts, not because of the riot paranoid media warnings to bring water and granola bars, but because I need to eat often or I get really grumpy.
Behind me in line, a trio of dread headed Commercial Drive gals were stocking up on granola bars. Assuming we were sharing in the Sisterhood of the Occupation, I smiled. When I realized they were heading out on a road trip I experienced a blow to my assumptions about the demographic I had been seeing in pictures from Wall Street.

Arriving at the Vancouver Art Gallery at about 10:30, the first thing I noticed was a sea of gray hair. The baby boomers and their elders far outnumbered the younger generations. "Isn't this a Twitter revolution?" I wondered aloud. An impressively wrinkled man corrected me, "too early for the kids, they're still steeping it off."

I spent the next hour and a half wishing I was one of the hung-over kids and so could have avoided the incredulous irritation of watching the "Consensus Decision Making Process".
Several hundred people stood in confused silence as they were asked to determine the hand signals for: Agreement, Reservations, Standing Aside (aka abstaining) and Blocking. A single Block stops a proposal from going forward; let your imagination take it from there.
I understand the sentiment, but sometimes the Left's desire for inclusiveness makes me want to poke my eye out with a fork. My "just get it done" soul was not amused. The debate over whether or not to continue using the human voice relay, even though everyone could hear the actual microphone, was equally lengthy and slightly more contentious. As I roamed through the crowd watching the befuddled majority stop listening, I ate a lot of almonds and fantasized about having Robertson's Rules tattooed on my arm.

Noon arrived, the crowd swelled and the dirty business of consensus gave way to the speakers list. The glorious sun peeked over the downtown towers, the hovering helicopters thumped up the energy level and the real protest finally started. It's not news that the issues are very diverse. We listened to everything from raw milk proponents to 9/11 conspiracy theorists to Air Canada Flight Attendants. There was the odd "boo" from the crowd but we were quickly reminded that everyone should have a voice. There were no shortage of voices, looking around I saw every type of person imaginable. They were smiling, there was a sense that we were all in it together. The balance of power (not that there ever was one) had tipped too far; the world's regular people were demanding a voice. Awesome!
As the march was to start, the loudest cheer was saved for the police who were thanked for securing a route and keeping the event safe.

The march wasn't like other marches I have participated in. There was a surreal quality. Occasionally, someone would try to start a chant but, for the most part, people walked in near silence. It was solemn like a funeral march. Onlookers took pictures from the sidewalk but there was no interaction. At a blocked intersection, a man in a BMW stared at his steering wheel, unwilling to look up at the thousands of people strolling past. Shoppers scurrying down the sidewalk with their Holt Renfrew bags stood out mostly for their high heels. A man with his large belly pressed against the window watched from a hotel room several stories above the street.
I kept one eye peeled for the Black Block Anarchists but saw very few that could match that description. Instead of handing out pamphlets, a couple Anarchists threw them into the air. An older woman took them to task for littering. They didn't pick up the pamphlets, but one of them apologized ceding that the lady had a point. Nice boys.

I hung around for a while after the march, mostly enjoying the sun and the drummers and feeling thankful that I wasn't going to be one of the people freezing my butt off in a tent.
Walking back up Commercial Drive after getting off the Skytrain, I thought, what a messy, mean and marvelous world we live in. I don't know if any of the occupations will mitigate greed or lead to change that will save us, but to use a ranting Internet commentator's label, this "lazy commie hippie" still has hope.
photo by Keith Robertson
photo by Keith Robertson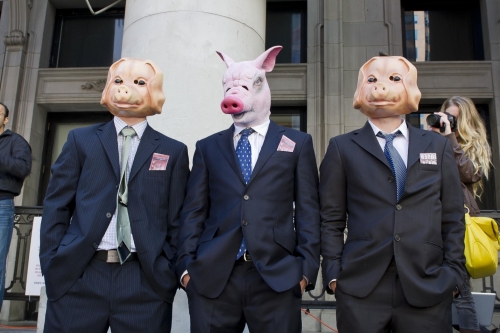 photo by Keith Robertson