Movement to arrest Dick Cheney for war crimes grows
As Dick Cheney prepares to promote his book in Vancouver tomorrow evening at the Bon Mot Club, a movement to have the former U.S. Vice President arrested for war crimes has grown.

This will be Cheney's first event outside of the United States to promote his new book which justifies torture and other war crimes.

"We owe it to the victims of war and torture in Iraq, Afghanistan and beyond to have a strong showing of opposition to this event featuring this war criminal," the activist group, Stop War, wrote in a press release this afternoon, calling for Vancouverites to write or contact elected representatives, asking them to speak out against the visit and to call for his banning from Canada or arrest upon entry. The press release says:
Protest War Criminal Dick Cheney, Monday, Sept. 26 5:30 pm

Outside the 'Vancouver Club' at 915 W. Hastings
Human Rights Watch said last week that Canada should be prepared to investigate Cheney for violating the United Nations Convention Against Torture. In a statement on the international humanitarian organization's website was this statement:
The Canadian government should be prepared to bring criminal charges against former US Vice President Dick Cheney for his alleged role in the torture of detainees when he visits Vancouver on September 26, 2011, Human Rights Watch said today.

Overwhelming evidence of torture by the Bush administration, including at least two cases involving Canadian citizens, obligates Canada to investigate Cheney to comply with the Convention Against Torture, Human Rights Watch said. In addition, Canadian law expressly provides for jurisdiction over an individual for torture and other crimes if the complainant is a Canadian citizen, even for offenses committed outside of Canada. Canada ratified the Convention against Torture in 1987 and incorporated its provisions into the Canadian criminal code.

"The US has utterly failed to meet its legal obligation to investigate torture by the Bush administration, but that shouldn't let other countries off the hook," said Kenneth Roth, executive director of Human Rights Watch. "Cheney's visit to Vancouver is a rare opportunity to remedy this shameful failure to uphold the rule of law."

Human Rights Watch has documented the role of senior Bush administration officials in authorizing torture of detainees, including "waterboarding" and prolonged exposure to heat and cold. The US was directly responsible or complicit in the alleged torture of at least two Canadian citizens, Maher Arar and Omar Khadr.

Cheney played a key role in the formulation of US detainee policy and was a member of the National Security Council "Principals Committee," which approved interrogation policies. He was critical in pressing US Justice Department officials to provide authorization in mid-2002 for the use of coerced interrogation methods. Cheney's memoir, In My Time, published in August, details his continued support of abusive interrogation techniques, which he calls "critically important … to … national security."

"Canada's own investigation into the Maher Arar case shows there is sufficient evidence to investigate Cheney for authorizing torture," Roth said. "Bush, Cheney, and others authorized the abusive detention regime that Canadians and thousands of others were subjected to. They should be held accountable.
Meanwhile, the Georgia Straight has posted a poll, asking readers if Cheney should be arrested when he comes to Vancouver.
Credited by many for pushing the U.S. to invade Iraq after 9/11, Cheney was also instrumental in legalizing torture to obtain information from suspected terrorists during the George W. Bush era. After getting the U.S. into Iraq, Cheney then used his immense political clout to obtain contracts for Halliburton, where he served as CEO until July 25, 2000. Colin Powell's chief of staff said that Cheney was "president for all practical purposes" during George Bush's first term in office and fears being tried as a war criminal. Col. Lawrence Wilkerson, who has apparently known Cheney for decades, told ABC news that Cheney was a "very vindictive person."
In August, Cheney defended the Iraq war and waterboarding on the Today Show.
Dick Cheney Fast Facts
Documented civilian deaths from violence in Iraq since the Bush-Cheney administration declared war on the country: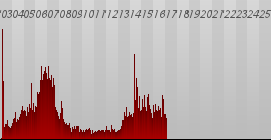 Latest incidents:
August 24: Four family members were killed by roadside bombs in al-Hadid, near Baquba.
September total so far: 229 civilians killed.
For a deep analysis of these numbers, Iraq War Logs breaks down the meaning behind the death toll.
The Washington Post's "Faces of the Fallen" documents the 6, 026 U.S. service members who died in Operation Iraqi Freedom and Operation Enduring freedom.
Above graph released by then Sen. Frank Lautenberg (D-NJ) charts the value of the Vice President's holdings in Halliburton in the 2005 from his Halliburton Stock Cheney was responsible for securing U.S. government contracts for Halliburton in Iraq.