American Animals, a fine heist movie, Sicario 2, evil on the Mexican border, and Hearts Beat Loud, amiable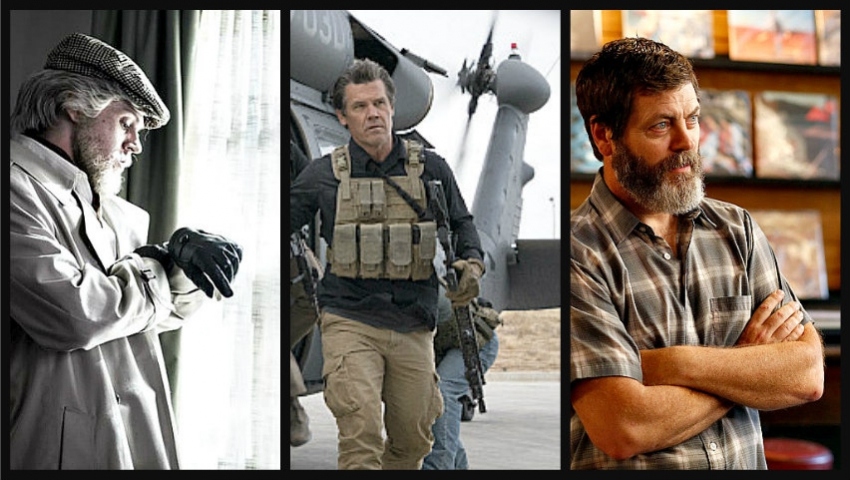 Read closely today. You'll find several very good films on the list. Enough to distract you from soccer even.
Here's the list:
American Animals: 4 stars
Sicario 2 Day of the Soldado: 3 ½
Hearts Beat Loud: 4
Westwood Punk Icon Activist: 3
Bye, Bye Germany: 3 ½
Mind Game: 3
Darken: 2
Uncle Drew: 2
AMERICAN ANIMALS: A favorite genre, the heist movie, is re-imagined here by a British director with a background in documentaries. It's fun, absurd and above all real, in equal measure. That's good, because it really happened. The film portrays the crooks as know-nothing amateurs and periodically brings in the actual guys to talk about what they did. It seems they were inspired by movies they saw and re-watched for tips. They even asked Google how to plan the perfect bank robbery although they settled on a lower target, a university library in Kentucky for some rare books. You know, Audubon, Darwin and so on.
They gave themselves color names, like Reservoir Dogs and disguised themselves as old men but stumbled on their very first try. Expecting just one librarian to be there, they found four and had to back off. That's just one of several missteps they made and the film by Bart Layton shows with gleeful irony. It's funny but also muses on why tried it at all. Always told they were special, according to their leader, played by Evan Peters, they had come to realize they were actually heading to "useless normal lives." And "and one day you'll be dead." His best friend (Barry Keoghan) and two others bought the attitude. A heist movie with substance. (VanCity Theatre) 4 out of 5
SICARIO 2: DAY OF THE SOLDADO: I suspect Donald Trump would like this. It purports to show almost everything that he says is going on at the Mexican border. The cartels control it. They smuggle not just drugs across it, but a more and more profitable commodity, people. Ordinary seekers of a better life, not the thugs and rapists he talks about, but they can include, as in some bizarre early sequences, Muslims from Somalia. After one blows himself up rather than be caught, three prayer rugs remain on the ground. A supermarket is bombed by ISIS agents. It seems that scriptwriter Taylor Sheridan has absorbed the whole Trump message. If ever there's an argument for his wall, it is right here. If you're OK with that, you can enjoy this tough and terrific thriller built on the paranoia and fear of our times.
And notice the extreme solution. The US government intrudes on Mexico's sovereignty by sending in two agents on a secret mission. Josh Brolin and Benicio Del Toro, back from the first film, kidnap a crime boss's teenage daughter to start a war between the cartels since a rival is sure to be blamed. That war is being held for yet another film; there are enough complications here. Convoys of police comes chasing after them. There's a "we don't need no stinking badges" feel to some the encounters. Many police get shot, reported about on Fox News and that embarrasses government officials (Katherine Keener and Matthew Modine) who call off the mission. Brolin orders Del Toro to kill the girl hostage. He won't. Another chase, more confrontations and gun battles follow and in a parallel story a young man is recruited by the smugglers as a soldado (soldier). We get to see exactly how the business works. Italian TV director Stefano Sollima, taking over from Denis Villeneuve, who did the first film, has made a highly involving film. (5th Avenue, Scotiabank, Marine Gateway and many suburban theatres) 3 ½ out of 5
HEARTS BEAT LOUD: Need some cheering up? And who doesn't these days? This movie will do it with its buoyant good feeling, very natural dialogue and acting and music that will move you. All that in a heartwarming tale of a father and his daughter.