Morning Glory, Unstoppable, Monsters, Down Terrace, Sounds Like a Revolution (part of the upcoming Amnesty International Film Festival)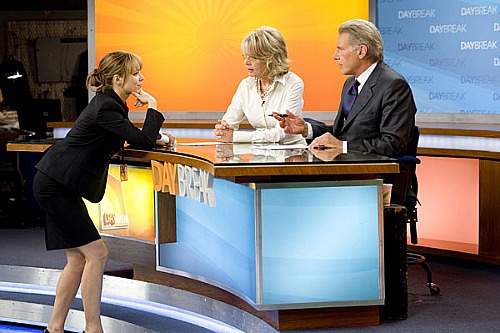 Stories about the work-place are fairly rare in the movies. We have two this week. Also two alien invasions, some criminals with domestic issues and a look ahead at a salute to protest music.
MORNING GLORY: Go for a few laughs and for the sparring between Rachel McAdams and Harrison Ford. Not for effervescent wit or even for stinging barbs about modern TV. They're not here. In fact, the message about TV is seriously narrow-minded and contradictory. Rachel plays a young producer hired to revitalize a network morning show. She's perfect; optimistic and cheerful, like every young woman I've ever known when she gets a show to run, although maybe a bit too perky compared to most of them.
She fires the co-host and brings in a veteran newsman who's been put out to pasture by the network but is still under contract. Harrison is also perfect as the grump who cites the many Pulitzers, Peabodys and Emmys he's won, lunches with Morley Safer and Bob Schieffer and refuses to do fluff, or even say the word "fluffy". Ambitious/young and bitter/old are soon in a bristling conflict and that's the heart of this film. That story line is fairly funny and quite realistic. The film misses the next steps, though. You'd think the producer would play to her new host's strength in re-doing the show. No, she tries to re-shape him and in a sad bit of dialogue proclaims: "The world has been debating news and entertainment for years. And guess what, Mike? Your side lost." What a shock, and not all where we thought she and the film were going. Philosophically, it's a mess after that, and a late interchange about the dangers of your work controlling your life is simply out of place. As they say in TV, light and bright. (Scotiabank and many suburban theatres) 2 1/2 out of 5
UNSTOPPABLE: Trains buffs of all kinds will love this film. So will people who just enjoy heart-stopping action and tension. The fact that it really happened is a bonus. A half-mile long train with four of its cars carrying explosive chemicals gets loose and speeds down the tracks at up to 70 miles an hour with no engineer at the controls. A dispatcher (Rosario Dawson) warns of a disaster, company men worry about the stock price and Denzel Washington and Chris Pine are driving a train on the same track, and directly towards it. They'll ultimately have to solve this.
The film is a compact, thrilling work by Tony Scott, who's camera is even more restless than usual. It's constantly swooping, and panning and zooming. Even when Denzel and Chris are just talking in the cab of their locomotive, it's swirling around them. The action starts slowly, just like a train, building tension as it goes, working in all sorts of real details about railroading and inserting personal stories as mere slivers here and there. Denzel is about to be laid off, for instance. Chris is one of the new, young and cheaper employees the company is hiring. The bits create a cumulative effect: an entirely believable adventure. The film follows the actually event from 2001 pretty closely – judging by the official report you can find on line – but it does move it from Ohio to Pennsylvania, where the movie tax credits are generous. Also, it's almost a commercial for Fox News, sister company to the studio, 20th Century Fox. (Tinseltown and many suburban theatres) 3 ½ out of 5
MONSTERS: The smaller of the two alien invasion films that open this week may be the better one simply because it's a triumph of budget movie making. (Also it was shown to critics, not hidden like the other one.) English visual effects artist, Gareth Edwards, wrote, directed and created the tentacled aliens and the havoc they cause entirely in his computer. An empty lake, for instance, suddenly disgorges a fin, that's really a tail wing, that's actually part of a crashed plane. Then giant tentacles reach out and flip it over.