LNG coming to BC, big and fast. Are you ready?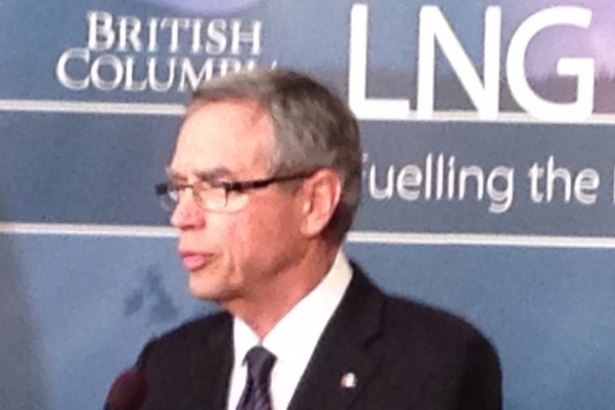 The LNG industry is bearing down on the province like high speed train and, according to Natural Resource Minister Joe Oliver, this is what the citizens of B.C. want, except for those few marginalized environmentalist groups who will simply say "no" to everything.
Here's a quick synopsis of the B.C. government's conference on the "opportunity of a lifetime," for those who want to study up.
Premier Clark's government worked hard to cover all the bases for the cautious global investors in the room, repeatedly assuring them of B.C.'s determination to keep their costs of production low.
To assuage concerns about aboriginal rights and title, the conference opened with First Nations representatives dancing, singing and signing a benefits agreement for the Pacific Trail Pipeline.
During the conference, Haisla First Nations leaders spoke of how industry was offering a path to independence from government programs that had diminished their financial security and dignity.
Regulators and both federal and provincial ministers boasted of streamlined approval and environmental assessment processes and definite timelines for project approvals. Representatives from post secondary educational institutions talked about retooling their curriculums to meet the labour needs of the LNG industry.
Workforce strategists targeted trades training at women, First Nations and people without a high school diploma.
Representatives of Shell, Chevron, Mitsubishi and other oil and gas companies candidly weighed Canada's benefits and costs and emphasized that, without low production costs and a dependable regulatory regime, they would take their billions elsewhere.
Natural Resources Minister Joe Oliver emphasized that Canada is fully committed to natural resource (oil and gas) development as its engine for economic prosperity. Minister Oliver, Premier Clark and every other government representative acknowledged a short time frame in which the investors will make their decisions. Rooms were available at the conference for deal making.
The window of opportunity
The urgency arises from a $4 price differential between North American and Asian markets. The suppliers who arrive first on the scene will make huge profits. Those who arrive later will dilute the premium.
Dave Montgomery, Senior Vice President of NERA Economic Consulting, delivered a keynote address on the price. According to Montgomery, there is an apparent $4-8 per million BTU difference in price between North American markets and the markets of Japan and South Korea (the largest and second largest importers of natural gas). That price differential won't last and it's preferable in present value terms to collect an $8 dollar profit for five years rather than a $2 profit for 20 twenty years.
According to the Japanese, Korean and Chinese oil companies present at the conference, early certainty and a low cost of supply will determine the winner, which explains why the Premier and provincial and federal ministers repeated, repeated and repeated that Canada plans to become the "friendliest fiscal regime for LNG on the globe."
The competition
Montgomery said that B.C. will be in the vulnerable position at the top of the supply curve if it goes forward with LNG export development, but there are a lot of dynamic factors that could play in its favour.
Qatar, Russia and Australia are major exporters of natural gas. All three have the capacity to keep newcomers, like Canada and the US, out of the market. Qatar has huge reserves but so far it has chosen a strategy of OPEC type supply control, looking to maintain a steady price over the long term. If this keeps up, there's room for Canada.
Russia could open the spigot of its pipeline to the EU and lower prices for the purpose of keeping North American exporters out of the EU market, but it probably won't.
Australia is viewed as the main competition but production costs there are higher than expected due to union demands at Chevron's new Gorgon plant, among other factors. One meme of the LNG conference was that Australia's production costs are 33% more than B.C.'s and B.C. will beat Australia's fiscal regime, even with a tax on LNG for a "Prosperity Fund" along the lines of Norway's Government Pension Fund. The Prosperity Fund is seen as key to making the LNG build out palatable to B.C. citizens.