What's hot in Vancouver this week?
Food, dancing and tackling problems in Vancouver is what we're bringing to you this week. Be a solver, a partier or a foodie, or all three and hit up every event. The bees believe in a healthy balance and we hope you do! We'll be buzzing around town all week so flag us down, we love to meet new people.
Speaking of food, our bee Kelly was at Toast to the Coast, an evening of fine wine and sustainable seafood. Check out her recap.
Top Picks
Oct 23 | 6-9 PM | Heritage Hall, 3102 Main St.
For the very affordable price of your favorite dish - join Village Vancouver for delicious food, local live music, great conversation, local exhibits, and some of the most happening and sustainable people in Vancouver! Even if you can't bring anything, just show up anyway, eat well, and celebrate your community! There is no admissions cost, the food can't be beat, and the beer will be excellent and affordable. Thanks Ross!
Greek Food Festival (Kelly's Pick)
Oct 19-21 | 5-10PM | Hellenic Community Centre | Free

I've never been to Greece so events like these give me a taste of what's to come - literally and figuratively. Come down to the Greek Food Festival and enjoy some tasty Grecian treats while being entertained by some talented dancers. Our new bee Evi will be dancing at 5:30 on Saturday!
Honorable Mentions
Oct 23 | 6:30-9:30PM | Vancouver Urban Winery | $30

Food. Talking. Tweeting. Seven amazing individuals will share their stories of life in the food industry as you mingle and munch on appies from PICA, wine from OK Crush Pad, and treats from Chocolate Arts.
Oct 18 | 6:30 - 10 PM | The Hive | Free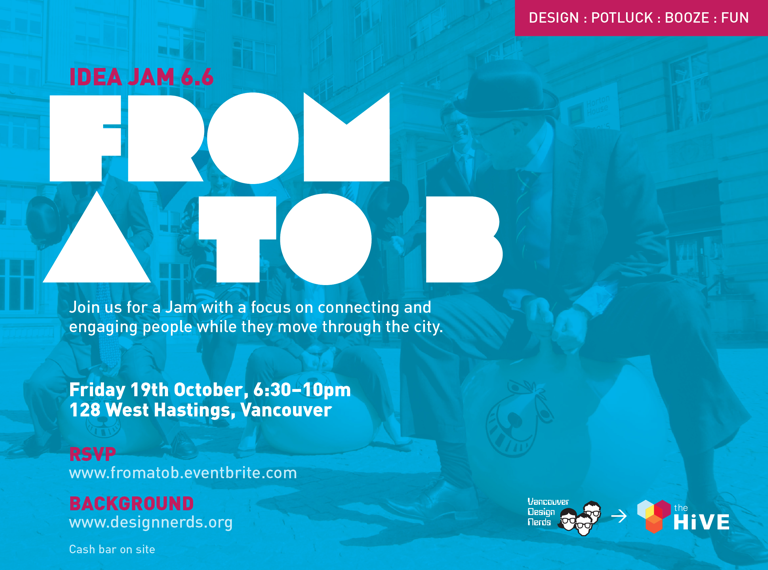 How can we spend more time face-to-face and interact better with those around us that we don't know? How can we experience sharing a few laughs with others on the bus, the train, the sidewalk? And how do we get serious and tackle one of the most wicked problems of this city: disconnection from one another? Come explore these queries in a fun, engaging atmosphere with the Vancouver Design Nerds. Bring a friend, potluck food, an open mind, and of course – ideas.