Events to check out this week: YVR beer tweetup, boat party and strawberry fest
It may not feel like it, but summer is officially upon us. And when summer comes, so do the events. The best part? Lots of them are free! Us bees have deliberated and carefully chosen the best of the bunch to get your summer off to a great start.
Top Picks

Jammin' Shark Truth Boat Party (Kelly's Pick)
June 20 | 7-10PM | On a boat! (Departs Granville Island) | $35


Enjoy delicious food from The Reef and Calabash Bistro, feel the reggae beat from DJ Tank Gyal and sip on a Caribbean cocktail while supporting Shark Truth, an organization fighting to save sharks from extinction. You did see that it's on a boat right?

HiVE One Year Anniversary Party (Miraj's pick)
June 22 | 7 PM - Late | Hive Vancouver | $5 minimum donation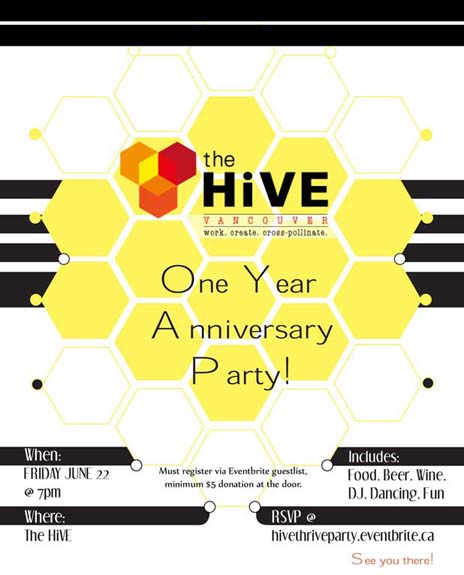 The HIVE is having its anniversary party, and offcourse the BEEs would be there in swarms! come join us celebrate with fellow hive dwellers! rivers of honey will flow, along-with abundant wine and food and fun and frolic! you.should.not.miss.it!! thanks margarete!


Honorable Mentions
#YVRBeerTweetup
June 20 | 6 PM | Red Card Sports Bar | $10


Beer and tweeting, an odd but beautiful combination. Tweetup starts at 6pm tapping 3 casks: R&B Bourbon-infused Oak Stave Cream Ale, Howe Sound Devils IPA Crystal Dry Hopped and Vancouver Island Spiced Wheat Ale. When you're full of beer and done with tweeting stick around to cheer on the Vancouver Whitecaps FC vs New York Red Bulls at 8pm...and drink more beer.
Motown Open Mic
June 20 | 7 PM | Rowan's Roof | Free


Just because it's an open mic, doesn't mean YOU have to sing. Come listen to some amazing local bands and singers in an attempt to re-live the Motown days.
Lovenotes: Anthropology of Love
June 21 | 8PM-12AM | Cobalt | $8


Love, love, love. A beautiful thing whether directed towards a partner, a cat, or a bike. On June 21st, Anthropology of Love, Vancouver's local ambassadors of happiness and fun revolutionaries, present an evening of song, dance, and exchange. Open up your heart a little and let the love in baby.

Make Music Vancouver - Yaletown & Gastown
June 21 | 2 PM - 1 AM | Gastown/Yaletown | Free


Imagine Yaletown and Gastown...Then Imagine, dozens of artists invading the streets of yaletown. Classical musicians, jazz musicians, salsa, rock, folk...A beautiful and passionate chaos.

Multicultural Heritage Music & Movement Festival
Saturday June 23 | 12 - 4 PM | CBC Outdoor Plaza | Free


A festival celebrating and exploring the multicultural heritage and traditional art forms of different cultures in Vancouver. A celebration of Chinese, Japanese and East Indian traditional art forms+ music, bringing harmony and cultural awareness to the community.

MEC Bikefest Vancouver
June 23 | 10 AM-3 PM | Athlete's Village Plaza | Free


I love bikes, and I love free! MEC Bikefest is a daylong community celebration of all things bicycle related. Their goal is to bring together Vancouver's bicycle community and those new to bikes, to celebrate the wonders of cycling.
Strawberry Festival
June 23 | 1-4PM Barclay Manor & Barclay Heritage Square Free


Who made the best strawberry pie or shortcake you've ever had? Your grandma perhaps? Well you can be sure you'll have some quality ones down at the Strawberry Festival put on by the West End Seniors Network this Saturday. Live music, $5 Strawberry Shortcake and special vendors make this a family friendly event that will tantalize your taste buds.

Free Market Midsummer Maskerade
June 24 | 12-4PM | Grandview Park | Free of course


The Vancouver Free Market crew is doing it again and throwing another market! Bring your skills, bring your stuff and be ready to share and bathe in a feeling of free fun.

Greek Days
June 24 | 11AM to 6PM | 3230 West Broadway | Free


It won't be a toga party, but it will be fun! The activities will concentrate mostly in the realm of art, history, crafts, dance, music, mythology, presentations/lectures, literature and learning about the social and cultural contributions the Greek community has made to the City of Vancouver.

Point Grey Fiesta
June 22-24 | Varies by day | Point Grey |Free


The Point Grey Fiesta is the community's annual start-of-summer event for families and friends. Starting with a Saturday parade on West 10th avenue, and continuing in to stage performances, activities, exhibitors and carnival rides in Trimble Park. Who doesn't love a fiesta?


Coming Up
Tasting Plates Vancouver Summer Edition
June 27 | 6PM | Various Venues | $30 adv/$40 late
Women & Leadership: Is a "Womanly" Business More Sustainable?
June 28 | 5 - 7 PM | SAP, 910 Mainland Street | $0/$15

50th Decentralized Dance Party
June 30 | Secret | Free
30th Anniversary Walk for Peace Vancouver
June 30 | 12 PM | Kits Beach | Free
Carnaval del Sol by Latincouver
June 30 | 10 AM - 10 PM | Granville Street | Free
This Is East Van | Photography Publication
July 7 | 7 PM | Interurban Gallery | Free
Caribbean Days
July 28-29 | North Van | Free

Want to be the first to know about the best events going on in Vancouver? Connect with BeeVancity
and subscribe to our weekly newsletter.