Top Vancouver events May 30 - June 5: foodie heaven
Have we died and gone to foodie heaven? Our mouths are watering at all the food and wine events happening this weekend. You won't want to miss the Wooing with Wine tasting event, the popular annual Eat! Vancouver expo and the Food talks speaking engagement. To get you in the mood, here's a look at how last week's Craft Beer Week went.
Top Picks

Wooing With Wine #wooingwithwine (Kelly's Pick)
June 1 | 7 PM | Creekside Community Centre | $55


Gloria Chang, a sommelier in progress, chose three BC Wineries to each pour three spring wines for the evening. The wines will be paired with artisanal bread and a cheese table. Word is this event will engage, enlighten and entertain you through stories, music, food and wine; I'm up to testing this statement out.
Great Bear Rainforest: Nature, Music and Dance (Miraj's pick)
June 2 | All Day, 11 AM - 1AM | $10 - $60


The Great Bear Rainforest is one of the last cradles of biodiversity on the planet. Home to the orca and humpback whales, wild salmon, eagles, wolves, grizzlies, and the legendary spirit bear. This fragile and rugged coast of BC is now threatened by a proposal from Enbridge to bring an oil pipeline and supertankers. This fundraiser is for Pacific Wild - Wildlife Conservation on Canada's Pacific Coast - British Columbia.
Eat Vancouver
June 1-3 | Varies by day | BC Place Stadium | $14


There are a ton of reasons why I'm excited for EAT Vancouver. One, the barista championship, two, the dairy farmers of Canada tasting, three, David Rocco on the culinary stage, four, wine tasting...I could go on and on. Prepare yourself for foodie heaven.
Honorable Mentions
Claiming Space as Faith Based Activists
30 May | 6:30 - 8:30 PM | Rhizome Cafe | Free


Part of a series of conversations on Faith and Social Action, hosted by the Interfaith Institute for Justice, Peace and Social Movements. No expert knowledge or particular faith-identity required. Just an interest in respectfully engaging with people of other faiths, and building alliances in our common work for a more just and peaceful world. Thanks Christine.

What is wrong with Multiculturalism: A European Perspective
June 3 | 7 PM | UBC Chan Centre | Free


The Milton K. Wong Lecture is held in June at the Chan Centre at UBC and broadcast nationally on the CBC Radio One Program Ideas as part of Canada's Multiculturalism Day celebrations. The inaugural lecture features Kenan Malik - a writer, lecturer and broadcaster. Malik also authored four thought provoking books. Tickets and information: 604.822.1444. thanks Rohani.

"Unveiling the Universe" | Public talk by CERN's DG
June 3 | 6-8 PM | Science World | Free (Sold Out)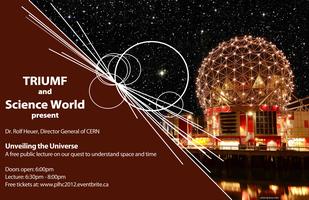 Tickets are currently sold out but good news: There will be an overflow room for a simulcast in the Science Theatre of Science World. TRIUMF and Science World present a free public lecture on our quest to understand space and time. CERN Director General Rolf Heuer will speak on the many scientific adventures taking place at CERN, including ephemeral neutrinos that apparently disobeyed Einstein's laws, doppelganger-like anti-atoms likely never before seen in the universe, and the frantic search for the one fundamental particle to rule them all.
Food Talks, Volume 1
June 5 | 7-9 PM | W2 Media Cafe | $30


Come down to mix and mingle with foodies in Vancouver and listen to those who work in the food industry, whether producing it, persuading it, preparing it or printing about it. Enjoy some appies, wine and macarons while you're at it!
Coming Up


World Oceans Day Yoga with Belugas
June 8 | 8-10AM | Vancouver Aquarium | $50
The 19th Vancouver International Storytelling Festival
June 8 - 10 | Sun Yat-Set Chinese Garden | various
Vancouver Draw Down
June 9 | 10 AM - 4 PM | Emily Carr University | Free
Living Extraordinary LIVE!
June 14 | 7 PM | HR MacMillan Space Centre | $40

All That Jazz
June 14 | 7-11PM | Sheppard's Pie Gallery | $30
Farm to Fork Retreat
June 15-17 | Camp Fircom - Gambier Island | $190

Rio Tinto Alcan Dragon Boat Festival
June 15-17 | Varies by day | False Creek | Free

Canadian Cancer Society Relay for Life
June 16-17 | 6AM | Richmond Oval | $35/Free to watch
Peter Pan by Karen Flamenco
June 16 | Centre for Performing Arts
Car Free Day Vancouver
June 17 | All Day | Various Locations | Free

Want to be the first to know about the best events going on in Vancouver? Connect with BeeVancity
and subscribe to our weekly newsletter.