Top Vancouver Events May 9 - 15: Eat your way through the weekend with sake, butter chicken and stone soup
Events with food in their names always get our mouths watering.. even if they don't actually serve any food. Laugh at the Butter Chicken comedy show, drink as much as you please at the Sake Social, and engage with the community at the Stone Soup Festival. We're hungry for the weekend.


Top Events
Butter Chicken Comedy Show (Ajay's Pick)
May 9 - 12 | CBC Studio


Seriously who doesn't enjoy live comedy, or better yet enjoy eating Butter Chicken and watching comedy? Ok, so there isn't any butter chicken -- but mix edgy writing, talented actors and an audience wanting to laugh and you get the infamous Bollywood Shenanigans! This comedy troupe started by the amazingly hilarious Manish Sharma and Leena Manro will get you guys laughing so hard that you'll be, well laughing (hey, they're the comedians, we're just bees!).

Check Your Head's 5th Annual Fundraiser (Kelly's pick)
May 10 | 6:30-11PM | Heritage Hall | $20-50


Check Your Head is set up to engage and activate young people around social and environmental issues. If you don't have time to contribute your own time on a regular basis, surely you can find time to support them in one night! Especially when there is dinner from Nuba, performances from Wake Owl and comedy by Riel Hahn. A great cause, and a great time.

Visions of Enlightenment Exhibition Opening (Miraj's pick)
May 10 | 7 PM | UBC Museum of Anthropology | Free


The exhibit will show examples of Buddhist art from the main Buddhist traditions: the Theravada, Mahayana and Vajrayana. In Vancouver, the latter traditions are well represented in the established Chinese, Japanese, Korean and Tibetan communities. The Theravada school represents the traditions of the Burmese, Thai and other Southeast Asian communities. A range of media will be represented, including sculptures (made of stone, metal or lacquered wood) paintings, ceramics, manuscripts, and textiles.

Honorable Mentions

EPIC Sustainable Expo
May 11-13 | 11AM-Varies| Vancouver Convention Ctr | $15-$23


EPIC is a family-oriented event designed to educate, entertain and immerse the public in all things "sustainable". Chat with the amazing vendors, snack in the EpiCurean Centre and check out the main stage featuring Five Hole For Food founder, Adriane Carr, The BoomBooms, and more, offering you informative talks, inspiration, and good music. Last year I went all three days, this year I`ll do the same.

The Flapper Trapper by Electro Swing Vancouver
May 11 | 9PM-2AM | Canvas Lounge | $12 advance (more at door)


It don`t mean a thing if it ain`t got that swing right? Works for me. If you`ve ever attended an event by Electro Swing Vancouver then you know you`re in for a good time. The theme this time is 1920s so dust off your corsets and bowler hats, come for a lesson and show off your moves. Ladies there`s even an opportunity to get classic flapper make-up if you come early enough!

Sake Social
Saturday, May 12 | 7:00pm - 9:30pm | 2152 Main Street | $25


Come for an intimate evening of sake tastings and Japanese appetizers, along with a silent auction to raise funds for the Powell Street Festival - one of Vancouver's long running festival focused on Japanese culture and arts.

17th Annual Stone Soup Festival
May 12 | 12- 5 PM | Britannia Community Centre | Free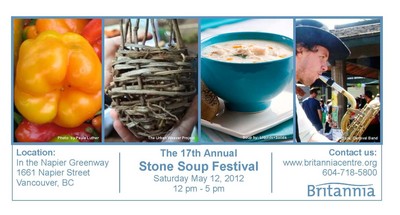 Stone Soup Festival, a celebration of food, art, environment and community including a food market. More than ever, people are aware of the issues of food security, the benefits of sharing resources and eating 'local'. Stone Soup will celebrate the diversity of food in our neighbourhood, the environment and it's importance to the culture of our community.

Islamophobia & Interfaith Dialogue: Challenges & Opportunities
May 15 | SFU Woodwards | Free


A Public Talk with Daniel Tutt. Mr. Tutt's work focuses on creating dialogue and action around persisting problems between Muslims and American mainstream culture. He has directed "20,000 Dialogues," a project of Unity Productions Foundation that uses film and dialogue to bring different affinity groups together for transformative dialogue on Islam in America. The talk is followed by an interfaith dialogue with local participants


Future Events

Vancouver International ExplorAsian Festival
May 4 - 25

8th Annual International Jondo Flamenco Festival
May 6 - 25
IGNITE Youth Festival
May 14-19 | The Cultch

Behance Portfolio Review Night
May 16 | W2 Media Cafe | $10

SeedBomb! Seeding Vancouver's first community currency
May 16 | HiVE | $15

Behance Portfolio Review Night
May 16 | W2 Media Cafe
Sam Sullivan's Public Salon
May 16 | Vancouver Playhouse | $16 adv / $20

El Bulli: cooking in progress Film Screening (Through Reel Causes)
May 23 | Vancity Theatre | $15

DIGNITY Vancouver | Photography Exhibition and Auction
May 24 | 7-11 PM | Vancouver Urban Winery| $40

28th annual World Partnership Walk
May 27 | 10 AM | Lumbermen's Arch, Stanley Park.

City of Bhangra
May 31 - June 10

The 19th Vancouver International Storytelling Festival
June 8 - 10 | Sun Yat-Set Chinese Garden | various
Vancouver Draw Down
June 9 | 10 AM - 4 PM | Emily Carr University | Free
Peter Pan by Karen Flamenco
June 16 | Centre for Performing Arts


Want to be the first to know about the best events going on in Vancouver? Connect with BeeVancity
and subscribe to our weekly newsletter.