Top Vancouver Events March 14-20: bus flashmob, DIY and yoga
This week's top events include the intriguing Maker Faire, billed as "the
greatest show and tell on Earth". The Electro Swing Club is back with their monthly sassy event. Missed the last one? Read how it went here. And of course, it's about that time again. The bus flashmob is back. Your commute is about to get a little more lively this week.


Top Picks

Maker Faire | Show & Tell (Miraj's pick)
Mar 15 | 5:30-9:30PM | Museum of Vancouver | $10-15 suggested


A celebration of locally-based learning, creation, and knowledge sharing. Join a fun-filled evening of demos, exhibitor Q+A, food, fun, show and tell, and of course, beer. An awesome opportunity to meet with Makers who exhibited in 2011, ask questions, check out their work, learn how to become a Maker in 2012. Thanks Emily.

Electro Swing Pre-Festival Party (Kelly's pick)
Mar 16 | 9 PM -2 AM | Backstage Lounge | $8


To pump you up for the Electric Vaudeville Fest come down for a swing dancing, live music, burlesque and pole dancing performances and a silent movie! Crap, could they add any thing else to the list? And for $8.

Random Bus Song Vol. 3 Flashmob (Ajay's Pick)
Mar 17 | 1-2: 30 PM | Burrard Skytrain | Free


"Random Bus Song" is relatively easy and tons of fun. Agents (armed with MP3 players), will board the Seabus... nobody knows anybody. One agent will start humming/singing a song and one-by-one, others will join in. Think "food-court musical" on a bus. Still not convinced? Check out last years mob.


Honorable Mentions

Spring Break Art Opening
Mar 15 | 8 - 11 PM | Kafka's Coffee | Free


A group exhibit featuring works from 20 local artists. Biggest exhibition to-date at Kafka's art emporium. Exhibit runs Mar 15 - Apr 30. Thanks Michael!

Syrian Cinema: DOX BOX Global Day Vancouver
Mar 14 - 16 | various times | SFU Woodwards | Free


This year the Damascus-based Syrian documentary festival DOX BOX has decided not to hold the festival or seek government permits, as a statement against the regime. Instead, Dox Box is circulating films on "DOX BOX Global Day," to engage audiences worldwide with the complex situation in Syria. Thanks Nafees.
Design Nerd Jam 6.2 - HiVE Alive
Mar 16 | 6:30-10 PM | HiVE | Free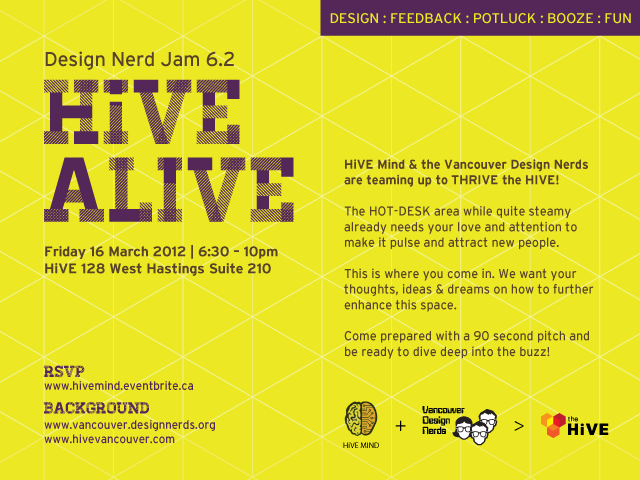 Come meet the Hive Mind, the consultative think tank growing within the Hive. The Hive Mind will use its collective intelligence to provide solution development services to organizations of every size. For this inaugural event Hive Mind decided to pair up with the Vancouver Design Nerds to host a fantastic evening to get things rolling.

Buckman Coe with The Tailor
Mar 16 | 8-11 | Biltmore


Buckman Coe's music is a folk story from a place where the mountains meet sea, where the embattled kingdom of nature may yet achieve a peaceful coexistence with the unruly children of Babylon. This is a journey to find oneself in a time of sufferation and greed, and to rediscover what can be done through love and community.

Moksha East Van Yoga/Potluck Party
Mar 17 | 5:30-10:30pm | Moksha East Van | Free


Start with a some Funky Flow yoga, then bring a dish and join in the community potluck while listening to music by Little Darjeeling...while drinking Darjeeling? Maybe even get your hopscotch on in honor of those cute little leprechauns, who knows...

Delhi 2 Dublin [part of Celtic Festival]
Mar 17 | Vogue Theatre | $30 adv / $35 door


Known as the "United Nations of rock 'n' roll", Delhi 2 Dublin's spectacular mash-up of bhangra, Celtic, dub, reggae and electronica with global rhythms and club beats will set the stage aflame. This concert is sure to be the hottest St. Patrick's Day ticket in town.

Reel Causes screening of "A Better Life"
Mar 21 | 6:30 - 9:30 PM | Vancity Theatre | $15
Reel Causes organizes social film screening events to benefit a different cause every month. This month 100% of proceeds support the Umbrella Mobile Clinic; the evening features a Mexican folk dance performance and a silent auction. A Better Life is a studio film of rare authenticity, integrity and compassion made by Chris Weitz and inspired by the Italian neo-realist classic Bicycle Thief. Thanks Meharoona.

A Better Life Documentary
Mar 21 | 6 PM | Vancity Theatre


The Academy Award nominated film showcases the amazing life of a temporary foreign farm worker. Demian Bichir is one of those actors you could just stop and watch all day long. He's so real you can practically feel the calluses on his hands – and he exudes an integrity that goes beyond the sentimental cliché of an honest laborer. 100% of proceeds support the Umbrella Mobile Clinic. The event is brought to you by REEL CAUSES - they organize monthly social film screening events to benefit various causes.


Coming Up

EastVanlove Tweetup Vol. 5 = Food Edition
Mar 22 | Hai Phong | Free / Donate what you can

Art and the Brain
Mar 22 | 5:30 - 7:30 PM | VGH Paetzhold Lecture Theatre | Free

Electro Vaudeville Fest
Mar 23

Social Soil: A Fair Trade Fundraiser
Mar 24

Vancouver ECO Fashion Week - Fall/Winter 2012
Apr 10 - 12 | Various times | Robson Square


Want to be the first to know about the best events going on in Vancouver? Connect with BeeVancity
and subscribe to our weekly newsletter.