Top Vancouver events Feb 16-22: flash mob, swing party and a benefit concert
Top Picks

Random Bus Song FlashMob (Ajay's Pick)
Feb 18 | 1-3pm | Skytrain Stations | Free


"Random Bus Song" is an interactive event and tons of fun.
Agents (armed with MP3 players), will board the 99B-Line or Seabus, nobody knows anybody. One agent will start humming/singing a song and one-by-one, others will join in. Think "food-court musical" on a bus. Brought to you by Vancouver Improv Anywhere.
Be My Valentine 1920s Swing Party (Kelly's Pick)
Feb 17 | 9PM - 3 AM | Canvas Raw Lounge | $15


Enjoy a night of dancing with your sweetheart or come to be swept off your feet at the Electro Swing Club's 1920's Valentine's Day party. Come in your finest 1920s/30s/40s vintage and pay only $12. Charleston/swing lesson at 9. And did I mention there's a burlesque show?

Benefit Concert for the Children of Randy Ponzio (Miraj's pick)
Feb 17 | 8 PM - 1:30 AM | Commodore Ballroom | $40


Randy Ponzio, one of Vancouver's most promising up and coming musicians, was reported missing in the downtown eastside in November 2011. The outpouring of condolence and support reverberated from around the world in the wake of this tragedy for Randy left behind a legacy of humanitarianism, love and support to all those people who knew him. This benefit concert is dedicated to raising as much money as we can for the family he left behind. Rock on in heaven Randy.
Honorable Mentions
It's a Cupcake ThrowDown Son
Feb 16 | 7-10 PM | Chapel Arts | $10
Who doesn't love cupcakes? Come out for a cupcake throwdown and vote for your fave as 20 local cupcake bakers duke it out for the title of "Best Cupcake". Ginger bacon, caramel apple, peanut butter and jelly, you never know what might be the crowd pleaser. Join my friend Courtney Shrumm and other local bakers as they show off their skills.

Haram: 10-Piece Arabic Ensemble
Feb 16 | 8 - 11 PM | Waldorf Hotel | $18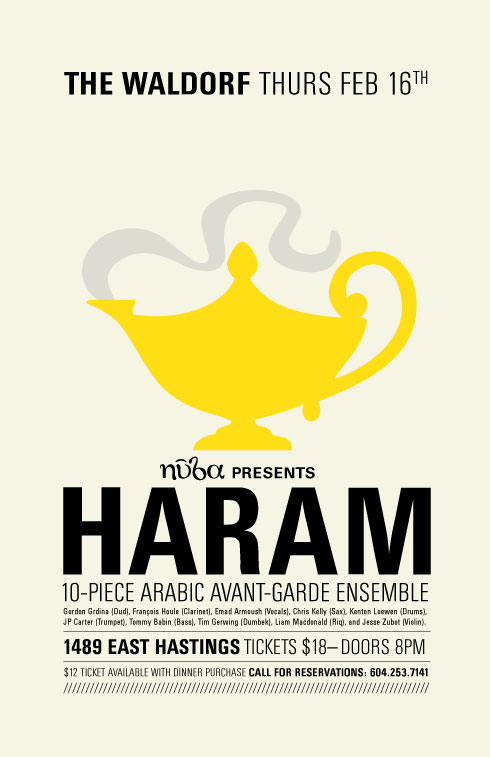 Haram is a 10-piece Arabic Avant-Garde ensemble. The group takes classic Arabic music from great composers like Farid Al-Atrache, Abdul Whahab, and Oum Khalsoum and filters them through Vancouver's creative improvising community. The stacked group is invigorating to watch constantly shifting directions while building to euphoric crescendos. This one-of-a-kind ensemble is for anyone interested in exciting, cross-cultural, boundary annihilating music.
Instant Coffee: Feeling So Much Yet Doing So Little
Feb 16 | 7-10 PM | Western Front | Free


As any good collective would, in 2005 the members of Instant Coffee drafted a "manifesto" of sorts. In it, they define themselves and their objectives in terms of their caffeinated namesake: Instant Coffee "mimics the real thing without the pretense of being better. It isn't that much easier to make, but that much is reason enough to justify its particularities."