Top Vancouver Events Nov 10 - 13
This long weekend, we hope you find the time to party, and learn a little more about the upcoming election. Our top events this week include Media Democracy Days, An Evening With Paul Hawken and The Biltmore Caucus Caberet and Candidates Debate with our very own Masala Bee. The only tough party will be deciding what to do.
Top Picks

Media Democracy Days Vancouver 2011
Nov 11-13 | Pacific Cinematheque, VPL, SFU | Free


This three-day conference will challenge your thinking on how media is generated and how each of us can help change it. Featured speakers include Dr. Sut Jhally and Judy Rebick (founding publisher of rabble.ca). Hear local media gurus on a panel on the future of journalism: David Beers (TheTyee.ca), Charlie Smith (Georgia Straight), Peter Klein, Karen Pinchin, Linda Solomon (Vancouver Observer). And on Nov 12, hear Coopculture's panel discussion on the challenges of culturally diverse media with Alden Habacon, Winnie Hwo and Lilavati Levine.

The Biltmore Caucus Cabaret & Candidates Debate
Nov 14 | 7-10 PM | Biltmore Cabaret | Free/By donation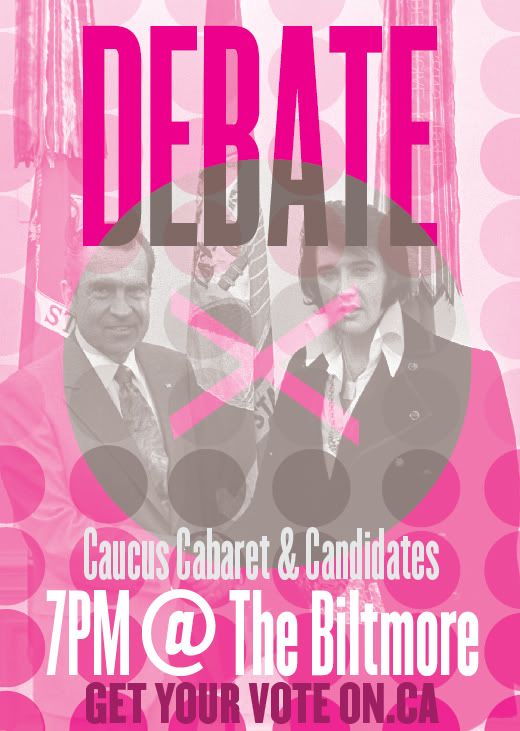 Vancouver votes on Nov 19, 2011. Young folks want to know where the parties stand on issues that matter to them. What better way than to ask them in front of a lot of people? Our very own MasalaBEE, Ajay Puri will be hosting a friendly and fair question-answer format debate where questions will be fielded from the floor and people in the community. Come out for a pint or two to whet your political appetite with a mix of musicians, artists and city council hopefuls. The evening will feature the candidates for Vision, Cope, NPA and Independents in an intimate atmosphere. Before the debate, the candidates will be circulating, booth-to-booth, sitting with different folks and fielding questions of individual voters in an intimate conversational context in the cosy confines of the booths at the Cabaret.
An evening of inspiration with Paul Hawken
Nov 15 | 7-9:30 PM | Orpheum Theatre | Sliding scale


As part of Vancity's 65th anniversary celebration, promoting 'thought leadership' pertaining to the environment, sustainability, economic development and industrial ecology, this evening includes an air of engagement, conversation, lecture, questions and answers. Join leading renowned author, businessman, social engineer, and environmentalist, Paul Hawken, for an evening of exploration and inspiration.Vancity will donate all ticket proceeds and match these proceeds to a maximum of $10,000 to the Vancity Community Foundation.