Take part in the celebration of the arts this weekend
Drawn from traditions of African Diaspora and exemplifying the range of global rhythms, members switch effortlessly between various authentic African and Afro Cuban percussion instruments, paying tribute to their mentors.
Honourable Mentions
Submit Vancouver
Aug 18 | 7 PM | Granville Island Performance Works | $30


Showcasing local artists' magic on inimitably cool, limited-edition t-shirts celebrating the power of creation, education and community in Vancouver and across the planet in Ethiopia benefiting imagine1day.

FIELDWORK: recent projects by Paul de Guzman
Aug 18th | 7-10PM | Room 106 at The Waldorf Hotel | Free


In Fieldwork, de Guzman draws from a source collection of architectural postcards in an attempt at building an archive of historical, urban experiences. These postcards are ephemeral remnants of an urban history that endured a nomadic journey through the postal system. The projects in Fieldwork present findings from urban architectural encounters, and implicate history as material for artistic modelling. The exhibition runs from August 18th to September 4th @ Black & Yellow, 1489 East Hastings Street

Design Nerd Jam 5.9: Refab Jam
Aug 20 | 7-10 PM | The Hive (W. Hastings) | Free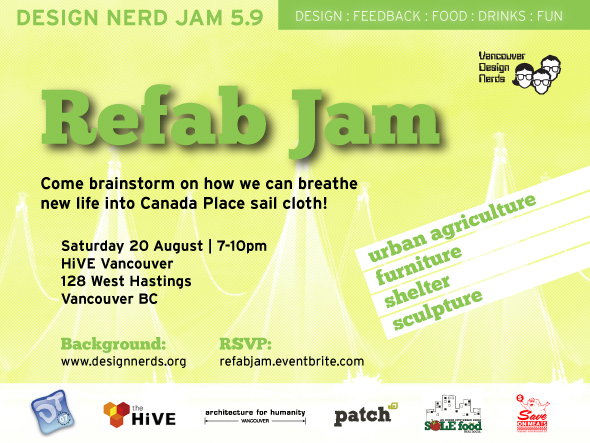 Design Nerds are teaming up with Architecture for Humanity, Patch and SOLEfood to bring you the REFAB Jam. The evening will focus on generating ideas on how to repurpose old sail cloth from Canada Place under 4 main areas of design: urban agricultural structures; furniture; shelter & sculpture. Teams who decide to take their ideas and prototype them will be invited to display their projects at ID West this fall. Time is tight so come prepared with ideas and enthusiasm. Food & alcoholic beverages will be available, but feel free to bring your own.

Likemind Vancouver
Aug 19 | 8-9:30 AM | Bump n Grind, Commercial Drive | Free


It's summer—time for iced coffees with good people. Likemind is a networking meeting where we leave the fancy things at home and focus on meeting people, not just business cards. Its an opportunity to enjoy conversation and a good cup of coffee; because you never know where drinking good coffee with likeminded people might lead you! No agenda. No theme. No speakers. Join the conversation!